Ambassadors Theatre
West Street, London, WC2H 9ND GB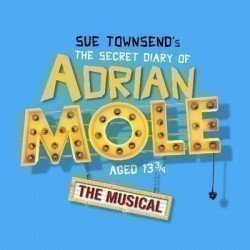 The Secret Diary of Adrian Mole
Tickets
Ambassadors Theatre
Booking from: Saturday, 15 June 2019
Booking until: Saturday, 12 October 2019
Book

tickets
Performance Times
Mon
Tue
Wed
Thu
Fri
Sat
Sun
15:30
15:30
20:00
20:00
20:00
20:00
20:00
20:00
Age restrictions
Suitable for ages 12+
Booking from:
Saturday, 15 June 2019
Booking until:
Saturday, 12 October 2019
The Secret Diary of Adrian Mole – The brilliant musical
Welcome back to the delightful Adrian Mole, the troubled teen who captured the nation's hearts in the 1980s and kept on amusing us for years and years. This musical, created in 2015, has already gathered a load of five star reviews from a delighted media, and Adrian's diary is set to thrill audiences again, this time to music. If you fancy a hilarious peep into the inner life of an adolescent boy, set against the unhappy Zeitgeist of Thatcher's Britain, you're in for a treat.
Let's meet Adrian. Adrian Albert Mole was born on the 2nd April 1967, and grows up with his parents in the city of Leicester before moving to the curiously-named Ashby-de-la-Zouch the East Midlands. Adrian's family are working class and 'til he's 15 years old he's the only child, and a very precocious boy indeed until his half-brother Brett and a half-sister Rosie arrive. While he isn't a genius by any stroke of the imagination, Adrian does OK at school, even though he rarely sees eye to eye with the headmaster, nicknamed Pop-Eye Scruton.
Adrian has a small circle of friends. He even has a girlfriend, Pandora Braithwaite, a girl with wealthy Trotskyite parents. Barry Kent and his gang, the bad lads who bullied Adrian when he was little, are in the picture but Adrian's a good boy, a boy who sees himself as a frustrated intellectual, a Great Writer in the making. Now he's on stage in an exceptionally fun new musical, playing at the Ambassador's Theatre this summer, and people of every age are eagerly awaiting it. The iconic Sue Townsend novel has never been such a giggle!
The plot? The show's set in '80s Leicester, where the dramas of Adrian's life play out against a backdrop of dysfunctional parents, domestic dramas and crazy misadventures. All older people are all a massive pain in the backside, the school bully Barry Kent is constantly on his back, and worst of all there's a massive spot on Adrian's chin. When you're thirteen and three quarters years old, life doesn't always seem fair. And when Adrian falls for the new girl Pandora, she runs off with his best mate Nigel. Oh dear.
Will Adrian steal Pandora back from Nigel? Will he ever escape from his nutty family? The score is 'infectious'. The script stays satisfyingly true to the original book, and the book and lyrics are by Jake Brunger, with music and more lyrics from Pippa Cleary. The director is Luke Sheppard. Altogether a dazzlingly good outlook!
Pauline is played by Kelly Price and George by Dean Chisnall. John Hopkins plays Mr Lucas and Mr Scruton and Doreen and Miss Elf are portrayed by Lara Denning. Grandma is Gay Soper, Bert is Barry James and Adrian himself is played by Benjamin Lewis, Ilan Galkoff, Samuel Menhinick and Guillermo Bedward. Barry's played by Jason Rennie , Callum Mcdonald and Connor Davies. Nigel is played by Amir Wilson, Edward Hooper and Max Robson, and Pandora by Asha Banks, Georgia Pemberton and Lara Wollington.
Who is this show for?
This fab musical is perfect for people aged 12 and above.
28 Jul 2017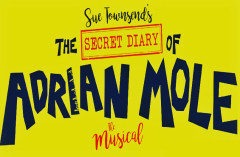 If you were a teenager in the 1980's the character of Adrian Mole, geeky, pretentious and utterly relatable to, will be an old friend. His hilarious take on adolescence was captured by writer Sue Townsend in a fictitious diary, first a best selling book, then a TV series, then a play, then a musical, and there were several sequels. Adrian's faded from public consciousness in the last decade or so and, alas, Townsend died in 2014. All this makes this adorable, completely new musical very welcome especially as it transports us back to his first teenage incarnation and reminds us what fun it was follow his bumbling and humbling attempts to become an intellectual and a hit with girls.
Use the search box at the top left of this page to search for The Secret Diary of Adrian Mole tickets availability.
Quick Facts
Largest Ticket Inventory in the West End
Real time seat availability
Your booking is processed directly into the box office reservation system
Collect your tickets from the theatre for free or get them posted to your address.

Theatre Address
Ambassadors Theatre
West Street, London, WC2H 9ND GB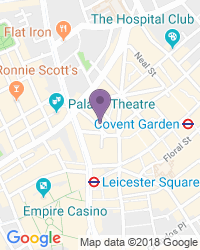 Facilities
Air conditioned
Bar
Infrared hearing loop
Member of Q-Park scheme
Toilets
Theatre Info
Capacity: 400
Year built: 1913
Next Performances