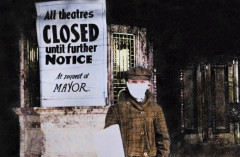 I like to keep things cheerful here at LBO in the face of relentless bad news for the theatre industry but I know that as enthusiastic theatre goers you care about our struggles to reopen, so here's what's been going on.
Most serious of all is the announcement from the government's Culture Secretary, Oliver Dowden that there will be no clarity on the return of normal theatre conditions until at least November.
His words solicited a collective gasp of horror from right across UK theatre because that means there'll be no time to prepare Christmas shows or Pantomimes, even if the news is good (which is by no means certain).
Christmas is the one time in the year when the most people go to the theatre in the UK to enjoy family friendly, slapstick, magical, musical-comedy fun. The box-office takings subsidise the rest of the year for many theatres, especially regional venues. Without this December cash injection it's going to be virtually impossible for them to survive.
In other news, as summarised by the organisation UK Theatre, "The government has just announced that activities that had been due to restart on 1 August have been delayed due to the recent rise in cases in the UK – this includes stage 4 under the reopening of performing arts so indoor performances are still NOT permitted at the current time. This change will continue for at least a fortnight, with indoor performances with social distanced audiences being allowed from 15 August at the earliest (although that date could move later). Outdoor performances with social distanced audiences (stage 3 of the roadmap) are allowed to continue – subject to any local restrictions."
Not that I know of anyone who was actually preparing a show to open today. It seemed just too risky, with or without the horrible self-distancing measures, as Andrew Lloyd Webber unenthusiastically demonstrated at the London Palladium last week.
Lastly a lot of people are asking me who will benefit from the Governments recent £1.57 billion support package for culture and will it be enough to save theatre.
The answer to the second question is - I doubt it. It sounds like a lot of money but not when it's divided between theatre, music, museums, art gallery and the upkeep of Britain's Heritage sites, and the danger is that it will be used to mothball and pay for the upkeep of theatre buildings whilst little of it will trickle down to the freelance artists on which the industry relies to operate, thrive and innovate.
With venues closed there's thousands of us who'll need to change professions to cover our basic living costs whilst there's no work in the entertainment sector. We're going to lose a lot of talent who have bills to pay, mouths to feed and can't wait around for news of if/and when their former workplaces will reopen.
Of course theatre makers aren't unique in facing this challenge. Huge swathes of UK industries face the same dilemma; in tourism, hospitality, media and many other professions which, in the next few months, will begin haemorrhaging workers that are currently furloughed on to the job market, as government grants to pay wages dry up. Our prospects are bleak amidst, what looks likely to be, record unemployment.
So what can we do? Alas the answer is nothing - except keep breathing, keep cheerful and prey for a miracle.