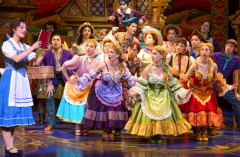 Disney have taken the opportunity to share their future theatre plans, sweetening the news that weak ticket sales will mean the Broadway production of their musical FROZEN will not reopen.
As reported in the New York Times audiences worldwide can still look forward to seeing new and classic productions based on hit Disney films.
Thomas Schumacher, the president of Disney Theatrical Productions said the company "remains committed to THE LION KING and ALADDIN on Broadway, to THE LION KING and MARY POPPINS in London's West End, and to touring productions of THE LION KING".
There will also be revivals of FROZEN over the next year in London, Sydney, Hamburg and Tokyo. Apparently Disney have said "one reason for announcing the Broadway closing now is that it would allow the company to reuse the costumes and scenic elements in those other productions"
Despite the fact that Disney's theatrical division, headquartered in New York, has furloughed many employees Schumacher reassured staff that "we remain committed to developing and producing stage musicals for a long time to come."
To prove his point he outlined the company's forthcoming plans.
1. A new production of BEAUTY AND THE BEAST for the overseas market.
2. A new, smaller, touring production of ALADDIN.
3. A new version of THE JUNGLE BOOK to be directed by Christopher Gattelli with a book by Rajiv Joseph and new songs by Richard Sherman.
4. A new version of HERCULES, directed by Lear deBessonet, written by Robert Horn, Alan Menken and David Zippel.
5. A new production of the musical AIDA directed by Schele Williams, aims to open in Germany in the spring of 2022.
6. A new musical adaptation of THE PRINCESS BRIDE with a book by Bob Martin and Rick Elice and songs by David Yazbek.
7. A new musical adaptation of BEDKNOBS AND BROOMSTICKS, directed by Candice Edmunds and Jamie Harrison, with a book by Brian Hill and new songs by Neil Bartram.
So there's still plenty of life in The Magic Kingdom!