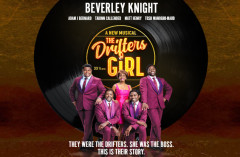 The Drifters Girl has been delighting audiences since October 2021, when it rocked the world up in Newcastle. It transferred to London in November 2021, where the venue remains packed to the rafters nightly. Every performance ends with a standing ovation. This is the story of Faye Treadwell, the manager of The Drifters, who battled for 30 years to create a global phenomenon.
Who's involved in The Drifters Girl?
The Drifters were so much more than just another vocal band. They had countless hit records. They sold out numerous tours. And they also struggled with legal battles and personal tragedies. This beautiful musical charts the trailblazing efforts of Treadwell, the first African American female music manager. Her legacy lives on in The Drifters songs and in this musical. The casting from 2nd June 2022 onwards is to be announced.
'Queen of Soul' Beverley Knight plays Faye Treadwell until 2nd July 2022
Adam J Bernard, Tarinn Callender, Matt Henry and Tosh Wanogho-Maud play the members of the iconic group
The cast is completed by Marcus Ayton, Ashford Campbell, Ethan Davis, Vanessa Ela Young, Michael James Stewart, Alanna Leslie, Curtis Scott
The young actors are Aurora Baptiste, Amari Brown, Savanna Musoni, Savannah Skinner-Henry and Shanyia Tsoto
Book by Ed Curtis, based on an idea by Tina Treadwell, co-created by Beverley Knight, Adam J Bernard, Tarinn Callender, Matt Henry and Tosh Wanogho-Maud
Directed by Jonathan Church
Set design by Anthony Ward
Choreography by Karen Bruce
Costume design by Fay Fullerton
Orchestrations and musical supervision by Chris Egan
Lighting design by Ben Cracknell
Sound design by Tom Marshall
Video design by Andrzej Goulding
The Associate Director is Tyrone Huntley
The Associate Choreographer is Myles Brown
Casting is by Stuart Burt
Children's casting is by Jo Hawes
The Drifters Girl is produced by Michael Harrison and David Ian
Buy The Drifters Girl Tickets
Book your The Drifters Girl tickets online with us and choose the best seats with our Garrick Theatre seating plan. We'll send E-tickets direct to your email address for you to show at the door on the day you've booked.
About the Garrick Theatre
When the people building the Garrick discovered an underground river running beneath the foundations, they had to bring in a Mr C. J. Phipps in to help with the extremely complex planning. The Garrick Theatre is still standing, so Mr Phipps must have done a good job! Past shows at the Garrick Theatre include Chicago, Rock of Ages. Let It Be, Bitter Wheat and most recently, Death Drop.