2 Charing Cross Road, London, WC2H 0HH GB
Quick Facts
Largest Ticket Inventory
in the West End
Real time
seat availability
Choose
your seats
Your booking is processed directly into the box office reservation system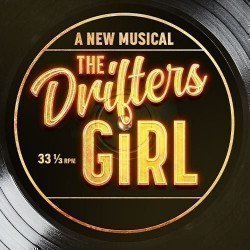 The Drifters Girl
Tickets
4.9/5
-

based on

21

reviews
Booking until: Saturday, 2 July 2022
Starring: Beverley Knight
Tickets from £24.00
Book tickets
COVID secure venue
This venue will utilise social-distancing, increased health and safety measures, temperature checks and more to ensure your visit is safe and enjoyable.
Buy with confidence
Grab the best seats today, in the knowledge that all bookings can be exchanged.
Information
Cheap Tickets
Reviews
News
About The Drifters Girl
Important Information
Online Venue check-in
: Please note you will be contacted by the venue 48 hours before the performance with instructions on how to check-in and retrieve your e-ticket.
Please note: Beverley Knight is not scheduled to perform in The Drifters Girl from 17-22 January 2022.
Performance Times
Booking until: Saturday, 2 July 2022
Starring:
Beverley Knight
The Drifters Girl description
Faye Treadwell was a powerhouse, a phenomenon, an extraordinary woman. Thanks to her one of the world's greatest soul bands, The Drifters, enjoyed massive success in the charts and critical acclaim for their wonderful tunes. This is Faye's story, told to the accompaniment of a host of dazzling songs including Stand By Me, Saturday Night at the Movies, Under The Boardwalk, Save The Last Dance For Me, and Kissin in the Back Row of the Movies.
What's the plot of The Drifters Girl?
The Drifters were signed up with Atlantic Records, as one of the most popular vocal groups of the times, but even so the highs they experienced were balanced by lows involved in legal problems and personal tragedies. The Drifters' legendary female manager, Faye Treadwell spent three decades fighting to transform the band she loved and believed in into a global brand.
This gloriously uplifting musical follows Treadwell, the world's first female African American music manager, revealing how she refused to give up on the band. Thanks to her efforts over more than 30 years we're still enjoying The Drifters' unmistakeable sound. Faye Treadwell will always be The Drifters Girl. And boy, do we have an amazing cast and creative team for you!
Beverly Knight plays Faye Treadwell, and Adam J Bernard, Tarinn Callender, Matt Henry and Tosh Wanogho-Maud play The Drifters. The book is by Ed Curtis and the show is inspired by an idea from Tina Treadwell. It has been co-created by Beverley Knight, Adam J Bernard, Tarinn Callender, Matt Henry and Tosh Wanogho-Maud and the fun is beautifully directed by Jonathan Church.
Set design is by Anthony Ward and choreography by Karen Bruce. Costume design is by Fay Fullerton and the orchestrations and musical supervision by Chris Egan. Lighting design comes from Ben Cracknell and the sound design is by Tom Marshall. Video design comes from Andrzej Goulding and Associate Direction from Tyrone Huntley. The Associate Choreographer is Myles Brown. Casting is by Stuart Burt and children's casting by Jo Hawes.
Who is The Drifters Girl for?
The Drifters Girl is recommended for anyone old enough to enjoy the music and understand the plot.
Buy tickets for The drifters Girl
Our website makes buying tickets for The Drifters Girl simple and enjoyable. We'll email your tickets to you for you to present at the door on the big day.
Next Performances for The Drifters Girl at the Garrick Theatre
today
22nd Jan 2022
7:30pm
Monday
24th Jan 2022
7:30pm
Tuesday
25th Jan 2022
7:30pm
Wednesday
26th Jan 2022
2:30pm
Wednesday
26th Jan 2022
7:30pm
Thursday
27th Jan 2022
2:30pm
The Drifters Girl cheap tickets
We have a great selection of cheap The Drifters Girl tickets. We can help you save up to 70% on The Drifters Girl tickets! If you're looking for discount theatre tickets have a look below for our latest offers for The Drifters Girl at the Garrick Theatre.
No Booking Fee
Valid for selected performances
-34%
Was £45.00
Now £29.50
Valid Mon-Thu from 2-28 Feb. Book by 24 Jan 2022. Exclusides 14-18 Feb 2022
-34%
Was £45.00
Now £29.50
Valid Mon-Thu from 2-28 Feb. Book by 24 Jan 2022.
The Drifters Girl reviews
4.9 out of 5
based on

21

reviews
What to expect:
Acting
Music
Costumes
Story
Lighting
Recommended for:
Anyone (67%)
Families (76%)
Teenagers (76%)
Couples (90%)
Theatregoers (95%)
Latest customer reviews

Must see
Excellent vocals very strong cast
Reviewed on 19 January 2022 by Barry, Portsmouth, United Kingdom

Great show with great songs
Booked at the last minute but thoroughly enjoyed the show from start to finish. Nostalgic to the end
Reviewed on 10 January 2022 by Ronan, Newry, United Kingdom

Truly AMAZING!!
I didn't know much about the Drifters. A few songs at most. But now, my eyes are literally open to anything. I'd see it again..and possibly a third time too!
Reviewed on 29 December 2021 by Jodie, Ashford Kent, United Kingdom

Excellent evening.
Disappointed that the original cast could not perform due to Covid restrictions. Not told which actors were being replaced by understudies. Having said that the understudies were excellent.
Reviewed on 28 December 2021 by Robert, Birmingham, United Kingdom

You leave the theatre feeling happy
Reviewed on 15 December 2021 by Sylvia, London, United Kingdom

Brilliant
This was one of the best shows we have seen in a long time, if you closed your eyes you would Think it was the drifters performing. Fabulous voices , great to hear the history of the group over the years. Would see it again tomorrow if I could. A fantastic show, well done .
Reviewed on 15 December 2021 by Paul, Ombersley, United Kingdom

Musicality amazing. Didn't want it to end
Every member of cast fantastic
Reviewed on 06 December 2021 by Russell, Leeds, United Kingdom

A great musical
I did not know what to expect from the show, as the reviews had not been fantastic, but we were treated to an amazing show, full of great soul music. Everyone from Beverley Knight down to the young girl who played her daughter were incredible. The guys playing the Drifters were not only amazing singers , but were also versatile in their every changing acting roles. All in all, a great show which I would recommend to anyone
Reviewed on 06 December 2021 by Gary, Clifton-on-teme, United Kingdom

Brilliant!
Reviewed on 04 December 2021 by Elizabeth, Longfield, United Kingdom

Fantastic
Reviewed on 27 November 2021 by Coral, Southend On Sea, United Kingdom

Talented cast
I thoroughly enjoyed the Drifters Girl. I had not known the story of Faye Treadwell and the Drifters and it's an interesting story. The production was cleverly set, excellent costuming, vibrant orchestration and most importantly a very talented cast! Beverley Knight has a fantastic voice and was fabulous in the role and the guys were equally strong. I loved them Highly recommend the show !!
Reviewed on 24 November 2021 by Teresa, West Clandon, United Kingdom

Really enjoyed the show. The cast should be congratulated
Reviewed on 23 November 2021 by Paul, Huntingdon, United Kingdom

Disappointing, although Beverley Knight has a fantastic voice.
Reviewed on 19 November 2021 by L, Worcestershire, United Kingdom

Reliving my teenage years
fast paced, outstanding performers, and a thoroughly enjoyable show. It brought back so many memories, the music, the dancing, the history. Loved it all.
Reviewed on 18 November 2021 by Jacqueline, Gloucester, United Kingdom

A vibrant fun night out .
A very entertaining and lively show by a small cast . Fabulous music and great dancing . An all round package, for a fun night out.
Reviewed on 13 November 2021 by Penny, Lottery St Mary, United Kingdom

Fabulously Feel Good!
Wow what a show, Beverly Knight never disappoints and the guys that played "The Drifters" could really dance and truly captured the dance moves of the era. They also had the most fantastic voices. A magical experience from start to finish.
Reviewed on 11 November 2021 by Trisha, Surrey, United Kingdom
22

Nov
2021
Review: THE DRIFTERS GIRL a the Garrick Theatre
by Miriam Gibson | Monday, November 22 2021, 18:01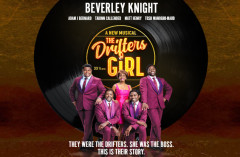 "The Drifters are like the Yankees", we're told at the beginning of The Drifters Girl, "The line-up may change, but in the end there's only one New York Yankees". To demonstrate this constantly changing but-never-really-changing line-up, four actors play the various incarnations of the Drifters.
Review: THE DRIFTERS GIRL a the Garrick Theatre
26

Jul
2021

DRIFTERS GIRL full cast announced including Beverley Knight
by London Box Office | Monday, July 26 2021, 12:00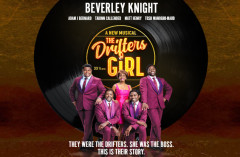 Update for The Drifters Girl at the Garrick Theatre
Michael Harrison and David Ian are delighted to reveal the hugely talented bunch of singers who will be playing The Drifters in this, the long-awaited return of The Drifters Girl. The show kicks off in Newcastle before moving back to its original home at the West End's Garrick Theatre on Thursday 4th November 2021. As you can imagine, the excitement is already mounting around the return of this marvellous true story.
DRIFTERS GIRL full cast announced including Beverley Knight
01

Nov
2019

Beverley Knight and the Music of the Drifters Feature in an intriguing New West End Show
by Phil Willmott | Friday, November 1 2019, 08:28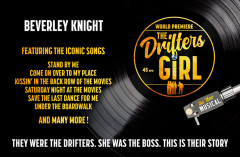 There are two types of jukebox musicals, the term given to shows which stitch together existing hits to tell a story. Some have an original plot, such as WE WILL ROCK YOU, MAMMA MIA and MOULIN ROUGE but equally successful are productions which tell the story of the artists who first recorded the material eg. BEAUTIFUL-THE CAROL KING MUSICAL, JERSEY BOYS and TINA.
Beverley Knight and the Music of the Drifters Feature in an intriguing New West End Show