Garrick Theatre
2 Charing Cross Road, London, WC2H 0HH GB
Now showing at
the Garrick Theatre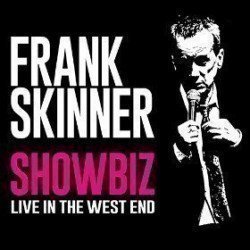 Frank Skinner - Showbiz
Garrick Theatre
Tickets from £31.50
Following a sold out 2019 national tour, comedy legend Frank Skinner is bringing his critically acclaimed stand-up show Showbiz to the West End for a strictly limited five week run. The last twelve months have seen Frank perform sold-out runs at both London's Leicester Square Theatre and the Edinburgh Fringe, making this the must-see comedy event of the new year.
Booking until: Saturday, 15 February 2020
Running time: 2 Hours 10 minutes
Frank Skinner - Showbiz tickets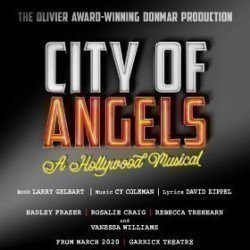 City of Angels
Garrick Theatre
Tickets from £20.00
The Donmar Warehouse's dazzlingly good Olivier Award-winning production of City of Angels is due in the West End, set to be a rollercoaster ride of a theatrical experience for everyone who sees it. This fantastic play has caused a stir on every stage it has appeared on, attracted monster reviews and thrilled critics and punters alike. Come and see what all the fuss is about!
Booking from: Saturday, 7 March 2020
Booking until: Saturday, 5 September 2020
City of Angels tickets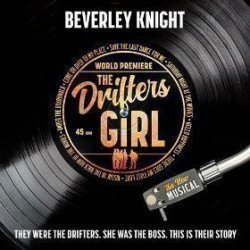 The Drifters Girl
Garrick Theatre
Tickets from £23.00
The Drifters are touring the UK from late 2019 into late 2020, which makes the timing of this new and apparently completely spectacular musical just about perfect. The legendary band must be delighted to be featured in a West End show. Welcome to The Drifters Girl, starring the dazzlingly brilliant British soul diva Beverley Knight. Your venue? The Garrick theatre.
Booking from: Thursday, 1 October 2020
Booking until: Sunday, 28 February 2021
Starring: Beverley Knight
The Drifters Girl tickets
Garrick Theatre Facilities
Air conditioned
Bar
Disabled toilets
Infrared hearing loop
Member of Q-Park scheme
Toilets
Wheelchair/scooter access
Garrick Theatre Access Tickets
Disabled theatregoers and their carers can get discount tickets. Please phone the Garrick Theatre access line on 033 0333 4815.
Garrick Theatre Location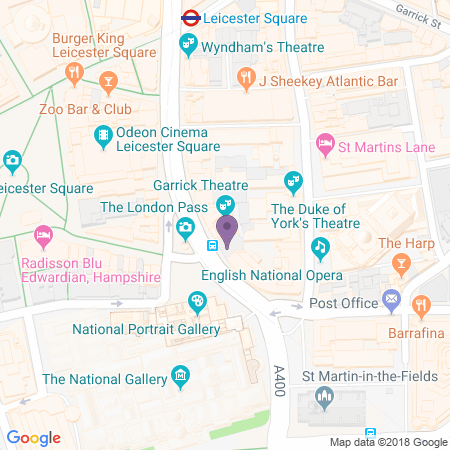 Directions
Travel Information
Nearest Tube station
Leicester Square

Charing Cross
Nearest Rail Station
Tube lines
Northern
Piccadilly
Bakerloo
Day buses
(Charing Cross Road) 24, 29, 176; (Strand) 6, 9, 11, 13, 15, 23, 87, 91, 139
Night buses
(Charing Cross Road) 24, 176, N5, N20, N29, N41, N279; (Strand) 6, 23, 139, N9, N11, N13, N15, N21, N26, N44, N47, N87, N89, N91, N155, N343, N551
Garrick Theatre history
From the outside
The Grade 1 listed Garrick Theatre is a magnificent building from the late 1800s complete with impressive pillars, a row of lovely round windows along the top and an impressive entranceway. Inside its luscious crimson walls and classical Greek-inspired circle decorations, all beautifully preserved, give it a real feel of theatrical tradition, a bit like going back in time.
Garrick Theatre architecture and history
David Garrick, after whom the Garrick is named, was a famously successful actor and manager in the 1700s who first came to London as a wine seller but soon found his spiritual home in the theatre, keeping a special place in his heart for the plays of William Shakespeare.
Commissioned by one W.S. Gilbert and designed by architect Walter Emden, the man behind the Duke Of York's theatre, in collaboration with C.J Philips, the Garrick Theatre was built specially for the well known and loved actor-manager John Hare in 1889. Once upon a time a river flowed beneath the site, which caused all manner of problems when the building was being built. These days the Underground has replaced the long-lost river so you'll be safe and dry!
The interior décor is stunning, with pretty balcony fronts featuring cupids holding laurel-leaf decorated shields, a portrait of the famous actor Garrick and a bust of Shakespeare. Unusually, the Garrick's dressing rooms are completely separate from the auditorium and actors have to navigate a spooky underground tunnel to reach the stage.
The Garrick saw various management teams come and go before shutting down between 1939 and autumn 1941. After the war, in 1947, the popular actor, singer and dancer Jack Buchanan took over and put on a series of very successful comedies. It was refurbished extensively in '65 and '66, then again in 1986, when Carl Toms the expert stage designer restored the auditorium, at the same time giving the exterior a badly-needed face lift.
Over the decades the Garrick Theatre has been home to numerous household name actors including Dame Judi Dench, Rupert Everett, Christian Slater, Matt Damon, Casey Affleck and even Summer Phoenix.
Hauntings at the Garrick Theatre
A Mr Arthur Bourchier, a previous actor and manager at the Garrick who hated critics, apparently haunts the back of the theatre. He often appears after a performance and makes his presence felt by tapping unsuspecting people on the back!
Past shows at the Garrick Theatre
Previous productions at the Garrick Theatre include the wonderful Death Trap, Mr and Mrs Nobody, The Vortex, This is Our Youth, One Flew over the Cuckoo's Nest, Jeffrey Bernard is Unwell, Amy's View and Bad Girls the Musical. Plus Derren Brown Mind Reader, Zorro - The Musical, The Little Dog Laughed and All The Fun of the Fair Starring David Essex, The Gruffalo, Pygmalion and The Go! Go! Go! Show.
Garrick Theatre access
The Garrick provides access for wheelchairs and scooters.
Garrick Theatre tickets
We're a popular destination for a wide variety of seat types and prices, with excellent availability on the full range of Garrick Theatre tickets.