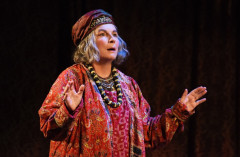 Jennifer Saunders is set to take the West End by storm in less than two weeks time. Starring in Blithe Spirit, the production is just one of three sensational shows to be staged at the Duke Of York's over the coming months.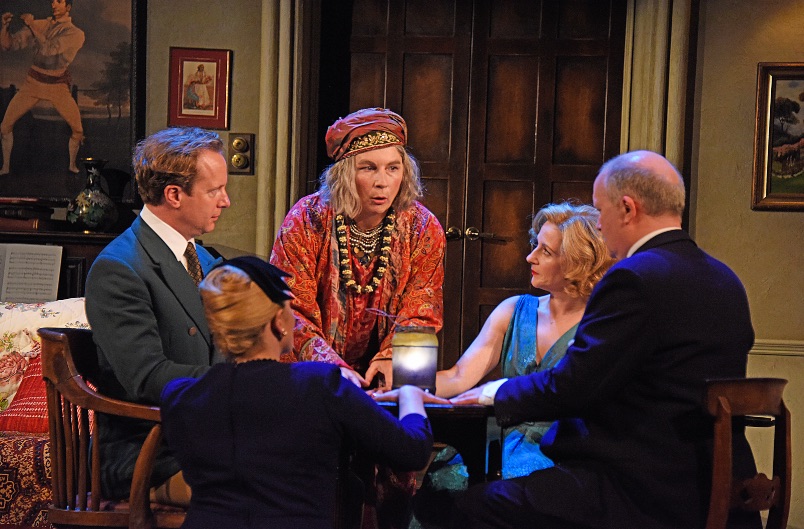 Jennifer Saunders and Company of Blithe Spirit
Following a highly successful run at the Theatre Royal Bath last summer, Noel Coward's renowned farce, Blithe Spirit is being revived at the Duke of York's on London's West End from the 5th March-11th April 2020. Following novelist Charles Condomine whilst in the throes of researching his latest novel, the narrative takes a turn when he invites an eccentric medium – Madame Arcati – to perform a séance at his home. Then, haunted by the ghost of his former wife, forces from beyond the grave set about ruining Condomine's present marriage to Ruth.
Best known for her turn in the epic British sketch comedy French and Saunders and as Edina Monsoon in Absolutely Fabulous, Jennifer Saunders will be reprising her role as the idiosyncratic Madame Arcarti. Other returning cast members include: Emma Naomi as Elvira, Geoffrey Streatfeild as Charles, Lisa Dillon as Ruth Condomine, Lucy Robinson as Mrs Bradman, Rose Wardlaw as Edith, and Simon Coates as Dr Bradman.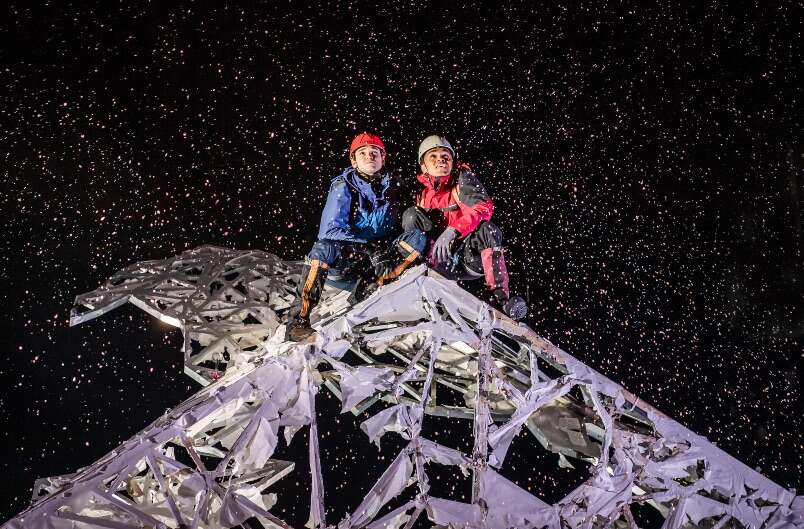 Josh Williams and Patrick McNamee in Touching The Void
Playing for a strictly limited run, the production will succeed Touching The Void – the chilling true-story of Joe Simpson, who, after breaking his leg descending the Peruvian Andes in 1985, found himself fighting for his life. Both plays have been heralded for their innovative use of stagecraft - Blithe Spirit in particular, for its meticulous attention to detail. Anthony Ward's handsome living-room set is to be recreated on the London stage too: all velvet and marble, the perfect house for its prolific players.
Blithe Spirit will also be preceding Robert Icke's greatly anticipated The Doctor, which is due to play from the 20th April-18th July 2020. Starring Juliet Stevenson as the eponymous doctor – one Ruth Wolff – the play is based on Arthur Schnitzler's Professor Berhnardi, originally written in 1912. Stevenson was recently announced as the joint winner of The Critics Circle Best Actress Award for her performance as Wolff, which has been widely regarded as her best to date. Its transfer (from what was a roaring triumph the Almeida Theatre last year) makes The Doctor one of the hottest theatrical events in town. A stunning run of shows from the Duke of York's, then. Add all three to basket? Yes please.
Cast of The Doctor
Get your tickets for Touching The Void here:
Get your tickets for Blithe Spirit here:
Get your tickets for The Doctor here: