104 St Martin's Lane, London, WC2N 4BG GB
Quick Facts
Largest Ticket Inventory
in the West End
Real time
seat availability
Choose
your seats
Your booking is processed directly into the box office reservation system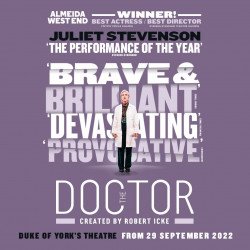 The Doctor
Tickets
Opens: Thursday, 29 September 2022
Booking until: Sunday, 11 December 2022
Running time: 2 Hours and 45 Minutes
Starring: Juliet Stevenson
Tickets from £18.00
Book tickets
Information
Cheap Tickets
News
About The Doctor
Performance Times
Opens: Thursday, 29 September 2022
Booking until: Sunday, 11 December 2022
Running time: 2 Hours and 45 Minutes
Starring:
Juliet Stevenson
The Doctor description
The Doctor – Controversial and timely
Head for the Duke of York's theatre to see Juliet Stevenson star in The Doctor, delivering "one of the performances of the year" (Evening Standard). This is the West End transfer of Robert Icke's sell-out play, a play for our times adapted by a man who is widely lauded as one of the UK's finest directors. You're going to love The Doctor.
Robert Icke is a bit of a genius, a national treasure. He ended a six year stint at the Almeida theatre with his own 'savagely brilliant' version of this late 1900s classic, translated from the German and transformed into a challenging examination of our times. What a dazzlingly good way to breathe new life into an old play, first produced in 1912 and controversial even then.
The story? A Jewish doctor refuses to let a priest sit by the bedside of a young woman dying of sepsis after a botched abortion. The doctor wants her to die in peace without knowing she's dying, but the priest wants to forgive her mortal sin and give her the last rites. It's an incendiary combination, marking the differences between science and religion and different ways of caring, and it soon turns into a massive scandal.
Icke has made the doctor in this version a woman, the upright Ruth Wolff, played by Juliet Stevenson with wit and convincing disdain. The accusations that unfold around the doctor, as a female, are made more complex by dashings of anti-semitism, gender politics and identity politics. But Icke has taken things even further, playing with the casting so white actors play black characters, women play men and some of the roles are completely non-gender-specific, with fascinating results. Take the priest, who's played by the white actor Paul Higgins but is actually black.
Hildegard Bechtler's hospital-like set centred around a circular table is perfect for the endless accusations and counter-charges that take place, but a clear conclusion isn't on the cards. Like real life, the issues are - and remain - confused, with both sides seemingly equally right and at the same time equally wrong. The results are thrilling, thriller-like and full of electric rage.
You might find this play deeply uncomfortable. But is also happens to be very funny. Stevenson is quite extraordinary in this role, a tour de force as she reveals the doctor, at first a powerful leader who's in charge of her world then, gradually, a haunted, tragic figure. This is genuinely breathtaking stuff.
Who is this show for?
Suicidal themes mean this powerful production is recommended for people aged 14 or more.
Age restrictions
Suitable for ages 14+
Important Information
The Doctor includes the discussion of suicide and the description of suicide methods, with an age recommendation of 14+.
Next Performances for The Doctor at the Duke of York's Theatre
Thursday
29th Sep 2022
7:30pm
Friday
30th Sep 2022
7:30pm
Saturday
1st Oct 2022
7:30pm
Sunday
2nd Oct 2022
2:30pm
Tuesday
4th Oct 2022
7:30pm
Wednesday
5th Oct 2022
7:30pm
The Doctor cheap tickets
We have a great selection of cheap The Doctor tickets. We can help you save up to 70% on The Doctor tickets! If you're looking for discount theatre tickets have a look below for our latest offers for The Doctor at the Duke of York's Theatre.
There are no special offers available at the moment but we still have great ticket prices for The Doctor at the Duke of York's Theatre.
27

Feb
2020

Exciting Things To Come At The Duke Of York's Theatre
by Josephine Balfour-Oatts | Thursday, February 27 2020, 09:26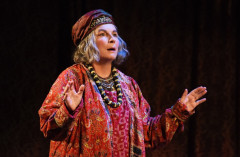 Jennifer Saunders is set to take the West End by storm in less than two weeks time. Starring in Blithe Spirit, the production is just one of three sensational shows to be staged at the Duke Of York's over the coming months.
Exciting Things To Come At The Duke Of York's Theatre