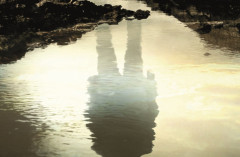 It's great that enlightened producers are still producing new plays in the West End so all credit to Sonia Friedman Productions, Neal Street Productions and Royal Court Theatre Productions who've announced that they're transferring Jez Butterworth's THE FERRY MAN to the West End's Gielgud Theatre, even before its premiere at the Royal Court on 24th April.
Perhaps investment in this piece isn't too much of a leap of faith. It reunites director Sam Mendes with playwright Jez Butterworth after their success with the movie SKYFALL and of course Butterworths previous play JERUSALEM, featuring a spectacular performance from Mark Ryalance was a massive sell out hit in The West End and on Broadway. THE FERRYMAN will be the sixth of Butterworth's plays to be premiered at the Royal Court Theatre and this is his fourth collaboration with Sonia Friedman Productions.
The Royal Court folk say : "When it first went on sale at the Court, it sold out in record time. It became clear to us even then that there was a far larger demand to see the play than the Court run could ever accommodate. We have therefore worked at speed to find the production another home as quickly as possible, which is no mean feat, and we are very grateful to the company for helping us make this happen. It is thrilling to know that wider audiences will now have a chance to see this extraordinary new work from one of our most important writers"
Wow, that's a lot of hype to live up to but if anyone can do it this team can.
Paddy Considine, perhaps best known for playing the title role in TV's THE SUSPICIONS OF MR WHICHER, will play the central role of Quinn Carney, with Laura Donnelly as Caitlin Carney and Genevieve O'Reilly as Mary Carney leading a cast of 23 which also intriguingly includes 12 children and 1 baby!
The plot is described as follows: Rural Derry, 1981. The Carney farmhouse is a hive of activity with preparations for the annual harvest. A day of hard work on the land and a traditional night of feasting and celebrations lie ahead. But this year they will be interrupted by a visitor.
Sounds like all the ingredients for a meaty family drama!
THE FERRYMAN will run at the Gielgud Theatre for 16 weeks from 20 June – 7 October with an opening night on 29 June.