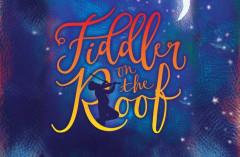 The end of year musical at the Menier Chocolate Factory, an intimate theatre near London Bridge, is often a big deal with shows like LITTLE SHOP OF HORRORS and SWEET CHARITY transferring to the WEST END and even, in the case of THE COLOUR PURPLE, A LITTLE NIGHT MUSIC and LA CAGE AUX FOLLES reaching Broadway.
Last year's offering, BARNUM, was a rare flop and the critical consensus was that a weak leading man hampered an already thin musical.
There should be no such problems this year. It's been announced that
Andy Nyman will appear as Tevye in the venues revival of one of the world's most-beloved musicals of all time, FIDDLER ON THE ROOF.
Veteran director Trevor Nunn has developed a strong relationship with the Menier over the years, including that Broadway transfer of A LITTLE NIGHT MUSIC, and he returns to direct FIDDLER. His extraordinary ability to create a detailed historical context for his productions will be fully employed here, bringing the troubled life of a rural Jewish settlement in Russia before the revolution to fresh life.
The classic Broadway show, made famous by an equally loved and successful Hollywood film in the 1960s, contains wonderful songs like "Sunrise, Sunset," "If I Were a Rich Man" and "Matchmaker, Matchmaker" to "Life – L'chaim!"
I've loved the last two New York productions and although American in origin it's also been a West End success several times. The first London production of Fiddler opened in February 1967 at Her Majesty's Theatre; and the most recent London production opened in May 2007 at the Savoy Theatre with Henry Goodman as Tevye. There were also recent successful productions in Chichester and at the Everyman Theatre in Liverpool.
It's interesting that the press release has no mention of Topol, the star of the original production, at least one West End revival and the film. This may be because his performance is so iconic that any actor playing the lead has his work cut out to erase collective memories of what's considered a definitive interpretation. It'll be Nyman's job to reinterpret the amiable milkman struggling to find a suitable match for his three daughters, for a new generation
The production opens on 5 December, with previews from 23 November, and runs until 9 March.
Check out the very impressive biographies of Director and Star, from the press release below.
DIRECTOR: TREVOR NUNN.
Fiddler on the Roof sees Trevor Nunn renew his collaboration with the Menier – he previously directed Lettice and Lovage, Love in Idleness (also West End), A Little Night Music (also West End and Broadway) and Aspects of Love for the company. From 1968 to 1986, Trevor Nunn was the youngest ever Artistic Director of the Royal Shakespeare Company, directing over thirty productions, including most of the Shakespeare canon, as well as Nicholas Nickleby and Les Misérables. From 1997 to 2003, he was Artistic Director of the National Theatre, where his productions included Troilus and Cressida, Oklahoma!, The Merchant of Venice, Summerfolk, My Fair Lady, A Streetcar Named Desire, Anything Goes and Love's Labour's Lost. He has directed the world premières of Tom Stoppard's plays Arcadia, The Coast of Utopia and Rock n Roll; and of Cats, Sunset Boulevard, Starlight Express and Aspects of Love by Andrew Lloyd Webber. Other theatre includes Timon of Athens, Skellig (Young Vic); The Lady From The Sea (Almeida Theatre); Hamlet, Richard II, Inherit the Wind (The Old Vic), A Little Night Music (Menier Chocolate Factory, West End and Broadway), Cyrano de Bergerac, Kiss Me Kate (Chichester Festival Theatre); Heartbreak House, Flare Path, Rosencrantz and Guildenstern Are Dead, The Tempest (Theatre Royal, Haymarket); Scenes from a Marriage (Coventry & St James), All That Fall (Jermyn Street & New York); A Chorus of Disapproval and Relative Values (West End). Work for television includes Antony and Cleopatra, The Comedy of Errors, Macbeth, Three Sisters, Othello, The Merchant of Venice and King Lear, and on film, Hedda, Lady Jane and Twelfth Night.
LEADING ACTOR: ANDY NYMAN (Tevye)
Andy Nyman is an award-winning actor, director and writer who has earned acclaim from both critics and audiences for his work in theatre, film and television. He returns to the Menier Chocolate Factory having previously performed in Stephen Sondheim's Assassins and Abigail's Party (also Wyndham's Theatre). Other theatre work includes Martin McDonagh's Hangmen (Wyndham's Theatre), and the original production of Ghost Stories (Duke of York's Theatre/Arts Theatre) which he starred in, co-wrote and co-directed with Jeremy Dyson. His extensive television credits include The Eichmann Show, Campus, Crooked House, Dead Set as well as his highly acclaimed performance as Winston Churchill in Peaky Blinders. This year he will be seen in the up and coming series' Wanderlust and Hanna. Nyman's extensive film credits include The Commuter, Death at a Funeral, Kick-Ass 2, Black Death, The Brother's Bloom, Severance and Shut Up & Shoot Me, for which he won the 'Best Actor' award at the Cherbourg Film Festival in 2006. Upcoming films include Jungle Cruise and playing opposite Renee Zellweger in Judy. This year saw the release of the film version of Ghost Stories. Based on their own play, the film was written and directed by Nyman and Jeremy Dyson. Nyman also stars alongside Martin Freeman and Paul Whitehouse. In addition, he has collaborated with Derren Brown for almost 20 years, co-writing and co-creating much of Brown's early TV work, he has also co-written and directed six of Brown's stage shows winning the 'Best Entertainment' Olivier Award for Derren Brown - Something Wicked This Way Comes and recently a New York Drama Desk Award for 'Best Unique Theatrical Event 2017' for Derren Brown - Secret.