Quick Facts
Largest Ticket Inventory
in the West End
Real time
seat availability
Choose
your seats
Your booking is processed directly into the box office reservation system
This show is now closed.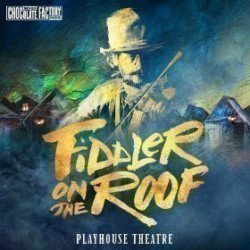 Fiddler on the Roof
Tickets
4.7/5
-

based on

128

reviews
About Fiddler on the Roof
Performance Times
Fiddler on the Roof description
Fiddler on the Roof – A brand new version of the '60s classic
In 1971 Fiddler on the Roof, the movie, wowed audiences around the world, an Oscar winning adaption of the original Broadway musical that ran for almost a decade. This story has already delighted millions. Now the awesome Trevor Nunn, a British national treasure, has brought it zinging back to life, and it's due at the Playhouse theatre in spring 2019.
As the Guardian said, giving the musical a four star review, 'This Fiddler raises the roof. A note-perfect production.' The many great reviews it has attracted are no surprise really, since the original run at the Menier Chocolate Factory sold out in no time, with tickets going like hot cakes from the start. Maybe it's a nostalgia thing, maybe it's the thrill of seeing a fresh new version of a popular tale, but whatever the reason, the Tony and Olivier award-winning director Trevor Nunn's 'exuberant revival' (The Telegraph) of this magical Broadway classic is proving a huge hit.
Best of all, the venue will be transformed especially for the event into an exciting immersive space to display this perfectly-tailored production to perfection. You'll love seeing ancient and new traditions colliding in this incredibly joyful celebration of life, the universe and everything... with a satisfyingly dark side.
The story? When Tevye's three rebellious elder daughters choose their own husbands, their father realises life is changing, and he must change with the times. Their choices are unexpected, but he does everything he can to open his heart and mind to new possibilities. At the same time the wider community that lives in his tiny, remote village is also feeling the uncanny winds of change.
But it's the songs that really mark this musical as a work of genius. Even if you've never seen the film you'll recognise some of the show tunes, especially the incredibly popular If I Were a Rich Man. It's joined by a multitude more tunes including the brilliant Tradition, Matchmaker Matchmaker, Sunrise Sunset and more, complemented beautifully by Jerome Robbins' original Tony award-winning choreography.
The Financial Times says it 'bursts from the stage', 'bringing new life to one of the most beloved musicals of all time.' The Telegraph says, 'The tears ring true in Trevor Nunn's exuberant revival'. The Evening Standard calls it 'a defiant portrait of Jewish resilience' and The Times calls it 'shiveringly intimate'. Apparently Andy Nyman is a perfect fit as Tevye and the Daily Mail comments that 'Judy Kuhn provides musical class'.
Who is this show for?
This lively, colourful, magical musical is probably best-suited to people aged 10 and over.
Fiddler on the Roof reviews
4.7 out of 5
based on

128

reviews
What to expect:
Acting
Music
Costumes
Story
Lighting
Recommended for:
Anyone (76%)
Families (84%)
Teenagers (79%)
Couples (87%)
Theatregoers (91%)
Latest customer reviews

as a bavarian wouth say: sakrisch guad
a classic in excellent line-up with a great orchestra. The beginning without a curtain is a great idea and also the departure at the end. I felt very comfortable in my seventies.
Reviewed on 06 November 2019 by Ralf, Eichenau - Bavaria, Germany

A must see! The cast is amazing!
Reviewed on 31 October 2019 by Susana, Pembroke Pines, Fl, United States Of America

A real Musical!
All nine of us loved the show. The story is sad at the end but that was life in those days for jewish families living in villages.
Reviewed on 24 October 2019 by Eveline, London, United Kingdom

Powerful singing
Reviewed on 18 October 2019 by Trudy, London, United Kingdom

Catch it before it finishes
Reviewed on 17 October 2019 by Lucy, Windsor, United Kingdom

Excellent show. Acting and costume excellent.
Reviewed on 15 October 2019 by Dawn, Essex, United Kingdom

Amazing
Reviewed on 11 October 2019 by Maria, London, United Kingdom

Good
Although I am not a huge fan of musicals, I quite liked it. The performance and story were nice.
Reviewed on 08 October 2019 by Mario, Jaklovce, Slovakia

One of the best seen in years,
Though taking part in an excellent amateur production of "Fiddler...." many years ago, and seeing the movie (also years ago), I didn't know the story too well. My husband had never seen it! We both thoroughly enjoyed every moment. I do enjoy a good cry!!
Reviewed on 04 October 2019 by Georgia, Palma De Mallorca, Spain

Superb production!!
Reviewed on 27 September 2019 by Fabian, Singapore, Singapore

Was exceptional. Funny and moving
Great last minute purchase. Theatre location is good. Production was exceptional.
Reviewed on 26 September 2019 by David, Doncaster, United Kingdom

Brilliant!
Even though we know the story, knew the songs, it was an absolutely stunning performance by all the cast. A must see production!
Reviewed on 25 September 2019 by Howard, Romford, United Kingdom

Vibrant entertainment with great depth
Reviewed on 23 September 2019 by Nicolette, Stroud, United Kingdom

Heartbreaking
Reviewed on 20 September 2019 by Aleksandra, Huddinge, Sweden

Staff were amazing, so very helpful - our mum struggles a little with stairs and the staff went out of their way to make things a little easier for her. Huge thanks to them.
Reviewed on 19 September 2019 by Jan, Essex, United Kingdom

A great show
Funny sad and thought provoking. An amazing show
Reviewed on 11 September 2019 by Lavinia, Swansea, United Kingdom

return to our roots, to heritage , show children traditions
Reviewed on 11 September 2019 by Inga, Beer Sheva, Israel

Great music, great fun!
Reviewed on 05 September 2019 by Natasha, London, United Kingdom

Brilliant
A great show, brilliantly staged. Very moving, funny and thought provoking. Acting and singing superb.
Reviewed on 03 September 2019 by Michael, Ottery St Mary, United Kingdom

A must see
Unforgettable. Music storyline costumes A wonderfully told story
Reviewed on 24 August 2019 by Michelle, St Neots, United Kingdom

Excellent acting, singing - a must-see!
Every bit as good as the reviews indicated. Humorous, sad, compelling. Lovely little theatre too.
Reviewed on 21 August 2019 by Susan, Leicester, United Kingdom

Brilliant show
Reviewed on 17 August 2019 by Rachel, Sherborne, United Kingdom

fasmatatious
Don't miss it. Very intimate, atmospheric and inclusive for the audience.
Reviewed on 11 August 2019 by Clive, Carmarthen, United Kingdom

Choose This Show!
I am not a regular theatre goer...O do not like the majority of musicals....however....I chose carefully as I do like this particular story. This show was brilliant in every aspect. If you have to choose just one show...choose THIS! I really cannot reccomend it any higher. Superb.
Reviewed on 11 August 2019 by Kevin, Middlesbrough, United Kingdom

I was in this show over 45 years ago at Her Majesties Theatre Haymarket
I was in this show over 48 years at Her Majesties in the Haymarket. I took my 20 year old grandson to see it as I met his Grandad while he was a stage hand i. The show x
Reviewed on 11 August 2019 by Amber, Longfield, United Kingdom

Well worth seeing.
Fabulous singing, choreography, acting dancing and set. Plenty of leg room
Reviewed on 09 August 2019 by Karen, Louth, United Kingdom

Enlightening!
It is a long show so make sure to have dinner before you go. There are booster seats available on request of you are a bit shorter and these really helped! Overall this was a wonderful show which tells a story of culture and traditions which can be applied to any culture. Really worth seeing!
Reviewed on 07 August 2019 by Asha, Braintree, United Kingdom

Fiddler on the roof
Absolutely outstanding, enjoyed every moment! Acting and singing superb!
Reviewed on 02 August 2019 by Patricia, Darlington, United Kingdom

vibrant
Reviewed on 01 August 2019 by Ian, Bury St Edmunds, United Kingdom

Great performance!
I had not heard of the show before my family got tickets but the storyline was easy to follow and the performance was great. The stage and props were really good. Staff at the venue were friendly and helpful.
Reviewed on 14 July 2019 by Melanie, Salford, United Kingdom

Amazing show, you will laugh and cry in equal measures
The set, sound and lighting was fantastic. The cast and band were incredible. One of the best shows I have ever seen.
Reviewed on 11 July 2019 by Julie, Hersham, United Kingdom

A classic
Reviewed on 07 July 2019 by Claire, Westport, Ireland

Fantastic
Loved the show but not the seat. I had an obstructed view seat seat B1 in the upper circle. I knew it was restricted view but this was really bad. The dancing was fantastic and the show was really enjoyable.
Reviewed on 05 July 2019 by Deirdre, Carrick On Shannon, Ireland

A spectacular rollercoaster!
From the outset the story telling was fabulous. The audience were taken through the highs and lows of a struggling Jewish family. You felt the unbridled joy of love triumphing over tradition and then the depths of despair when the daughters leave home never to return. The singing, dancing and acting were all fantastic. The musical accompaniment was beautiful and reflected the mood of each scene. The main character was outstanding and had a real connection with the audience, we felt his joy and his anguish. The three daughters were well cast and their voices blended beautiully. An excellent feel good show, performed with passion.
Reviewed on 04 July 2019 by Joanna, Glenrothes, United Kingdom

Wonderful experience
This is an amazing production that won't disappoint.
Reviewed on 30 June 2019 by Justin, Perth, United Kingdom

Fabulous
Reviewed on 26 June 2019 by Maureen, Franklin, United States Of America

Traditional setting with a few interesting changes!
Reviewed on 26 June 2019 by Cornelia, Gladbeck, Germany

I attended with family members of varying ages (8-68). We all thoroughly enjoyed it, even those who had seen it previously. Thank you!
Reviewed on 23 June 2019 by Jennifer, Elstree, United Kingdom

Excellent remake of the movie!
The same heart wrenching and warming story. All the favorite songs w/ actors staying close to the movie's sentiments such that audience didn't miss too much the original movie actors.
Reviewed on 21 June 2019 by Doreen, London, United Kingdom

Total must see
Fantastic show, really wonderful to see how the crew and cast put a film onto a stage so wonderfully. Singing, dancing and acting really fantastic with the right amount of humour and sadness
Reviewed on 15 June 2019 by Sapna, Horsham, United Kingdom

Outstanding production.
Absolutely amazing show !!!...outstanding !!...everything was right
Reviewed on 15 June 2019 by Vernaz, London, United Kingdom

Amazing evening in London
Recently my wife and I were in London and saw Fiddler on the Roof at the Playhouse theatre. The show was amazing and highly recommended to all. The acting was amazing and the music was breathtaking. Not a bad seat in this small theatre. It does not disappoint.
Reviewed on 14 June 2019 by Rob, Guelph, Canada

A legendary musical show
Reviewed on 14 June 2019 by Laura E, Miami, United States Of America

A must see.
The best musical I have seen in a long time. Very intimate setting due to size of theatre. Very moving and true to the story and original film. Acting superb. A lot of Irish accents though. Would definitely go again
Reviewed on 13 June 2019 by Suzanne, Tonbridge, United Kingdom

Impressive re-working of an age old story
Fabulous singing and dancing, humour and a story as relevant today as it was then. Not suitable for young children, but teens should find inspiration in everyone's traditions in a fast moving world. Big opening, but, as a theatre production, it could benefit from a nod to the resiliance of people to find a new life.
Reviewed on 12 June 2019 by Pauljohn, Calne, United Kingdom

Fantastic play but pity that seats were very uncomfortable.
Reviewed on 10 June 2019 by Hugo, Marcq En Baroeul, France

Touching performances throughout
Having only ever seen the film it was great to see this version. Excellent acting and creative staging plus wonderful dance routines. Absolutely fantastic!
Reviewed on 08 June 2019 by Bridget, Chelmsford, United Kingdom

Amazing! Made me as i lived there in the village
Reviewed on 08 June 2019 by Ferhat, Istanbul, Turkey

Enjoyable revival
It was an engaging production, which I enjoyed, but it would have been useful to know about the very long first half.
Reviewed on 07 June 2019 by Kim, Bishop's Stortford, United Kingdom

Great story
Excellent show with some great songs and really good performances.
Reviewed on 07 June 2019 by Clive, Loughton, United Kingdom

A night out at Anatevka
This is a great show which, so many years after its original performance - movie and theatre - has still not lost its attraction and appeal. The actor who reprises the main role played originally by Topol is magnificent. He makes the public cry and laugh at the same time. And of course the songs and lyrics are superb. The Theatre itself is literally a 5 minute walk from Embankment underground station. All in all, a very pleasant night out for my husband and I, which brought back many memories of the time when we saw the original play and movie. Highly recommend that you go!
Reviewed on 07 June 2019 by Aline, London, United Kingdom

a must see
Reviewed on 06 June 2019 by Angela, London, United Kingdom

Fiddler the Fabulous
Throughly enjoyed show and the music and dancing soared up to us in the Upper Circle...we were in row E seats 5 & 6 had a partially restricted view which was probably worse the further up you went...but then I think the information does mention that....
Reviewed on 04 June 2019 by Louise, Solihull, United Kingdom

Brilliant!
I booked this show on a last minute whim and wasn't expecting that much (I didn't know anything about the story) and I LOVED it, such brilliant acting, singing and dancing.
Reviewed on 02 June 2019 by Rumneet, Southall, United Kingdom

Fantastic set that creates the mood
Reviewed on 01 June 2019 by Gary, Newton Abbot, United Kingdom

Emotive
Fabulous show would recommend to all I know. Would come and see it a second time. Just brilliant
Reviewed on 30 May 2019 by Andrea, Cootehill, Ireland

Superb production
Reviewed on 30 May 2019 by David, Winchester, United Kingdom

Moving and powerful
This was an excellent show throughout. It was a suitably drab scene with most people in dark colours, but the acting was brilliant and made the scene come alive and the people seem colourful. It was moving and funny all in one. An excellent cast and very similar to the film, which I have always loved.
Reviewed on 26 May 2019 by Kathy, Muswell Hill, United Kingdom

Outstanding
If I could give it 10 stars I would. Absolutely marvellous. An emotional rollercoaster.
Reviewed on 25 May 2019 by Mary Anne, Falconbridge, Canada

Although we enjoyed Fiddler, throughout the show we were distracted by the audience member who appeared to be sitting in the set, stage right...especially when she put on her bright orange jacket.
Reviewed on 24 May 2019 by Angela, Hereford, United Kingdom

Can't see half the stage from upper circle!!
This is one of my favourite shows, however left me very disappointed due to terrible visibility from my seats. Don't bother buying tickets for Upper Circle. You will not see half the stage from ANY seat up there. Not worth the money!
Reviewed on 22 May 2019 by Lena, Guildford, United Kingdom

Stunning Must See!
Amazing seats, true to the original movie, the lead gives Topol a run for his money - fantastic ❤️
Reviewed on 21 May 2019 by Maxine, Erskineville, Australia

superb
Reviewed on 07 May 2019 by Stephane, Warsaw, Poland

A must see.
Reviewed on 28 April 2019 by Abram, Salisbury East, Australia

An insight to how things were !!
I took a friend of mine there for her birthday. We were seated in the upper circle the 2nd row from the front, so every time the people lent forward we couldn't see the stage which was a shame. The show itself was brilliant , the singing , dancing and acting. The set itself was very well thought out and just amazing. I would recommend couples and theatregoers for this show, with either being up higher in the circle or better than that , in the stalls. We both loved it .
Reviewed on 27 April 2019 by Louise, Oxford, United Kingdom

Great Musical
An excellent story with an everlasting theme and catching music, which lives longer than a life time.
Reviewed on 26 April 2019 by Pertti, Hyvinkää, Finland

Great show - must aee
Reviewed on 24 April 2019 by Rachel, Hong Kong, Hong Kong

show was on one think kids getting marrid.
Reviewed on 23 April 2019 by Alexander, Marsa, Malta

Best show in London
This production is the best I have seen for ages. Brilliant staging, choreography, and story. This is the hot ticket in the west end.
Reviewed on 22 April 2019 by Neil, Ipswich, United Kingdom

Brilliant
Reviewed on 19 April 2019 by Pamela, Manningtree, United Kingdom

A Must See!
Reviewed on 18 April 2019 by Lynn, London, United Kingdom

Reviewed on 15 April 2019 by Peter, London, United Kingdom

A must see
Great show . Shame about the seats
Reviewed on 12 April 2019 by Sheila, Sutton, United Kingdom

Best show I've seen
Great show. Really great acting and singing. Haven't seen the movie but really strong, funny and poignant story if you're not familiar with it. Avoid the Upper Balcony seats though.
Reviewed on 10 April 2019 by John, Virginia Water, United Kingdom

Energetic great music uneven singing
Reviewed on 06 April 2019 by Remy, Paris, France

Absolutely amazing show. Great actors great everything.
Reviewed on 04 April 2019 by Stephanie, London, United Kingdom

Good classic show
This was a lovely show that did not disappoint. It has humour but tells the story really well. The acting by everyone was brilliant. I will be recommending this to all my friends.
Reviewed on 03 April 2019 by Dawn, Wickford, United Kingdom

Totally Immersive
Show & performance was excellent, large cast helped. Engages you fully with songs and humour.
Reviewed on 31 March 2019 by Anthony, Swaffham, United Kingdom

An inspirational experience.
Uplifting. Challenging and very very enjoyable.
Reviewed on 30 March 2019 by Prof Laurence, Redcliffe, Australia

Excellent
Reviewed on 29 March 2019 by Yvette, London, United Kingdom

Thoroughly entertaining evening!
Superb entertainment!
Reviewed on 29 March 2019 by Colin, Calgary, Canada

More to it than sentimentality.
Reviewed on 27 March 2019 by Joan, London, United Kingdom

Excellent production. Mirrors the film.
The production was excellent. The acting second to none. The story was followed to the letter. I recommend it.
Reviewed on 26 March 2019 by Jorge, Canvey Island, United Kingdom