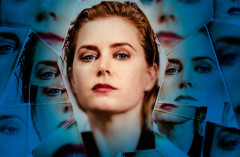 Update for The Glass Menagerie at the Duke of York's Theatre
Welcome to the debut production from Second Half Productions, co-founded by the brilliant Jeremy Herrin, Alan Stacey, and Rob O'Rahilly. The Glass Menagerie premieres at the Duke of York's Theatre from 23rd May 2022, and the main cast members have just been confirmed. We're delighted to announce Amy Adams making her West End Debut as Amanda Wingfield in Tennessee Williams' marvellous memory play.
Who's involved in The Glass Menagerie?
The award-winning director Jeremy Herrin presents a bold new version of Tennessee Williams' semi-autobiographical memory play, a true theatre masterpiece. Amy Adams, in the starring role, has been nominated for a grand total of six Academy Awards and has won two Golden Globes. She plays an ageing Southern Belle living in near-poverty with her two children, stuck in the gap between past and present.
Directed by Jeremy Herrin
Tony award-nominee Paul Hilton and Tom Glynn-Carney play Tom at different stages in his life
Newcomers Lizzie Annis and Victor Alli play Laura and The Gentleman Caller respectively
Design by Vicki Mortimer
Lighting Design by Paule Constable
Video Design by Ash J Woodward
Buy The Glass Menagerie Tickets
Book your The Glass Menagerie tickets online with us and choose the best seats with our Duke of York's Theatre seating plan. We'll send E-tickets direct to your email address – all you do is present them at the door on the day of the performance and you're in! We hope you enjoy this classic drama.
About the Duke of York's Theatre
Dating back to 1892, the magnificent Duke of York's Theatre is the London HQ of the Ambassador Theatre Group. It's also home to the producing offices of their subsidiary Sonia Freidman Productions. Past shows at the Duke of York's Theatre include The Girl on the Train, The Son, Touching the Void, Blithe Spirit, and The Doctor.