Duke of York's Theatre
104 St Martin's Lane, London, WC2N 4BG GB
Now showing at
the Duke of York's Theatre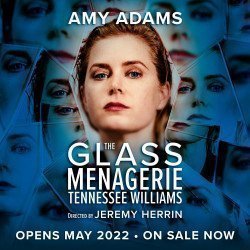 Now Open
The Glass Menagerie
Duke of York's Theatre
4.3/5
-

based on

30

reviews - (Read reviews)
4.3

30

reviews
Tickets from £24.00
This is such great news! The brilliant Amy Adams will make her West End debut as Amanda Wingfield in a new production directed by Jeremy Herrin. Paul Hilton, Tom Glynn-Carney, Lizzie Annis and Victor Alli will also star in Tennessee Williams' classic memory play. This is the debut production from Second Half Productions, co-founded by Jeremy Herrin, Alan Stacey and Rob O'Rahilly. And it has all the makings of a massive success. Don't miss it!
Booking until: Sunday, 28 August 2022
Starring: Amy Adams
The Glass Menagerie tickets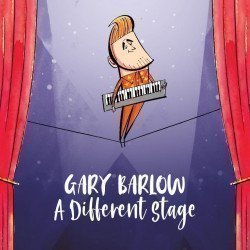 Opens 30 Aug 2022
Opens 30 August 2022
A Different Stage
Duke of York's Theatre
Gary Barlow is highly respected and widely acclaimed for his gorgeous voice, remarkable song writing talent, and producing skills. The man at the heart of the '90s superstar boy band Take That, he's bringing his hot theatrical one man stage show, A Different Stage, to theatreland. The drama takes place at the Duke of York's Theatre from 30th August to 18th September. We predict Barlow fans will be queuing in the streets!
Opens: Tuesday, 30 August 2022
Booking until: Sunday, 18 September 2022
Starring: Gary Barlow
A Different Stage tickets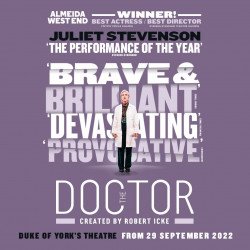 Opens 29 Sep 2022
Opens 29 September 2022
The Doctor
Duke of York's Theatre
Tickets from £18.00
Your venue? The Duke of York's theatre. The star? Juliet Stevenson. Welcome to The Doctor, in which the fabulous Olivier Award winner Juliet Stevenson delivers "one of the performances of the year" (Evening Standard) in the West End transfer of Robert Icke's five-star Almeida Theatre production. A play for our times, this one is created for the divisive world we live in, written by a man who many feel is Britain's best director. Welcome to The Doctor.
Opens: Thursday, 29 September 2022
Booking until: Sunday, 11 December 2022
Running time: 2 Hours and 45 Minutes
Starring: Juliet Stevenson
The Doctor tickets
Duke of York's Theatre Facilities
Air conditioned
Bar
Disabled toilets
Infrared hearing loop
Member of Q-Park scheme
Toilets
Wheelchair/scooter access
Duke of York's Theatre Access Tickets
Disabled theatregoers and their carers can get discount tickets. Please phone the Duke of York's Theatre access line on 080 0912 6971.
Duke of York's Theatre Location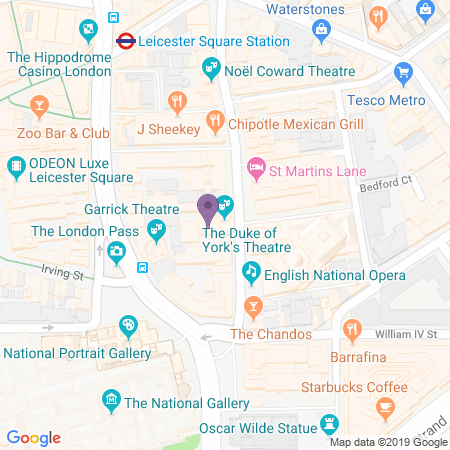 Directions
Travel Information
Nearest Tube station
Leicester Square

Charing Cross
Nearest Rail Station
Tube lines
Northern
Piccadilly
Bakerloo
Day buses
(Charing Cross Road) 24, 29, 176; (Strand) 6, 9, 11, 13, 15, 23, 87, 91, 139
Night buses
(Charing Cross Road) 24, 176, N5, N20, N29, N41, N279; (Strand) 6, 23, 139, N9, N15, N11, N13, N21, N26, N44, N47, N87, N89, N91, N155, N343, N551
Duke of York's Theatre history
From the outside
With its broad façade, pale stone, sweeping columns and pretty rows of intricate windows, the Duke of York's theatre was the first of three theatres to be built on St Martin' Lane in 1892, during the heyday of West End theatre building, between 1890 and 1935. On the inside its rich, lush raspberry walls and the circle's ornate carvings give it a proper traditional theatre feel.
Duke of York's Theatre architecture and history
Designed by Walter Emden for Frank Wyatt and his wife Violet Melnotte, the Duke of York's Theatre was built back in 1892, right at the end of the Victorian era. Before that St Martin's Lane was merely a muddy track, difficult to imagine these days as the traffic streams past. Later joined by the Albery Theatre and the Coliseum, St Martin's Lane now enjoys three top West End theatres.
Originally called the Trafalgar Square Theatre, it became the Duchess in 1895 in honour of King George Fifth, three years after opening. In 1897 Mrs Melnotte let the theatre to an American, Charles Frohman, known at the time as The Napoleon of the Theatre. Needless to say, with a nickname like that he soon turned it into a popular, prestigious and highly profitable venture!
Over the decades the Duchess Theatre has seen famous names like Charlie Chaplin, who debuted in the play Sherlock Holmes in 1904 aged just fourteen. Marie Tempest, Ellen Terry, John Gielgud and Al Pacino also played there, thrilling audiences night after night.
Apparently the composer Puccini saw a production of Madame Butterfly there, was inspired to write his opera of the same name, which was eventually performed at the Duke of York's three decades later.
After Frohman died on the Lusitania, a ship sunk during the First World War, the theatre became home to a number of opera, ballet and dance companies, enduring particularly troubled times in the 1950s until, in 1979, Capital Radio bought and refurbished it. Reopened in 1980 and restored to its former glory, it has been home to a run of highly successful productions ever since.
Hauntings at the Duke of York's theatre!
Like many West End theatres, the Duke of York's has its own ghost. Apparently, the spirit of that long-ago theatre lover Violet Melnotte, who died in the 1930s, has been heard in the box she frequented, as well as being spotted backstage occasionally in the theatre's spooky green room.
Past shows at the Duke of York's Theatre
The Duke of York's Theatre has hosted any number of top shows including Rose, American Buffalo and The Weir, Stones In His Pockets, Rock'n'Roll, Rent and No Man's Land. More recently, Ghost Stories terrified thousands.
Duke of York's Theatre access
The Duke of Yorks offers an infrared hearing loop and access for wheelchairs and scooters.
Duke of York's Theatre tickets
We're a trusted destination for a wide variety of seat types and prices, with excellent availability on the full range of Duke of York's theatre tickets.