104 St Martin's Lane, London, WC2N 4BG GB
Quick Facts
Largest Ticket Inventory
in the West End
Real time
seat availability
Choose
your seats
Your booking is processed directly into the box office reservation system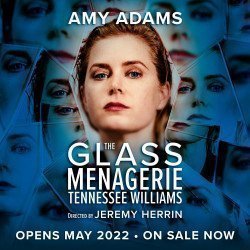 The Glass Menagerie
Tickets
4.3/5
-

based on

30

reviews
Booking until: Sunday, 28 August 2022
Starring: Amy Adams
Tickets from £24.00
Book tickets
Information
Cheap Tickets
Reviews
News
About The Glass Menagerie
Performance Times
Booking until: Sunday, 28 August 2022
Starring:
Amy Adams
The Glass Menagerie description
The Glass Menagerie previews at the Duke of York's Theatre from 23rd May 2022 and is set to run for fourteen weeks. Amy Adams makes her West End debut as Amanda Wingfield in a new production directed by Jeremy Herrin, who co-founded Second Half Productions along with Alan Stacey and Rob O'Rahilly. Paul Hilton, Tom Glynn-Carney, Lizzie Annis and Victor Alli will also star in the drama, a genuine Tennessee Williams' classic of a memory play.
The award-winning director Jeremy Herrin has created bold new staging for this fabulous drama, which cleverly explores the fragility of memory. This is Tennessee Williams' hugely popular semi-autobiographical masterpiece, and the amazing six-time Academy Award nominated and two-time Golden Globe winning actress Amy Adams takes on the starring role. The talented Tony award-nominee Paul Hilton and Tom Glynn-Carney both play the character of Tom, each at a different stage in his life, and they're joined by Lizzie Annis as Laura, and Victor Alli as The Gentleman Caller.
What's the plot of The Glass Menagerie?
Amanda Wingfield is a former Southern Belle. She is living precariously with her children, Tom and Laura, trapped in the gap between the past and the present. Jeremy Herrin has called Williams' 1944 drama "one of the best plays ever written – and probably one of the hardest plays to do because it is so fragile and poetic". He's also a massive fan of Amy Adams, calling her "a class act" , a versatile performer with the nuanced approach needed to reveal the interior life of Amanda. And how about Amanda herself? She was described by Tennessee Williams as a woman of "great but confused vitality clinging frantically to another time and place".
The plot? Amanda Wingfield is shattered when her husband abandons her. But she retains enough backbone to care about the future security of herself and her children, Tom and Laura. Sadly her ambitions don't blend well with those of her progeny. Tom feels horribly trapped by his life in St Louis, and Amanda pressures Laura into creating a safe future for herself, making the girl feel crushed and bullied. As her mother's attentions focus on finding a suitor for Laura, the gap between dignity and desperation widens.
Who is The Glass Menagerie for?
The Glass Menagerie is recommended for people who are old enough to appreciate the subtleties and seriousness of adult relationships.
Buy tickets for The Glass Menagerie
Our website makes buying tickets for The Glass Menagerie simple and enjoyable. We'll email your tickets to you – all you do is present them at the door on the big day. Enjoy the show!
Next Performances for The Glass Menagerie at the Duke of York's Theatre
tomorrow
29th Jun 2022
7:30pm
Thursday
30th Jun 2022
2:30pm
Thursday
30th Jun 2022
7:30pm
Friday
1st Jul 2022
7:30pm
Saturday
2nd Jul 2022
2:30pm
Saturday
2nd Jul 2022
7:30pm
The Glass Menagerie cheap tickets
We have a great selection of cheap The Glass Menagerie tickets. We can help you save up to 70% on The Glass Menagerie tickets! If you're looking for discount theatre tickets have a look below for our latest offers for The Glass Menagerie at the Duke of York's Theatre.
-25%
Was £80.00
Now £60.00
SAVE UP TO £36 ON SELECTED TICKETS Valid for Monday - Thursday performances 27 June - 4 August 2022 Book by 3 July 2022 PAY NO FEES ON SELECTED PREMIUM TICKETS. Valid on all performances subject to availability.
The Glass Menagerie reviews
4.3 out of 5
based on

30

reviews
What to expect:
Acting
Music
Costumes
Story
Lighting
Recommended for:
Anyone (37%)
Families (40%)
Teenagers (50%)
Couples (73%)
Theatregoers (93%)
Latest customer reviews

Amazing acting!
While T. Williams has great plays, this one is not a particularly exciting story. However it was brought to life beautifully by the cast and the narrator. The photos / lights playing in the background also added to the story. Amazing performance!
Reviewed on 28 May 2022 by Alexandra, London, United Kingdom

good drama
I did not know the storyline but was able to follow what was a interesting family drama with ease, the performances were good with excellent sound and there was humour and poignant moments, as a performance with a small cast it was suited to the smaller theatre, I was slightly surprised to hear the rumble of underground trains and had initially thought this was a sound effect- one of the quirky things about London Theatre.
Reviewed on 28 April 2017 by Ann, Winchester, United Kingdom

Thought provoking
Reviewed on 23 April 2017 by Sharon, London, United Kingdom

Excellent acting especially the mother
Great acting. The story was a little slow to my liking but that's a personal preference
Reviewed on 15 April 2017 by Jeffrey, London, United Kingdom

An excellent theatrical performance
A brilliant change from mundane musicals. An extraordinary all- round performance from the entire cast with superbly portrayed character sketches. A treat for the discerning theatre-goer.
Reviewed on 14 April 2017 by Menaka, Bromley, United Kingdom

Worth seeing
Reviewed on 13 April 2017 by Susanna, Geneva, Switzerland

Poingnant but not sentimental
Reviewed on 11 April 2017 by Katherine, London, United Kingdom

Superb performances - upper circle not for the talls
Originally had tickets for the upper circle (row F - Duke of York) but this would have been impossible for my 5'10 frame so we moved to the stalls which provided far greater leg room. Theatre got quite warm so definitely take a cold drink to your seat or you may find yourself dozing... Comfort sorted, the performances were superb. Some fantastic monologues delivered with perfect timing. The acting was excellent, casting perfect... another fantastic Tennessee Williams play brought to life by a passionate and committed cast.
Reviewed on 07 April 2017 by Dionne, London, United Kingdom

Magical and captivating; profoundly moving
I loved the staging and the acting of this play; in my memory it is like a little gem, (especially seeing it from my seat high above). Noticing the moon under the stage and the reflection of the actors at the table beneath sent a thrill of recognition. Was it meant to refer to the main protagonist's reflections on his past? The story itself made a lesser impression on me then the way it was told. We are back in the protagonist's past as if it were the present when the loving anxious but domineering mother makes her son's life unbearable. Both he and the mother in their different ways try to rescue Laura, whom they both love, from uncertain future by finding her a husband who would look after her. When an unsuccessful attempt to find Laura a husband fails, the protagonist runs away. The moral dilemma involved in such an act is not emphasised; maybe it was an act of desperation similar to the nightly escapades to the "movies". The play seems topical despite the fact that it takes place in the 1930-ties America in showing the heavy burden, and the hopelessness, disability places on family members.
Reviewed on 03 April 2017 by Maria, London, United Kingdom

Outstanding Production
Exceptional acting in every role. I thought the gentleman caller scene was the best interpretation I have ever seen of this play and as an ex drama teacher I've seen a few!
Reviewed on 02 April 2017 by David, Croydon, United Kingdom

Tedious and unimaginative
Reviewed on 01 April 2017 by Nicholas, Willingale, United Kingdom

brilliant
Fabulous portrayal of claustrophobic atmosphere of Tennessee Williams play, superb acting. Superb production of a great play, really brought to life by first class character actors. Conveyed hope and despair, empathy and frustration in equal measure. There was a audible collective gasp from the audience at the pivotal moment. No negatives. Loved it!
Reviewed on 30 March 2017 by Judy, London, United Kingdom

Average
Average performances and annoying patron snoring beside us. It took theater staff a long time to ask the patron to stop snoring.
Reviewed on 26 March 2017 by William, Washington, United States

I think the acting was good, but I felt the story wasn't really my cup of tea. The first half was boring and slow.
Reviewed on 20 February 2017 by K, Birmingham, United Kingdom

Amazing production and fantastic performances from all actors. Highly recommendable.
Reviewed on 16 February 2017 by Allison, Brentford, London, United Kingdom

Very entertaining!
Reviewed on 16 February 2017 by Katrina, London, United Kingdom

Class Menagerie
Enthralling, captivating and moving. The production demonstrated care, grace and sensitivity in all areas with a formidable ingenuity to portray an original adaptation. Williams' well constructed words were utilised brilliantly and sharp moments of clever dream like movement left the auditorium transgressed in a world cultivating deeper meaning and feeling than could otherwise be possible in more straight laced versions.
Reviewed on 15 February 2017 by Thomas, Teddington, United Kingdom
01

Jun
2022

First Look - Amy Adams as Amanda in The Glass Menagerie
by London Box Office | Wednesday, June 1 2022, 10:19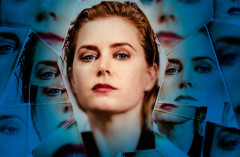 Production images of The Glass Menagerie are available below, giving us a taste of great things to come. Tak a first look at Amy Adams in her role as Amanda Wingfield, a West End debut to be proud of. This is Tennessee Williams' celebrated memory play. It kicked off on 23rd May and the official opening is 31st May, and your venue is the Duke of York's. The show runs until 27th August 2022.
First Look - Amy Adams as Amanda in The Glass Menagerie
10

May
2022

See Amy Adams in rehearsals for The Glass Menagerie
by London Box Office | Tuesday, May 10 2022, 12:02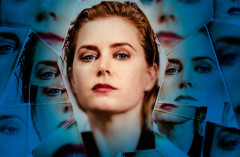 Second Half Productions has just released exciting rehearsal images for The Glass Menagerie. It's a brand new production of Tennessee Williams' superb memory play, directed by the award-winning director Jeremy Herrin. The show runs for just 14 weeks at The Duke of York's Theatre, kicking off on 23rd May with the opening night taking place on 31st May 2022. Take a look at the images below.
See Amy Adams in rehearsals for The Glass Menagerie
16

Mar
2022

More tickets released for The Glass Menagerie!
by London Box Office | Wednesday, March 16 2022, 17:55
'Due to exceptional demand' is a sentence every theatre producer loves to hear. The brilliant play The Glass Menagerie is produced by Second Half Productions. They've just announced the release of an extra eighteen thousand tickets for their inaugural production, with an extra performance on 6th June. The play opens on 31st May, and it's on stage at the Duke of York's Theatre until 27th August 2022.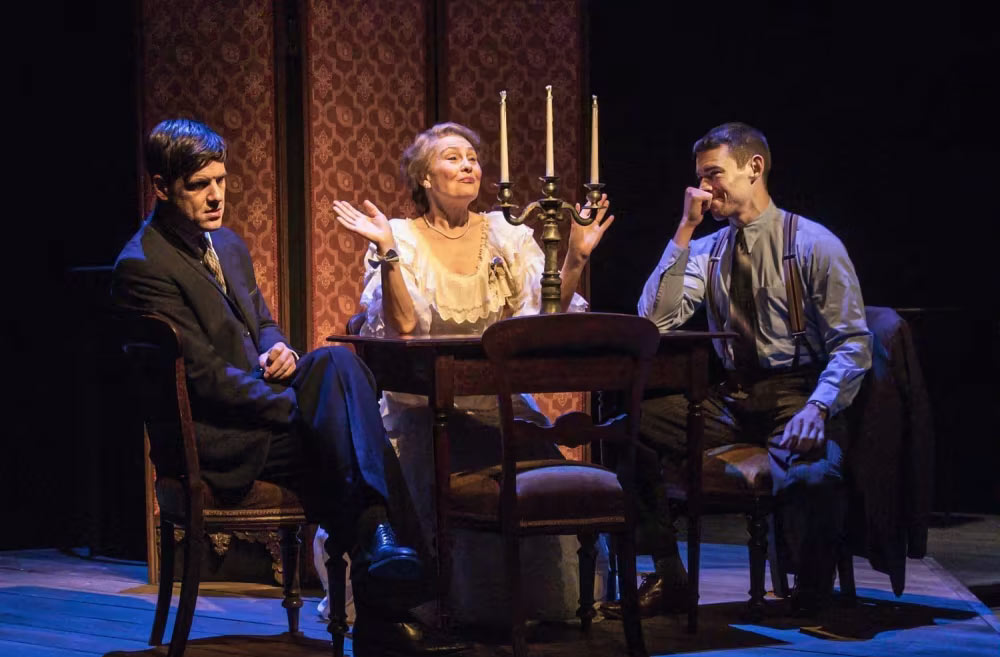 Brian J Smith, Cherry Jones and Michael Esper in The Glass Menagerie at the Duke of York's Theatre. Photo Johan Persson.
More tickets released for The Glass Menagerie!