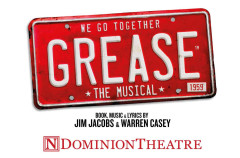 So the rumours were true. A brand new production of Grease is due at the Dominion Theatre. The show previews from 3rd May 2022 and tickets are on sale right now. This is your chance to experience the classic teen love story that has delighted generations of us, from the original 1971 musical to the 1978 movie and a multitude of stage productions ever since. As far as spectacular musicals go, this is the one that you want!
Who's involved in Grease The Musical?
Danny and Sandy met on holiday, and fell in love. A whirlwind romance follows, but it ends along with their summer holiday. When Sadly turns up at Danny's school, the path of true loves gets tricky. Danny is super-cool and super-bad. Sandy is one of the least cool girls in school. Can she win Danny back? Will they rekindle their love? Here's who's involved in the magic.
The original Book, Music and Lyrics are by Jim Jacobs and Warren Casey
This new production is directed by Nikolai Foster
Choreography by Arlene Phillips
Designs by Colin Richmond
Orchestrations and musical supervision by Sarah Travis
Lighting design by Ben Cracknell
Sound design by Tom Marshall
2021 tour casting by Kay Magson CDG and original tour casting by David Grindrod CDG
Guest artist Peter Andre plays Teen Angel and Vince Fontaine in some performances
Buy Grease The Musical Tickets
Book your Grease The Musical tickets online with us and choose the best seats with our Dominion Theatre seating plan. We'll send E-tickets by email for you to present them at the door on the day of the performance.
About the Dominion Theatre
The Dominion Theatre is perfect for big, spectacular musicals, with more than two thousand seats. Can you imagine the atmosphere when there's a full house, like we predict for Grease The Musical? It's amazing. Other musicals that have lit up the stage at the venue include the Meatloaf story, Bat Out Of Hell The Musical, and the festive treat Elf The Musical.