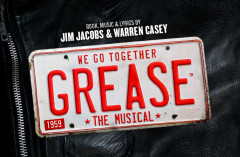 There are rumours circulating. Are they true? Will the current touring production of Grease move to the Dominion, possibly in early 2022? The signs are looking good. The Prince of Egypt is closing in January, Grease will need a big venue, and it feels like the perfect fit. We hope so, since the show's blend of a fresh, energetic young new cast, a well-loved plot, and a legendary score is hard to resist.
Who's involved in Grease?
Summer Nights. Hopelessly Devoted To You. You're The One That I Want. They're just three of the show tunes that made Grease the movie so popular. Then there's the story, a glorious whirlwind of a summer romance that might or might not survive the pitfalls of high school. Meet Danny and Sandy, follow their story, sing along from the beginning to the end. Here's who's involved in this gritty, glamorous musical classic.
Starring a very special guest artist – Peter Andre plays Teen Angel and Vince Fontaine in some but not all performances
Book, Music and Lyrics by Jim Jacobs and Warren Casey
Choreography by Arlene Phillips
Directed by the Curve Artistic Director Nikolai Foster
Designs by Colin Richmond
Orchestrations and musical supervision by Sarah Travis
Lighting design by Ben Cracknell
Sound design by Tom Marshall
2021 tour casting by Kay Magson CDG
Original tour casting by David Grindrod CDG
Buy Grease Tickets
Book your Grease tickets online with us and choose the best seats with our accurate Dominion Theatre seating plan. We'll send E-tickets to your email address for you to show at the door on the day.
About the Dominion Theatre
The 2069-seat Dominion Theatre is known and loved for its big, bold musical extravaganzas. Inside there's a feast of Art Deco light fittings and plasterwork. It spent many years as a cinema and was home to The Sound of Music, which ran there for over three years and broke all records. Past shows at the Dominion Theatre include We Will Rock You, White Christmas, Bat Out Of Hell – The Musical, An American in Paris, War Of The Worlds, and Elf The Musical. The current show at the Dominion is The Prince of Egypt.