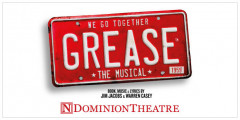 The summer of lovin' is almost over! You have 8 weeks left to see GREASE. More than a quarter of a million of us have experienced the West End musical based on the hit movie so far. It's the venue's biggest summery success since We Will Rock You. The show also played the Dominion Theatre 26 years ago, and it was just as popular back then. This story never grows old. Come see Danny and Sandy sing and dance their way along the rocky road to true love.
Who's involved in GREASE?
The rest of the run is dedicated to Olivia Newton-John, who died in August 2022. She was a legend. The 1978 film adaptation starring her and John Travolta is the fourth highest grossing live action musical of all time. It's stacked with gorgeous tunes including Summer Nights, Greased Lightnin', Hopelessly Devoted To You and You're The One That I Want. Let's salute everyone involved - don't miss it.
GREASE originally opened in Chicago in 1971, followed by a move to Broadway in 1972, where it received seven Tony Award nominations, including one for Best Musical
During the show's eight-year run at the time, obscure actors including Peter Gallagher, Patrick Swayze and John Travolta appeared in the production
Richard Gere understudied many roles before going on to star as Danny Zuko in the 1973 London premiere
The 1978 film adaptation starring John Travolta and Olivia Newton-John is the fourth highest-grossing live action musical ever
GREASE is directed by Nikolai Foster
Choreographed by Arlene Phillips
Starring Dan Partridge as Danny, Olivia Moore as Sandy and Peter Andre as Vince Fontaine and Teen Angel at some performances
Special guest star Jason Donovan resumes performances as Teen Angel from 12th September at some performances
The rest of the cast is Jocasta Almgill as Rizzo, Paul French as Kenickie, Noah Harrison as Roger, Mary Moore as Jan, Jake Reynolds as Doody, Lizzy-Rose Esin-Kelly as Marty, Damon Gould as Sonny, Eloise Davies as Frenchie, Darnell Mathew James as Eugene, Jessica Croll as Patty Simcox, Katie Lee as Cha Cha, Ronan Burns as Johnny Casino and Corinna Powlesland as Miss Lynch. Darren Bennett will play Officer Mailie and Vince Fontaine at certain performances. They are joined by Jack Harrison-Cooper, Pearce Barron, Ben Culleton, Rishard-Kyro Nelson, Ellie Kingdon, Kamilla Fernandes, Remi Ferdinand, Kalisha Johnson, Zack Guest, Imogen Bailey, Kevin O'Dwyer and Carly Miles
Design by Colin Richmond, orchestrations and musical supervision by Sarah Travis, lighting design by Ben Cracknell, sound design by Tom Marshall and Richard Brooker, video and projection design by Douglas O'Connell and casting by David Grindrod CDG
Produced by Colin Ingram for InTheatre Productions, Donovan Mannato, Playing Field, Gavin Kalin, and Curve
Buy GREASE Tickets
Buy GREASE tickets on our site for genuine expertise, and great customer service you can rely on. Pick the best views using our Dominion Theatre seating plan. Then show your etickets at the venue.
About the Dominion Theatre
The Dominion Theatre is an impressive place outside and in. Expect rich colour, plush comfort, plenty of 1930s glamour from the pavement, and a stunning ceiling. What a great backdrop for a show this good. Past shows at the Dominion Theatre include Evita, War of the Worlds, and An American in Paris.