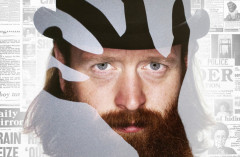 Immersive theatre, where the audience walk or dine amidst a series of actor led experiences, has become a growth area over the last twelve months. Certainly the most successful based around THE GREAT GATSBY seems to be going strong as does THE WAR OF THE WORLDS project we reviewed but other projects, such as the one based on the WOLF OF WALL STREET have gone very quiet and a recent project financed by the Hammer Horror Film Studios at Hoxton Hall got shockingly bad reviews.
Into the fray comes a new piece based around Robert Louis Stephenson's classic JEKYLL & HYDE.
The PR describes it as follows:
"Jekyll / Hyde is an interactive mobile game that plunges you into a world where your memory can't be trusted, and neither can those around you. You'll have 90 minutes to search for hidden clues around the streets of Lambeth: uncover the truth about your actions and decide what your future will hold... if it's not already too late. Part theatrical adventure and scavenger hunt, Jekyll/Hyde blends mobile game technology with narrative storytelling and real-world characters. You'll be guided through the streets via a web app on your smartphone, whilst also encountering a cast of real-life characters as you make your way through dark and sinister surroundings. You can play solo, in pairs or in groups up to three people."
It sounds intriguing and JEKYLL & HYDE is good choice for any theatre company at the moment because it's widely studied and will generate sales from school bookings – although they suggest it's suitable for those aged 15 and up.
Now we have absolutely no reason to suppose that it will be anything other than a well organised and adequately funded event at which audience and performers are safe but for an example of where it can all go horribly wrong one need only turn to the recently defunct VARIANT 31 project. Actors were dressed as Zombies in an abandoned building and the public paid to battle with them.
It closed pretty quickly amidst a flurry of complaints from the actors they employed. The Stage Newspaper reported one as saying –
"I had guests trying to physically lash out at me, I had to drop my character and tell them what the boundaries were. But a lot of people in the show were kids on their first jobs and just out of training, who didn't know what to do," he said, adding: "It became obvious security had no idea what they were doing, and they had not handled immersive theatre before."
The Stage's editor Alistair Smith commented "Staff allegations are that the working conditions were genuinely unsafe. No one should have to work in premises with mould growing in them, be assaulted by audience members or be at risk of "impaling" themselves on nails sticking out of walls".
He concludes "If you can't afford to transform a derelict non-performance space into an environment that is safe for audience members and staff, then you shouldn't be producing the show in the first place".
Let's hope future producers of immersive theatre heed his advice.