Quick Facts
Largest Ticket Inventory
in the West End
Real time
seat availability
Choose
your seats
Your booking is processed directly into the box office reservation system
This show is now closed.
The War Of The Worlds
Tickets
4.4/5
-

based on

50

reviews
About The War Of The Worlds
Performance Times
The War Of The Worlds description
Jeff Wayne's global music phenomenon is reimagined and brought to spectacular life for its much anticipated world stage-premiere. This new production features a star cast, full supporting company, Liam Neeson in 3D holography and on screen, the iconic Martian Fighting Machine, special effects, and a live on-stage orchestra conducted by Jeff Wayne.
The ground-breaking score, which has enjoyed over 15 million double albums sales and a staggering 330 weeks in the charts, includes the unforgettable hits The Eve Of The War, Thunder Child and Forever Autumn. Set in Victorian England and inspired by the famous H.G. Wells novel of the same name, The War Of The Worlds tells the devastating story of the invasion of Earth by Martians, as seen through the eyes of a journalist, his loved ones and those he encounters.
"No one would have believed, in the last years of the nineteenth century, that human affairs were being watched by intelligences which inhabited the timeless worlds of space… and yet, minds immeasurably superior to ours, regarded this Earth with envious eyes, and slowly and surely, they drew their plans against us…"
The War Of The Worlds reviews
4.4 out of 5
based on

50

reviews
What to expect:
Acting
Music
Costumes
Story
Lighting
Recommended for:
Anyone (76%)
Families (78%)
Teenagers (80%)
Couples (80%)
Theatregoers (90%)
Latest customer reviews

Watch out for fire and Martians
I have been a fan of the music of Jeff Wayne for many years after first hearing Justin Haywood of the Moody Blues singing Forever Autumn. A few years ago I bought the DVD of the show recorded at Wembley Arena featuring Justin Haywood which was very good. The opportunity to watch it live was eagerly awaited. I was not disappointed either. The cast featuring David Essex and Michael Praed was excellent. One of the stars Daniel Bedingfield was no longer in it but his place was taken by his understudy Simon Shorten of his performance all I can say is a star is born his singing was superb. Watch out if sitting in the front rows you may get very hot. The Martian is superb. A show not to be missed.
Reviewed on 02 May 2016 by Geoffrey, Chelmsford, United Kingdom

Awesome
Something I have wanted to watch for years & was not disappointed
Reviewed on 01 May 2016 by Wayne, Immingham, United Kingdom

Creative
Reviewed on 01 May 2016 by Lynne, Stoke On Trent, United Kingdom

Exactly what I expected!
Reviewed on 28 April 2016 by Patrick, East Finchley, United Kingdom

Ulla
Have enjoyed listening to this masterpiece of music for many years since childhood. To see it live and played on on stage with Jeff Wayne conducting was exhilarating. There is so much to take in, from watching the story being played out before you, watching the orchestra, hearing the music. It's just simply breathtaking. A show I'm delighted to of seen and worth every penny.
Reviewed on 24 April 2016 by Roland, Hemyock, United Kingdom

Best show ever seen
Reviewed on 17 April 2016 by Eric, Dorchester, United Kingdom

Music and stage effects fantastic
Reviewed on 16 April 2016 by Diana, Wokingham, United Kingdom

Exactly as we imagined & more!
If you love the music you will truly love the show. Great effects & music volume perfect as that after all is what the show is about. The acting was good but seemed a little lost at times with some odd choreography here & there. This is a difficult subject to bring to the stage but it was a winner & it told the story. Hope it gets an extension or repeats again soon.
Reviewed on 15 April 2016 by David, Diss, United Kingdom

creative
Enjoyable & exciting first act. Found 2nd act slightly slower but still was entertained.
Reviewed on 15 April 2016 by Lorna, Kilsyth, United Kingdom

Totally immersive
Reviewed on 09 April 2016 by Laura, Dundee, United Kingdom

Absolutely invigorating - not to be missed!
Reviewed on 08 April 2016 by Maria, High Wycombe, United Kingdom

Awesome war of the worlds
Growing up I loved this music, hearing it live was amazing. The dance used to tell the story was brilliant and the use of images on the screen brought the whole story to life in a very memorable way.I would recommend this show to anyone but particularly to anyone who enjoyed Jeff Wayne,s creation in their youth.
Reviewed on 06 April 2016 by Nicola, Maidstone, United Kingdom

War of the theatres
Jeff Wynne was on top form with his War of the World's alive. A shame it's nearing the end of its short run. We'll worth catching while you still can.
Reviewed on 02 April 2016 by Ian, Worthing, United Kingdom

Awesome
Reviewed on 01 April 2016 by Lisa, Sittingbourne, United Kingdom

Awesome rendition of a great musical !
A highly ambitious story to bring to a theatre stage yet it was done brilliantly. We were glued to the stage every moment by this production. The all star cast were magnificent and in great voice. My 10 year old sons' draw dropped when a giant alien tripod war machine walked out spewing smoke and fire. Well done to all involved.
Reviewed on 01 April 2016 by Ray, Maldon, United Kingdom

Brilliant, a great performance
Reviewed on 01 April 2016 by Christine, Market Harborough, United Kingdom

War of the Worlds review
Reviewed on 31 March 2016 by Joanne, Basingstoke, United Kingdom

Best show ever
Waited years to see this and it exceeded my expectations! Sat in stalls but I believe all got a good view wherever they sat. Amazing lighting and sound and Daniel Bedingfield was outstanding!
Reviewed on 30 March 2016 by Kathryn, Purley, United Kingdom

A must see
The Dominion Theatre offered a very pleasurable experience. Very pleasant to the eye.The view from my seat was excellent as the stage was very open.The show itself was fantastic with a great sound & good lighting. I will definitely be making a return visit
Reviewed on 28 March 2016 by Ian, Salisbury, United Kingdom

Brilliant Show
We saw the show many years ago at the NEC Birmingham and so wasn't too sure if this production could match it. However, we needn't have worried as the whole performance was absolutely Brilliant! Everyone involved should be proud of helping to create such a great show. Well done and thank you.
Reviewed on 28 March 2016 by Bernard, Northampton, United Kingdom

Great show
It was great to see the orchestra on the stage, good to see the play evolve around the orchestra. A must see
Reviewed on 21 March 2016 by Andy, Thatcham, United Kingdom

Reminicent
Reviewed on 20 March 2016 by Martin, London, United Kingdom

Stupendous
We've loved the music for 40 years so awesome to see it performed on stage.
Reviewed on 19 March 2016 by Sandra, Runcorn, United Kingdom

need to be a fan of the music
music made the show dont go if not a fan of the music
Reviewed on 18 March 2016 by Jennifer, Redcar, United Kingdom

Disappointing Musical Considering All the Hype and Star Names!
I would not recommend War of the worlds as a must see show, strictly for the fans of the music. The first half consisted of no acting whatsoever, jimmy nail just held a crucifix and walked about while other "stars" ran back and forth across the stage to the backdrop of the music Liam Neeson kept appearing on a projector screen going up and down giving a running commentary which became tedious to watch and listen to. I was led to believe Liam was going to be displayed as a hologram, it was a relief to get to the interval. The second half was slightly better with set pieces/singing from Daniel Bedingfield, Heidi Range, both very good while David Essex, Michael Prade (main lead) and Jimmy Nail were average on the singing side. The theatre to me is an expensive treat and I left the Dominion Theatre disappointed. For a star studded cast there were far too many empty seats on a Saturday night., try another show for better value for money!
Reviewed on 15 March 2016 by Martin, London, United Kingdom

Colourful
Very creative, scenary excellent especially the props. I found the first half, a little confusion, not much acting /dancing opportunities. However thoroughly enjoyed the second half. I found Liam Neeson part distracting, especially when the screens kept coming down, but overall enjoyed the show.
Reviewed on 14 March 2016 by Janne, Biggin Hill, United Kingdom

Underwhelming
The show should not be called a musical. The actors said about 100 words between them, the staging was VERY poor and in some cases amateur. The orchestra was impressive but the sound became very repetitive. I would NOT recommend this for a family. As an avid theatre goer I was very underwhelmed and feel it was an expensive concert to watch an orchestra.
Reviewed on 13 March 2016 by Lisa, Crowthorne, United Kingdom

Top drawer
I had read the book, watched both films and listened to the tape, yes the cassette tape, and to tick off all the ways to get the story across was to watch it in the theatre, it was brilliant!!! The music, painted a million words, I would go again and will recommend to everyone I know
Reviewed on 13 March 2016 by Paul, Rugby, United Kingdom

Spectacular
Just like the album and a spectacular light show, the only problem is sometimes the music was too loud that you couldn't hear the narrator speaking.
Reviewed on 11 March 2016 by Stephen, Romney Marsh, United Kingdom

Genius
The music was fantastic ! I have been a fan for years ! The special effects clever. The artists brill. Genius to pull this off in a theatre. Orchestra I can only say Whaw ! Any negative reviews I can only imagine people thought they wers going to see a 'musical' which it is not ! Ths music is fab. It's. An idea. ! Sins research needed if you are not familiar with wad of the worlds. David Essex is def not past it. Gosh he was fantastic. As was jimmy nail. And the other artists. ! Would I see it again ? Definitely. Would I recommend if ! Definitely. Bug Oliver / stomp. Bullie Elliott it is not. ! It's. In a class of its own ! P.s. I am a professional classical musician. So do understand genius when I see and hear it .
Reviewed on 11 March 2016 by Cindy, Carmarthen, United Kingdom

Great entertaining show
I loved the music when it first came out in the 1970's and loved the music now. It was great to see it put on stage with the full story told with movement. Would probably make a good ballet is anyone has the know how to stage it.
Reviewed on 11 March 2016 by Joe, Brighton, United Kingdom

Soundtrack great along with lighting
Reviewed on 08 March 2016 by Sally, Chesterfield, United Kingdom

martians please attack
you will wish you were really being attacked by martians to end the pain!
Reviewed on 04 March 2016 by Paul, Santa Barbara, United States

Excellent as expected
Reviewed on 25 February 2016 by Paul, York, United Kingdom

Brilliant stage production of 80s classic
Reviewed on 21 February 2016 by David, Southminster, United Kingdom

Awesome
Our 10 year old who is familiar with the story and music was being his usual difficult self when we told him we were going to see it as part of our trip to London. Within 5 minutes of it starting he was mesmerised and said wow it's awesome and incredible. And he was right the music was fantastic, we didn't know what to focus on sometimes because there was so much happening, the stage tripod was a masterpiece. Would love to see it all again.
Reviewed on 21 February 2016 by Amanda, Scunthorpe, United Kingdom

One of the best shows I've seen!
I am a huge theatre lover from obscure fringe to mainstream musicals and this show was fantastic. I couldn't stop smiling. Whether you're aware of the story or not it's a must see! X
Reviewed on 17 February 2016 by Alice-india, Lewisham, United Kingdom

I think if you already love the musically you will love the show. Not too sure if you know nothing about it
Reviewed on 14 February 2016 by Barbara, Kedington, United Kingdom

Not to be missed for war of the world fans.
Special effects amazing, great acting by all. Best stage musical I have ever experienced.
Reviewed on 14 February 2016 by Jacqueline, Telford, United Kingdom
14

Oct
2021

Review: Jeff Wayne's THE WAR OF THE WORLDS The Immersive Experience
by John Yap | Thursday, October 14 2021, 09:12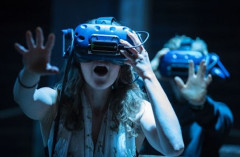 H.G. Wells wrote one of the most famous and popular science fiction stories ever. THE WAR OF THE WORLDS has been filmed for TV and the cinema many times. Now we have an Immersive Experience inspired by Jeff Wayne's score and adaptation.
Review: Jeff Wayne's THE WAR OF THE WORLDS The Immersive Experience
25

Feb
2016

Review: Jeff Wayne's musical version of THE WAR OF THE WORLDS at the Dominion Theatre
by Davor Golub | Thursday, February 25 2016, 13:18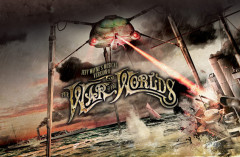 Well SPRINGTIME FOR HITLER has finally met its match! I have sat through some duff shows at the Dominion Theatre but this one takes the cake. Anyone remember David Cassidy as an intergalactic warrior in TIME acting along with a 3-D hologram of Lord Olivier's head? Well, the hologram is back. However this time it is Liam Neeson and we've progressed to a whole body hologram.
Review: Jeff Wayne's musical version of THE WAR OF THE WORLDS at the Dominion Theatre
12

Nov
2015

The War of the Worlds set to land in the West End next year
by Oliver Mitford | Thursday, November 12 2015, 10:57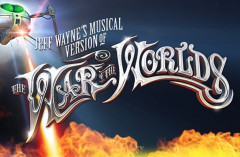 A new musical stage adaptation of H.G. Wells' novel The War of the Worlds is due to come to the West End in early February 2016.
Composer Jeff Wayne brings his ionic 1978 musical version of the classic science fiction story alive on stage with the help of ground-breaking 3D holograms and a full live orchestra, conducted by Wayne himself.
The War of the Worlds set to land in the West End next year