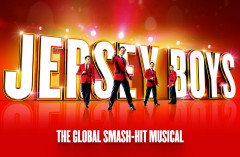 The show's producers and creative team are delighted to announce a brand new cast member for the show that has lightened hearts in the West End with its gorgeous tunes and exciting plot. Luke Suri, who is currently playing an alternate Frankie Valli role on the show's UK and Ireland tour, makes his West End debut as Frankie Valli in the Tony, Grammy and Olivier Award-winning smash hit musical on 27th July 2022.
Who's involved in Jersey Boys?
The show is now booking to 30th April 2023, giving you lots more opportunity to experience the magic for yourself. The producers have also announced the production dates for Christmas 2022. If you'd like to see the story of one of the world's best-loved soul bands live on stage, complete with masses of amazing hit songs, scroll down for the festive dates.
Luke Suri plays Frankie Valli in the Tony, Grammy and Olivier Award-winning smash hit musical from 27th July
The show is currently booking until 30th April 2023.
Luke joins the current cast of Adam Bailey as Bob Gaudio, Karl James Wilson as Nick Massi and Benjamin Yates as Tommy De Vito
Other new cast members include Joey Cornish as Joe Pesci, Kevin Fullinick as Barry Belson, Matthew Goodgame as Gyp De Carlo, Danny Knott as Swing, Gracie Lai as Lorraine, Carolyn Maitland as Mary Delgado, Rosie Needham as Francine, Tom Oliver as Norm Waxman/Hank Majewski and Joseph Peters as Bob Crewe
They join remaining cast members Elliot Allinson, Jack Campbell, Huon Mackley, Bonnie Page and Andy Smith
JERSEY BOYSis written by Marshall Brickman & Rick Elice, with music by Bob Gaudio and lyrics by Bob Crew
The Xmas schedule kicks off on Monday 19 December at 7.30pm then continues on the following dates:
Tuesday 20 December No performance
Sunday 25 December No Performance
Monday 26 December No Performance
Sunday 1 January No Performance
Buy Jersey Boys Tickets
Buy cheap Jersey Boys tickets online via our site for exceptional service. Pick great views using our Trafalgar Theatre seating plan. Show your etickets at the door on the day. It's as easy as that.
About the Trafalgar Theatre
With room for 630 audience members, the Trafalgar Theatre opened in the West End theatre in summer 2021. It combines the two previous smaller studio spaces at Trafalgar Studios, namely Trafalgar Studio One and Trafalgar Studio Two. Past shows at the Trafalgar Theatre include A Day in the Death of Joe Egg, Equus, A Taste of Honey, and On Blueberry Hill.