Trafalgar Studios (One)
14 Whitehall, London, SW1A 2DY GB
Now showing at the
Trafalgar Studios (One)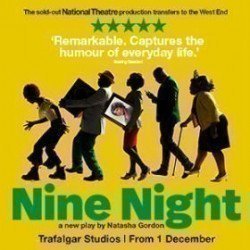 Booking until: Saturday, 23 February 2019
In Caribbean culture, when someone you love dies you spend a total of nine nights in mourning. Friends and family join you, sometimes travelling vast distances to provide emotional support, food, money, whatever you need. But the last night of all, Nine Night, is special, the time when the dead person's spirit finally leaves their body for good, and the people who love them say a final goodbye. This brilliant play gives you a glimpse into this very special process, and how one particular family handles it.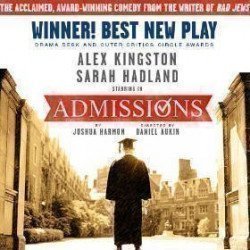 Booking from: Thursday, 28 February 2019
Booking until: Saturday, 25 May 2019
The quirky Trafalgar Studios One venue is home to a brilliant new comedy. It comes from the pen of the same playwright who gave us the outrageous Bad Jews, Joshua Harmon, and the people who produced the smash hit Oslo. It stars the darling of ER and Doctor Who, Alex Kingston. And the reviews so far are outstanding. Welcome to Admissions.
Starring: Alex Kingston , Sarah Hadland
Trafalgar Studios (One) history
From the outside
Noticeable for its three surprisingly high arches, Trafalgar Studios was built in 1930 and consists of two separate areas. Studio 1 is a sloped auditorium in dark blue, once the old Whitehall Theatre's dress circle. Studio 2 is created from the old stalls and has just 100 seats.
Trafalgar Studios Theatre architecture and history
Trafalgar Studios looks new. But looks are deceptive. There was a pub on the site from 1650 and while the theatre only opened in its current form in 2004, the original building dates back to 1930. Named the Whitehall Theatre, it was designed by Edward Stone with Art Deco interiors by Marc-Henri and Laverdet.
The Trafalgar Studios are tiny, as was the original Whitehall Theatre, which showed fringe productions and during World War Two, in 1942, actually hosted strippers, followed by a suite of popular comedies, the so-called Whitehall Farces, between 1950 and the late '60s. They even staged a nude show in 1969, which while highly controversial was also very popular!
In the 1970s the theatre failed and was replaced by a museum, set up without permission. In 1986 the theatre was refurbished and re-opened as a television and radio recording studio in the late 1990s, hosting the occasional play and concert.
The theatre was Grade 2 listed in 1996, mainly for the auditorium's 'decorative cohesion and prettiness', with the 'best surviving original fabric of this type of theatre'.
In the early 2000s the venue struck lucky, with a radical transformation that turned the building from a standard 700 seater into two delightfully intimate auditoriums with 380 and 100 seats respectively, designed by the architects Tim Foster and John Muir.
These days, as Trafalgar Studios 1 and 2, it is a popular venue for intimate, small scale stage productions, and is owned by the Ambassador Theatre Group.
Past shows at the Trafalgar Studios Theatre
Past hits at the Trafalgar Studios theatre, in its original form, include Three Sisters, Puppetry of the Penis, Rat Pack Confidential, and Sing-a-Long-a-ABBA. Sweeney Todd, Alan Bennett's The Old Country, Jane Eyre and Bent have also been staged there, as has Educating Rita, Confessions of a Dancewhore and State Fair.
Trafalgar Studios Theatre access
Trafalgar Studios are accessible to wheelchairs. The main entrance is on Whitehall. Studio 1 has wheelchair spaces in the front row and Studio 2 offers a wheelchair space in the front row. If you can transfer to seating, you're welcome to do so. Guide dogs are welcome in the auditoria, or staff can dog-sit if you prefer.
Trafalgar Studios Theatre tickets
We're a trusted destination for a wide variety of seat types and prices, with excellent availability on the full range of Trafalgar Studios Theatre tickets.
Theatre Address
Trafalgar Studios (One)
14 Whitehall, London, SW1A 2DY GB +44 (0)20 7492 0813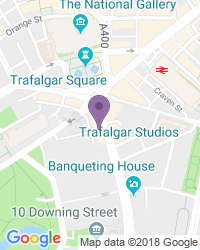 Facilities
Air conditioned
Bar
Infrared hearing loop
Member of Q-Park scheme
Toilets
Theatre Info
Capacity: 382
Year built: 1930