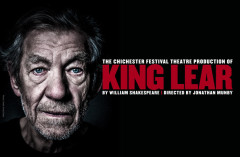 This one's going to sell out fast so book very, very soon.
One of our greatest actors, Ian McKellen, will be reprising his performance as King Lear when the highly acclaimed production of Shakespeare's masterpiece transfers to the Duke of York's Theatre this Spring.
KING LEAR is one of the most demanding roles in Shakespeare. The actor has to play a psychological journey from tyranny to madness over three intense hours. It's the story of how a king from the Dark Ages divides up his kingdom between three daughters on his retirement, based on how much they declare they love him. When his youngest and beloved child refuses to exaggerate her love she's banished and the eldest two begin to abuse him once he's stripped of power. He's thrown out into a storm and amidst a civil war between the women. During the chaos he loses his mind.
The dichotomy is that this huge role has been written for an actor of advancing years and yet it's very taxing and requires physical fitness, a great memory for a huge amount of text and it's emotionally draining. A tough ask for someone approaching the end of their career.
McKellen has proven he's up to the task both at Chichester and in a relatively recent production for the RSC. But the clever actor has pin pointed 45 minutes in the middle of the play when he's off stage and can enjoy a re-invigorating nap ready for the challenges of the final scenes!
He's also very excited about recreating his performance in the relative intimacy of the Duke Of York's Theatre which is to be made even smaller to ensure you catch every nuance. Previously he's played Lear in huge theatres so he's looking forward to the chance of showing what he can do up-close. This will be a particular treat as the text is so psychologically rich.
It's one of those plays that speaks to all ages and changes its relevance to us all as we get older. If you're young it's about your relationship with your parents, in middle age it's about losing the bond between your children and your status, in later years it's about facing impending death.
I've directed it twice and it's been a profound experience both times. It's also a play that you can return to again and again as an artist and a spectator and still fine new dimensions and depths. It's endlessly fascinating.
The better the actor playing the title role the more you'll get from watching a performance and McKellen is as good as it gets. So don't miss this opportunity to see an extraordinary performance at the heart of an extraordinary play.