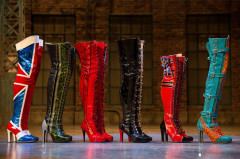 Producers of the West End premiere of Broadway hit Kinky Boots have announced that the production has extended booking at the Adelphi Theatre, even before the show has even opened!
The six-time Tony Award winning musical is scheduled to open on 15 September 2015, with previews starting from 21 August 2015, and now the production is booking through to February 2016. This extension indicates that ticket sales are proving to be excellent, all good signs that Kinky Boots will be calling London home for quite some time to come.
Kinky Boots is adapted for the stage from the 2006 British feature film of the same name by Harvey Fierstein and features music by Cyndi Lauper, with direction and choreography by Jerry Mitchell.
The show follows the true story of a failing shoe factory in Northampton and its owners mission to increase sales by hiring a drag queen named Lola to design a new line of 'kinky' boots for cross-dressers, much to the bewilderment of the factory workers.
The West End production stars Killian Donnelly, fresh from his acclaimed role in Memphis the Musical, alongside Matt Henry, Amy Ross, Amy Lennox, Michael Hobbs and Jamie Baughan. Rehearsals for Kinky Boots will begin next week with the all new British cast.
Kinky Boots is now booking to 6 February 2016 and opens at the Adelphi Theatre on 15 September 2015, with previews starting from 21 August 2015.