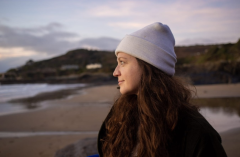 This week, West End Editor Josephine Balfour-Oatts is taken through London by Laura Horton, whose stories create a kaleidoscope of its streets and stages.
Laura Horton is well-known on London's theatre and culture circuit as a top PR specialist. In addition to representing artists, she offers bespoke training to prospective publicists (most notably in advance of this years Edinburgh Fringe Festival). Also an emerging playwright, her work has appeared recently at The Arcola, with exciting developments to come.
Do you have a favourite theatre in the West End? If so, why?
I love any theatre spaces but Soho Theatre has a big place in my heart. I did Writer's Lab there in 2017 and I've had some lovely days writing in the booths, meeting people for drinks and seeing a wonderful variety of work.
Which are your preferred spots for a pre-show meal?
I often go for food after the theatre, but if I have time I'm a big sushi lover. Eat Tokyo is brilliant - I'm also a fan of anywhere BYOB.
Where is your post-show drinks haunt?
It depends where I'm going, but I do like a quiet pub with a raging fire if I can find one. If I'm working in a press capacity I'll stay for drinks in the theatre bar, it's always great hearing the conversations and opinions after a show.
Which of Theatreland's upcoming/ current productions are you most looking forward to?
I really enjoy exploring Vault Festival every year, there's always a really interesting mix of work. I'm excited about Abi Zakarian and Morgan Lloyd Malcolm's Bunker Takeover. I'd also like to see the transfer of The Watsons (I read the playtext as I couldn't get a ticket) and Sally Abbott's I Think We Are Alone.
Top show to see right now?
I have had my head down writing and working in the South West, but I'd say Lullabies for the Lost at the Old Red Lion and to definitely get looking at the Vault offering.
Expenses aside, what would be your ideal day out in London?
I'm ignoring logistics of getting across the city here, but I'd say: waking up at the Rosewood Hotel with coffee and papers in bed; a brisk swim in the Serpentine; breakfast at Claridges; some sort of history walking tour; a matinee performance of a show; a wander round a gallery; a river boat ride and a visit to Greenwich Observatory; a long dinner with good friends and wine; ending up with cocktails on a rooftop somewhere with great London views.
In your opinion, what is London's best-kept secret?
It's not a secret but the Spirit Tours at Natural History Museum are amazing.
On your days off, where are you most likely to be found?
Walking! I love strolling around London, there's so much to see, especially if you look up.
What is your fondest memory of the London theatre scene?
When I moved to London for a job at the National there was a press night on my first day. I remember holding a glass of wine and a chunk of cheese and looking out over the Thames, not being able to believe my luck. I had a happy cry - it was so beautiful and surreal.
Where in London are you most happy?
I love London and so many parts of it make me happy. Particularly its parks (Hilly Fields, especially) in addition to the South Bank.
What's next on your agenda?
I'm working on the publicity for some really wonderful projects including Tangle's tour of Volpone; After You at the Soho Theatre; Theatre Uncut's new project Bubble and Godot is a Woman at The Pleasance. I'm also currently re-drafting two plays I've written in any spare time I get.