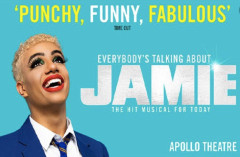 Everybody's Talking About Jamie is about to enter its third year in the West End, and still rules the roost. What makes this musical such a hit? Read on to find out more.
Everybody's Talking About Jamie isn't a coming-out story. Based on true events, the tale of Jamie New (played by Noah Thomas) takes its shape from the BBC Three documentary, Jamie: Drag Queen at 16, which aired in 2011 to instant acclaim. The young Jamie Campbell, born and raised in an ex-mining village in County Durham, had already faced years-worth of homophobia as a result of making his sexual orientation public two years previously. While his immediate family and friends (not including his absent, bigoted father) demonstrated ardent support, Jamie came up against the fierce prejudices of his school body upon expressing a desire, twofold: first, to pursue a career as a Drag Queen, and second, to attend his end-of-year prom dressed as this alter ego.
What with the dawn and enduring success of RuPaulsDrag Race (the hit American TV show now established firmly in the UK), drag-culture has featured significantly in the cultural zeitgeist consumed by millennials today. Its sheer popularity is demonstrative of the huge appetite for stories such as Campbell's – narratives that celebrate queer and gay experiences, and covet the challenging of gender norms. In recent times, the younger generations have spearheaded a new language surrounding the fluidity of gender and the temperance of one's sexuality. Everybody's Talking About Jamie champions this sense of change; this naming of grey-areas. Notably, it heralds the shape-shifting of its principal character, and documents his transformation from cocoon, to butterfly.
Now featuring an all-new cast, the multi-award-winning Everybody's Talking About Jamie took The West End's Apollo Theatre as its home in 2017, where it shows no signs of abating. Crucially, the musical upholds a refreshing display of inclusivity in regards to a widely diverse company. In presenting so many different bodies onstage, it is a true mirror of today's society – confronting the homogeneity of storytellers still present throughout the arts sector, head on. It is a whip-smart and hilarious script (book and lyrics by Tom Macae) that brings this production home to its audience, though. Thoroughly rooted in the 21stcentury, the musical also makes innovative use of AV and scenography throughout (thanks to video designer Luke Hall and Anna Fleischle's set), working with an original score (Dan Gillespie Sells) and shrewd choreography (Kate Prince) to create a bona fide spectacle.
Quite simply, Jamie's is a narrative for a new generation of theatregoers – chock-full of modern phenomena, quips particular to online and offline cultures; artistic and political landscapes. Ultimately, this production is a marker of the evolution of theatre: that is why everybody is still talking about Jamie.
Exclusive flash sale offer: Valid on tickets for performances from 23 February to 2 April 2020. Excluding performances on Friday and Saturday. Book by 10am on 17 January 2020.
Band A (Stalls & Dress Circle)
Was £65 - Now £40

Band B (Dress Circle)
Was £49.50 - Now £30

Band C (Grand Circle)
Was £35 - Now £20