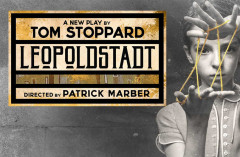 Update for Leopoldstadt at Wyndham's Theatre
We're delighted to hear that Sonia Friedman Productions' brilliant Leopoldstadt is back, with casting announced for 2021. The drama kicks off from 7th August and lasts until 30th October, with rehearsals already underway. This is award-winning stuff from the legendary Tom Stoppard, a powerful play set in the ancient Jewish quarter of Leopoldstadt in Vienna. An 'epic yet intimate' drama, it is quite simply brilliant.
Who's involved in Leopoldstadt?
Roll back time to the early 20th century, where we meet Hermann Merz, a Jew married to a Catholic called Gretl. The play takes us through the family's experiences of war, revolution, impoverishment, annexation by Nazi Germany and – for Austrian Jews – the Holocaust, which murdered 65,000 of them. These are the compassionate and highly skilled actors who bring this unique story to life on stage:
New cast member Cara Ballingall plays Jana
New cast member Arty Froushan is Leo
New cast member Aidan McArdle is Hermann
New cast member Macy Nyman plays Hermine
The original cast members are:
Sebastian Armesto as Jacob/Nathan/Ludwig
Jenna Augen as Rosa
Rhys Bailey as Young Nathan
Faye Castelow as Gretl
Joe Coen plays Policeman/Zac
Felicity Davidson plays Hilde
Mark Edel-Hunt plays Civilian/Fritz
Clara Francis is Wilma
Ilan Galkoff plays Pauli
Caroline Gruber is Emilia
Sam Hoare is Percy
Natalie Law is Hanna
Avye Leventis is Sally
Noof Ousellam is Otto
Dorothea Myer-Bennett is Eva
Jake Neads plays Mohel/Policeman
Aaron Neil plays Ernst
Alexander Newland is Kurt
Sadie Shimmin is Poldi
Griffin Stevens plays Aaron
Eleanor Wyld is Nellie
There's also a large and talented children's cast: Noa Alberts, Rocco Brenner, Atticus Collier, Willa Collier, Aidan Greenberg, Mae Sarner Henson, Aidan Herrmann, Lexi Hudaly, Audrey Kattan, Ollie Kohn, Max Lester, Mace Phoenix, Leo Roberts, Osian Salter, Raphael Shbero and Shoshana Shbero.
Buy Leopoldstadt Tickets
Book your Leopoldstadt tickets online with us and choose the best seats with our Wyndham's Theatre seating plan. We'll send E-tickets via email, for you to present at the door on the day of the performance.
About Wyndham's Theatre
Wyndham's Theatre dates back to 1898, one of many designed by the famous theatre designer W.G.R Sprague. These days it's part of the Delfont Macintosh Ltd group. Past shows at Wyndham's Theatre include The Price, Fleabag, The Man In The White Suit, and Curtains by Kander and Ebb.