Quick Facts
Largest Ticket Inventory
in the West End
Real time
seat availability
Choose
your seats
Your booking is processed directly into the box office reservation system
This show is now closed.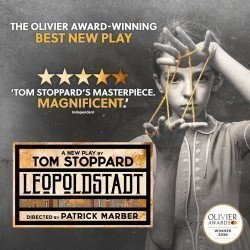 Leopoldstadt
Tickets
4.5/5
-

based on

15

reviews
Information
Cheap Tickets
Reviews
News
About Leopoldstadt
Performance Times
Leopoldstadt description
Leopoldstadt – Tom Stoppard's heartbreaking new play
Leopoldstadt is a passionate drama set in Vienna during 1900, a place of refuge for persecuted Jews from around the world and a vibrant, peaceful city. This is a new play by the brilliant Tom Stoppard, a national treasure and one of the world's finest playwrights. It's humane. It's heartbreaking. And it comes with a personal edge rarely seen in the great man's plays. Tom Stoppard had four Jewish grandparents. They, and many more members of his family, were murdered in Nazi concentration camps. No wonder this is widely regarded as his most personal play.
Leopoldstadt has taken Stoppard a year or more to write. This is Stoppard's first play since the exceptional The Hard Problem, which raised the rafters at the National Theatre in 2015. And Sonia Friedman Productions is thrilled to announce the world premiere of Leopoldstadt, directed by Patrick Marber.
Set to preview at the West End's Wyndham's Theatre from late January 2020, Leopoldstadt is on for a strictly limited run of 16 weeks. You can expect an 'intimate drama with an epic sweep' that tells the tale of a family who made good, but over the next fifty years rediscovered what it meant to be Jewish. It's a passionate drama focusing on love, endurance and loss, and it marks the sixth collaboration between the playwright and Sonia Friedman Productions, the first since 2017's smash hit Travesties.
Tom Stoppard's best-loved plays include Rosencrantz and Guildenstern are Dead, The Real Inspector Hound, After Magritte, Jumpers, New Found Land, and Dogg's Hamlet – and that's just the tip of an extraordinary iceberg. He has also written widely for radio, creating masterpieces like Albert's Bridge, Artist Descending a Staircase, and The Dog It Was That Died.
Patrick Marber has directed an awe-inspiring collection of work including Dealer's Choice, After Miss Julie, Exit the King, Closer, Three Days in the Country and Don Juan. He's been nominated for a Tony Award for Best Director, and he's an award-winning screenwriter whose movie credits include Closer and Notes on a Scandal. Sonia Friedman Productions has been responsible for more than 160 new stage productions and collectively has won 55 Oliviers, 30 Tonys, and 2 BAFTAs. Put them together and what do you get? It's a match made in heaven!
Who is this show for?
While there isn't an official age recommendation, this play's subject matter means it's not suitable for small children. Over 14s should find it fascinating.
Leopoldstadt cheap tickets
We have a great selection of cheap Leopoldstadt tickets. We can help you save up to 70% on Leopoldstadt tickets! If you're looking for discount theatre tickets have a look below for our latest offers for Leopoldstadt at Wyndham's Theatre.
There are no special offers available at the moment but we still have great ticket prices for Leopoldstadt at Wyndham's Theatre.
Leopoldstadt reviews
4.5 out of 5
based on

15

reviews
What to expect:
Acting
Music
Costumes
Story
Lighting
Recommended for:
Anyone (53%)
Families (53%)
Teenagers (60%)
Couples (73%)
Theatregoers (93%)
Latest customer reviews

Stoppard has done it again!
This show reminds me of the Trilogy he wrote some twenty years ago about an aristocratic Russian family living through and surviving Bolschewism after the Zar was killed. Here it is the historical account of a renowned Jewish family from Vienna and their tragic fate after the Nazis took power. It is beautifully told and the acting is superbe. We loved it.
Reviewed on 26 October 2021 by Anahita, London, United Kingdom

Thought provoking theatre
First class cast. Engaging storyline. Thought provoking themes and dialogue. The separation of scenes in to 4 distinct years works very well.
Reviewed on 23 October 2021 by Michael, Putney, United Kingdom

Intelligent and moving
I went in a group of 8 people and we were all speechless immediately after the play finished. It was extremely moving and the characters finely drawn. It's a must see.
Reviewed on 20 October 2021 by Sara, London, United Kingdom

Thought provoking theatre
Reviewed on 13 October 2021 by Sue, Barnet, United Kingdom

RESERCVATIONS ONLY ABOUT ELOCUTION OF SOME ACTORS
BE PATIENT AT THE START - TOM STOPPARD CRAMS TOO MUCH IN, WHERE LESS WOULD HAVE MEANT MORE. I APPRECIATE THE LARGE CAST IS NEEDED TO REGISTER THE ENORMITY OF THE MURDERS, BUT A WAY COULD BE FOUND AROUND THAT. ESSENTIAL TO TEACH THE GREAT GRANDCHILDREN WHAT HATRED CAN DO.
Reviewed on 01 October 2021 by Peter, Charlbury, United Kingdom

A stunning portrayal of Jewish history in Europe
Reviewed on 20 September 2021 by John, Geneseo, United States Of America

Thought provoking and heart breaking.
Reviewed on 26 August 2021 by Hugh, Warwick, United Kingdom

very very boring
very very boring
Reviewed on 12 March 2020 by Philip, London, United Kingdom

Mixed review
I am mixed about the play. Much about it - the acting, period feel and staging - is excellent. The subject too could not be more dramatic and important. Nor could it be more personal for the playwright. But purely as a play iI felt that it was something of a curate's egg. The historical context is presented in a way that is more suited to a documentary than a drama; the sub plot of Hermann, his wife and Fritz, the army officer, is made too melodramatic; and the jokes, eg about circumcision, are vintage Stoppard but do not always harmonise well with the prevailing tone. In short a worthy, well acted and important play, but one that falls a bit short of being the masterpiece I was hoping for.
Reviewed on 05 March 2020 by Charles, London, United Kingdom

a play that shows the dangers that can befall families in a totalitarian state and is relelvant to today's rise in anti-semitism
An eye-opener if you are unaware of what happened to ordinary Austrian Jewish families prior to and during WW2. A large cast, beautifully staged and costumed, acting was outstanding. You do not have to be Jewish to enjoy this play as its content can be applied to all immigrants who constantly feel they live on the fringe of society no matter how long they have lived in their country of choice and no matter what they do to try and make themselves acceptable in that society. a very topical issue.
Reviewed on 29 February 2020 by Grania, London, United Kingdom

Thought provoking!
Reviewed on 28 February 2020 by Katherine, Walton-on-thames, United Kingdom

Don't miss it. Haven't seen such a masterpiece for years
Reviewed on 22 February 2020 by Michael Dennis, Venice, Italy

deeply moving and entertaining at the same time. This must be seen.
The show reminded us of the appalling death toll of Jews in the Hitler years. It is essential for us to have these reminders in the face of Holocaust deniers. The telling thing about this production is that the way we are reminded is through an absorbing story, peopled by characters for whom we feel sympathy. We care. The programme notes (some of the best I have seen in any programme over a 40 year theatre going career) help enormously working out who is who. This is probably the main challenge of the show : there are just so many characters and it does span several decades. Yet, I think we should give Stoppard some slack over this. He is telling a very important story rooted in personal experience. The acting was super. The direction was first rate. There were one or two expository passages that could have been pruned, but all in all a wonderful production
Reviewed on 21 February 2020 by Catherine, London, United Kingdom

Brilliant and thought provoking
Reviewed on 03 February 2020 by Susan, London, United Kingdom
14

Jul
2021

Tom Stoppard's Leopoldstadt – Casting announced for 2021
by London Box Office | Wednesday, July 14 2021, 21:01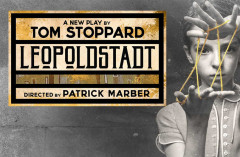 Update for Leopoldstadt at Wyndham's Theatre
We're delighted to hear that Sonia Friedman Productions' brilliant Leopoldstadt is back, with casting announced for 2021. The drama kicks off from 7th August and lasts until 30th October, with rehearsals already underway. This is award-winning stuff from the legendary Tom Stoppard, a powerful play set in the ancient Jewish quarter of Leopoldstadt in Vienna. An 'epic yet intimate' drama, it is quite simply brilliant.
Tom Stoppard's Leopoldstadt – Casting announced for 2021
22

Jan
2021

All About LEOPOLDSTADT
by Phil Willmott | Friday, January 22 2021, 10:18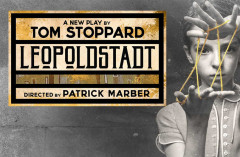 Critics and audiences loved this play by Tom Stoppard when it opened in February and it looked set to be a massive long-running hit. Well, we're going to find out because a new post-Covid revival has recently been announced at Wyndham's Theatre. There's still a huge public appetite to see this poignant family drama set in the Leopoldstadt Jewish Ghetto of 1900 Vienna, so we recommend booking your Leopoldstadt tickets early.
All About LEOPOLDSTADT