Quick Facts
Largest Ticket Inventory
in the West End
Real time
seat availability
Choose
your seats
Your booking is processed directly into the box office reservation system
This show is now closed.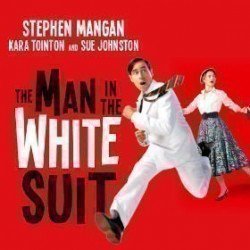 The Man In The White Suit
Tickets
4.6/5
-

based on

49

reviews
Starring: Kara Tointon, Stephen Mangan
About The Man In The White Suit
Performance Times
Starring:
Kara Tointon, Stephen Mangan
The Man In The White Suit description
The Man in the White Suit – Starring Stephen Mangan
It's so great to see one of the best-loved British classic Ealing comedy films from the 1950s enjoying a resurgence in popularity, brought back to life with the fantastic Stephen Mangan at the helm in the starring role. It's all thanks to Sean Foley, the adapter and director, and it's on at the Wyndham's theatre from early October 2019. A comedy treat with a difference, it really is a laugh a minute.
The story? When Sidney Stratton, played by Stephen Mangan, invents a material that never wears out and repels dirt magically, he's thrilled... and a fast-paced comedy ensues. It's a world-changing invention. But there's a huge down side. Fabric manufacturers, trade unions and workers at grass roots level are all petrified by the discovery, which threatens their jobs and puts the entire industry in danger.
Only one person sees the potential of the magical fabric in the same way as Stratton, and that's the delightful Daphne, the mill owner's daughter, played by Kara Tointon. She's on Stratton's side, supporting him as the bosses and workers chase him around the streets, infuriated by his pure white suit that always looks absolutely spotless.
Stephen Mangan and Sean Foley previously worked together on the Olivier award-winning production Jeeves and Wooster, so it's a long-awaited reunion guaranteed to deliver loads of giggles. Mangan has also thrilled audiences in The Birthday Party, The Norman Conquests – which nabbed him a Tony nomination – and the BBC's comedy Episodes. Oh, and don't forget the comedy to end all TV comedies, the dazzlingly hilarious Green Wing.
Sean Foley has recently made a splash with The Dresser, The Miser, and The Painkiller. He has won two Oliviers and is the next Artistic Director of the Birmingham Rep. And he's no stranger to Ealing comedies either, having also staged The Ladykillers. Kara Tointon is known and loved for roles in Twelfth Night for the RSC, Alan Ayckbourn's Relatively Speaking and Absent Friends, and as Eliza in Pygmalion.
This comedy has a serious message to share. It might be funny, and silly, and entertaining. But it also examines what happens when people who are usually enemies join forces to try and stop progress. It's about the establishment resisting change, about the way fantastic new inventions get suppressed because those in charge profit from the status quo.
A sophisticated farce, this play is jam packed with slapstick and fun. The score is rich in skiffle music, perfect for the setting. And it's on at the gorgeous Wyndham's theatre following a three week run at the Theatre Royal Bath.
Who is this show for?
This play is great fun, a rip-roaring comedy adventure that's perfect for people aged 10 and above.
The Man In The White Suit reviews
4.6 out of 5
based on

49

reviews
What to expect:
Acting
Music
Costumes
Story
Lighting
Recommended for:
Anyone (76%)
Families (80%)
Teenagers (78%)
Couples (86%)
Theatregoers (98%)
Latest customer reviews

Silly fun for a light evening.
Reviewed on 05 December 2019 by Miriam, Memphis, United States Of America

Brilliant entertainment
Top-class entertainment, with top-class performances. Music, dancing and very clever sets were brilliant. I particularly enjoyed Stephen Mangan's "reluctant" dancing. The action was fast-moving, and very funny.
Reviewed on 01 December 2019 by Sylvia, Crawley, United Kingdom

Belly laugh.
Reviewed on 30 November 2019 by Tracey, Middlesex, United Kingdom

Funny, Good Puncher on politische and capitalism.
Reviewed on 29 November 2019 by Alexandra Von, Stuttgart, Germany

First half of show was slow to get going, but second half was brilliant, laugh out loud scenes.
Reviewed on 28 November 2019 by Elaine, New Malden, Surrey, United Kingdom

Amazing, loved it!
Wonderful fast paced entertainment. Steven Mangan is perfect in the role, a really physical and demanding one. Can't believe this show is closing early... I loved it!
Reviewed on 28 November 2019 by Sally, Sevenoaks, United Kingdom

Oh Dear perhapsthe worst show I've seen in years knew it was the 50s/ era but so so-dated
Walked out at the interval foreignerswould not understand this at all
Reviewed on 27 November 2019 by Marianne, St Peter Port, United Kingdom

Cheerful comedy
Good show but beware sitting on row B in the Grand Circle. People sitting on row A tend to lean forward obstructing your view of the show.
Reviewed on 25 November 2019 by Christine, Alfreton, Derbyshire, United Kingdom

Great performances and music.
Reviewed on 21 November 2019 by Peter, Perth, Australia

Joyous
Beautiful theatre,all the cast brilliant.Acting great,timing and comedy very well rehersed.Very funny too especially the audience participation.
Reviewed on 16 November 2019 by Rosy, Knebworth, United Kingdom

Great evening's entertainment
The acting, story and music just worked. Steven Mangan was brilliant in the part as well as the rest of the cast.
Reviewed on 16 November 2019 by Katrina, Cirencester, United Kingdom

Hilarious, brilliant show and outstanding set design
Reviewed on 15 November 2019 by Denise, Enfield, United Kingdom

Fantastic
Great show, quick, smart.
Reviewed on 11 November 2019 by Konstantina, London, United Kingdom

Entertaining and fun
Really enjoyed this show, it had humour, some slapstick, great actors and music without being a muscial.
Reviewed on 10 November 2019 by Siobhan, Wilmslow, United Kingdom

Lifts the spirits
This was my second visit. Took me back to the 1950s. A very enjoyable afternoon.
Reviewed on 10 November 2019 by Corinne, Otford, United Kingdom

Hilarious, feel good and brilliantly done
Reviewed on 10 November 2019 by Rosemary Jane, London, United Kingdom

Production, timing, stagecraft were excellent
Great show, entertaining, well constructed and produced. All players interacted perfectly, a thoroughly entertaining afternoon. Front of house theatre staff were good too. 😀
Reviewed on 07 November 2019 by David, Huntingdon, United Kingdom

Great show
Reviewed on 02 November 2019 by Christina, London, United Kingdom

Great night out
What an amazing show. Full of actors we know and love, and full of laughter from start to finish. Well done guys
Reviewed on 01 November 2019 by Craig, Abingdon, United Kingdom

Nice story with engaging actors
Reviewed on 31 October 2019 by Christopher, Eching, Germany

Splendid performance - don't miss this show
Reviewed on 31 October 2019 by Nancy, Wilmette, United States Of America

Fun farce
Reviewed on 30 October 2019 by Nick, Crediton, United Kingdom

Funny
Reviewed on 29 October 2019 by Laurent, Marbella, Spain

Creative animations
Unusual effects
Reviewed on 27 October 2019 by Pamela, Mendlesham, United Kingdom

Funny, humorous and very enjoyable evening :-)
Reviewed on 26 October 2019 by Sobia, Chiswick, United Kingdom

Fabulous ... a must see... funny.... very entertaining
I deliberated over seats and even called the box office. The front row was still available when i booked and i wondered why. It was because you had to look up. We ended up 5 rows back in the stalls and central and they were great seats. Think those at the front would have been fine too. Theatre is beautiful. I went with my 14 year old son... he is doing O level drama. Think he was the youngest one there but thoroughly enjoyed it. The sets were amazing as were the characters acting and costumes and music. A definite treat and a memorable part of our mother son adventure in the big smoke. Thank you for being so fabulous cast xx
Reviewed on 25 October 2019 by Alison, Helmshore, United Kingdom

Funny , slick and watchable
Absolutely loved this little bit of froth . Very funny , clever set and good stunts . The ensemble was good . Costumes were hit and miss , however some were cleverly constructed to fall apart or cover up .
Reviewed on 24 October 2019 by Betty, Hereford, United Kingdom

A classic comedy brought up to date
Reviewed on 19 October 2019 by Rosemary, Marlborough, United Kingdom

A must see
Reviewed on 19 October 2019 by Mark, Nuneaton, United Kingdom

Very entertaining!
Reviewed on 11 October 2019 by Stefan, Reichenburg, Switzerland

Enjoyable night out
Had an enjoyable fun evening, actors were very good
Reviewed on 08 October 2019 by Lynn, Surrey, United Kingdom

Fun, energetic reworking of the 1951 Ealing Comedy.
Reviewed on 06 October 2019 by Jane, Epping Green, United Kingdom

Funny, Stephen Mangan at his best
Need to sit further back and higher to see all the action
Reviewed on 05 October 2019 by Deborah, Epsom, United Kingdom

Funny
Very nice and funny story which has the point. It makes one relax and have fun.
Reviewed on 05 October 2019 by Mario, Jaklovce, Slovakia

Absolutely first class!
Reviewed on 04 October 2019 by Gregory, Wokingham, United Kingdom