Wyndham's Theatre
32-36 Charing Cross Road, London, WC2H 0DA GB
Now showing at
Wyndham's Theatre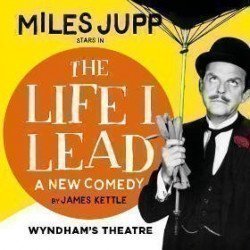 The Life I Lead
Wyndham's Theatre
Tickets from £17.75
Best remembered for playing Mr Banks in Disney's classic film Mary Poppins, David Tomlinson was renowned for playing the classic English gent, forthright, proper, and a loveable fool. His meeting with Walt Disney came to encapsulate his incredible life full of adventure and heartbreak.
The man who portrayed one of cinema's most famous patriarchs was defined by his relationship with his own father - a remote eccentric, who was hiding an extraordinary tragicomic secret.
THE LIFE I LEAD sees Miles Jupp, one of Britain's leading comics and actors (Mock the Week, The News Quiz, Rev, The Durrells) bring David Tomlinson's remarkable story to life.
A richly comic and moving tale of fathers and sons across the generations, THE LIFE I LEAD fills in the blanks behind a very well-known face.
Booking from: Monday, 16 September 2019
Booking until: Saturday, 21 September 2019
The Life I Lead tickets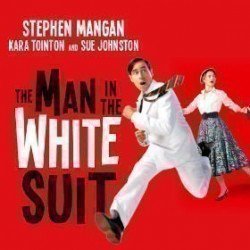 The Man In The White Suit
Wyndham's Theatre
Tickets from £15.00
What happens when one very clever chap invents a marvellous new fabric that never, ever gets dirty? Havoc, that's what! Welcome to the stage version of the brilliant Ealing comedy of the same name, brought bang up to date thanks to the talented Stephen Mangan. The result is quirky, charming and very funny, set like the original in the 1950s.
Booking from: Wednesday, 25 September 2019
Booking until: Saturday, 11 January 2020
Starring: Kara Tointon, Stephen Mangan
The Man In The White Suit tickets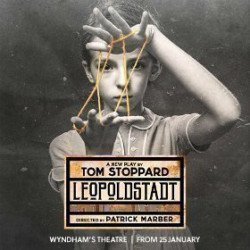 Leopoldstadt
Wyndham's Theatre
Tickets from £17.75
The scene is Vienna, the date is 1900. At the time the city was a vibrant centre of the arts, a creative hub, a vivid place where intellectual exploration was the nborm, a city of joy and pleasure. One in ten of the people were Jewish, given civil full rights by the Emperor Franz Josef. As a result of the Emperor's edict Jewish people streamed into the city, escaping from violence elsewhere in the world. Thousands of them settled in the tenement houses of the ancient Jewish quarter, an area called Leopoldstadt. And that's the location for this extraordinary play, a brand new masterwork by Tom Stoppard.
Booking from: Saturday, 25 January 2020
Booking until: Saturday, 16 May 2020
Leopoldstadt tickets
Wyndham's Theatre Facilities
Air conditioned
Bar
Disabled toilets
Infrared hearing loop
Member of Q-Park scheme
Toilets
Wheelchair/scooter access
Wyndham's Theatre Location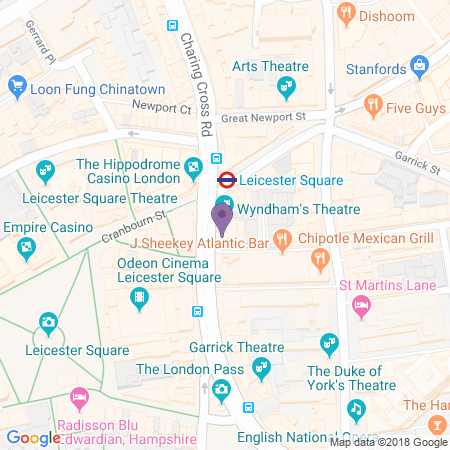 Directions
Travel Information
Nearest Tube station
Leicester Square

Covent Garden
Nearest Rail Station
Day buses
(Charing Cross Road) 24, 29, 176; (Shaftesbury Avenue) 14, 19, 38
Night buses
(Charing Cross Road) 24, 176, N5, N20, N29, N41, N279; (Shaftesbury Avenue) 14, N19, N38
Wyndham's Theatre history
From the outside
From the outside an impressive, majestic creation in pale stone with ornate archways, round windows and pillars reminiscent of ancient Greece, inside Wyndham's Theatre is a delight with its pale blue, cream and pastel green décor, encrusted boxes and absolutely stunning painted ceiling.
Wyndham's Theatre architecture and history
Not to be confused with the author John Wyndham, Charles Wyndham was a famous name in theatrical circles during the late 1800s, so much so that he was eventually knighted by King Edward VII.
The great man has always dreamed of his own theatre and his good friends funded the theatre that bears his name, raising enough cash to build the venue on a site owned by a member of the nobility and a great admirer of his work. Designed by the prolific architect W.G.R. Sprague in around 1898, who designed six other London theatres during his lifetime, the first play was a popular revival of T.W.Robertson's play, David Garrick.
J M Barrie, who wrote Peter Pan fame, had plays put on there, as did household name stars of the day the du Maurier family, of Daphne du Maurier fame, and Edgar Wallace. But the Wyndham's Theatre's biggest smash was the infamous French Riviera musical The Boy Friend, which showed there for the first time and broke records in the process. Running for an impressive five years, it finally transferred to Broadway and shot the singer-actress Julie Andrews to sudden fame.
In 1910 Gerald du Maurier began a partnership with the theatre that lasted 15 years, and was involved in setting up the stage debut of the infamous silver screen actress Tallulah Bankhead. Daphne du Maurier apparently used to watch her father on the stage, from the wings, and she eventually produced a play of her own, called The Years Between, on the same well-loved stage.
Over the years the theatre has traditionally alternated dramatic and comedies, with the odd feel-good factor musical show in between. Stars like Vanessa Redgrave, Maggie Smith, Judi Dench, Kenneth Branagh and Madonna have graced its stage, and its central location means it's an enduringly popular venue with the people who create and publicise shows.
The venue was Grade 2 listed by English Heritage in 1960. Today it is controlled by Delfont Mackintosh Theatres Ltd.
Past shows at Wyndham's Theatre
David Essex and Jeremy Irons made their West End debuts at Wyndham's Theatre in 1972, playing in the musical Godspell. Art, the multi-award winning play, kicked off there and went on to run for a cool 2,000 performances. Madonna made her West End debut here in 2002 in the play Up for Grabs. Chekhov and Shakespeare plays and big hitting shows like The History Boys and the C S Lewis life story Shadowlands have also appeared at Wyndham's.
Wyndham's Theatre access
There's an infra-red system with headsets and guide dogs are welcome in the auditorium, although staff can dog-sit if you prefer. There are two disabled spaces in Box A but no access for electric wheelchairs or scooters.
Wyndham's Theatre tickets
We're a trusted destination for a wide variety of seat types and prices, with excellent availability on the full range of Wyndham's Theatre tickets.