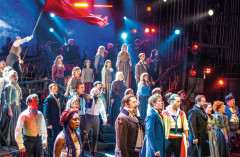 Here's two pieces of fantastic news!
Firstly LES MISERABLES - THE STAGED CONCERT will play a limited run at the Sondheim Theatre this Christmas.
A West End without Les Mis, a more or less permanent fixture for 35 years, just hasn't felt right. It's like the Tower of London without its legendary Ravens. You feel no good will come of it.
Secondly, according to Baz Bamigboye, an influencer who collaborates with producers to generate gossip, the original 6 weeks has been extended to 8 due to demand.
In a way this is even more exciting because it means not only is product opening but also the public is prepared to show up.
(Although one must always be cynical about "extended by popular demand" announcements. It's a very old trick to help create a buzz. In reality everyone involved signs up knowing the extra dates will happen)
The cast includes many of the stars who made the previous concert staging such a critical and popular hit. You can see Michael Ball as Javert, Alfie Boe as Jean Valjean, Carrie Hope Fletcher as Fantine and Matt Lucas as Thénardier. At certain performances John Owen-Jones will again play the role of Jean Valjean.
Covid means there's a reduced seating capacity of 750, and safety measures and social distancing are in place front of house, on stage, backstage and throughout the building.