Quick Facts
Largest Ticket Inventory
in the West End
Real time
seat availability
Choose
your seats
Your booking is processed directly into the box office reservation system
This show is now closed.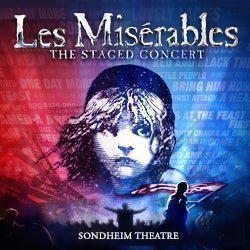 Les Misérables: The Staged Concert
Tickets
4.9/5
-

based on

63

reviews
Information
Cheap Tickets
Reviews
News
About Les Misérables: The Staged Concert
Performance Times
Les Misérables: The Staged Concert description
All Star Les Miserables – Legendary entertainment!
In 1862 Victor Hugo wrote a novel. More than a century later the story turned up as a concept album. In 1980 it was adapted for the stage and enjoyed a brief run. In 1983 Cameron Macintosh created an English language version which, two years later, hit the London stage and made history. Thirty nine years later Les Mis is still loved by millions. The London production has run continuously since October 1985, the longest-running West End musical and the second longest-running musical in the world.
Now we've got something incredibly special for you. Whether you've already seen the show or not you'll adore this fresh production starring a celebrity cast. For a strictly limited 16 week season, Cameron Mackintosh's production of Boublil and Schönberg's Les Mis will be headed by Jon Robyns as Jean Valjean, Bradley Jaden as Javert, Lucie Jones as Fantine, Shan Ako as Eponine and Harry Apps as Marius. Gerard Carey and Josefina Gabrielle will play the Thénardiers. During the run other celebrated Jean Valjeans will be playing guest performances alongside Jon Robyns.
The staging is apparently spectacular and also unusually intimate, telling the story in the form of a concert that has previously wowed audiences at the Royal Albert Hall and The O2. The cast and orchestra total more than 65 people, a whopper of a production, and it's on at the Gielgud theatre from August, right next door to the current home of Les Mis, the Queen's.
The show tunes are amazing, and hearing them sung by these remarkable singers is a huge treat. You'll sing your heart out to tunes like I Dreamed A Dream, Bring Him Home, One Day More and On My Own. And the plot? It goes like this... Roll back time to the early 1800s. The scene is France. This is the story of Jean Valjean, a French peasant, and his burning need for redemption after serving nineteen years in jail for stealing a loaf of bread.
Valjean breaks his parole and begins a new life, inspired by a Bishop's act of mercy, promising to adopt and care for the orphaned girl Cosette. Chased by the police, Valjean must be very careful indeed. But when the revolution heats up and a group of young idealists try to overthrow the government at a street barricade, things get nasty.
Who is this show for?
Les Mis is great for kids aged 8 and over. Children under 5 won't be admitted. If you're under 16 you must sit with your parents or an accompanying adult.
Les Misérables: The Staged Concert cheap tickets
We have a great selection of cheap Les Misérables: The Staged Concert tickets. We can help you save up to 70% on Les Misérables: The Staged Concert tickets! If you're looking for discount theatre tickets have a look below for our latest offers for Les Misérables: The Staged Concert at the Sondheim Theatre.
There are no special offers available at the moment but we still have great ticket prices for Les Misérables: The Staged Concert at the Sondheim Theatre.
Les Misérables: The Staged Concert reviews
4.9 out of 5
based on

63

reviews
What to expect:
Acting
Music
Costumes
Story
Lighting
Recommended for:
Anyone (76%)
Families (83%)
Teenagers (81%)
Couples (90%)
Theatregoers (98%)
Latest customer reviews

Just amazing
Reviewed on 04 September 2021 by Sara, Ferndown, United Kingdom

Amazing singing
We had mixed feelings about this show, as we had been told you'll either love it or hate it. However, we went with an open mind and we were certainly not disappointed. The characters told their story through song and we've never heard such amazing singing at a musical. Often the lead characters are very good but in this case the entire cast were outstanding. At times, their singing blew us away! We were glad we had read a synopsis of the story before seeing the show, as we were able to follow it clearly. We would recommend this show to anyone who loves musicals. Definitely one show not to be missed!
Reviewed on 31 August 2021 by Dawn, Bridgwater, United Kingdom

Bucket list must
Reviewed on 25 August 2021 by Stephen, Barnsley, United Kingdom

Brilliant a must see.
Admission to theatre stress free staff excellent. Stage production and acting incredible.View of stage slightly blocked due to above balcony over hang but still super view. This is a must see felt like a true party night with friends thanks to excellent cast.
Reviewed on 25 August 2021 by Henry, Luton, United Kingdom

Awesome show again
Reviewed on 28 July 2021 by David, Sunderland, United Kingdom

Les Mis in pandemic
Fantastic - such a good show and down with the restrictions still awesome - brilliant performances
Reviewed on 11 July 2021 by David, Alsager, United Kingdom

a must see
Reviewed on 09 July 2021 by Yujie, London, United Kingdom

Emotional, amazing performance
Reviewed on 06 July 2021 by Anastasiia, London, United Kingdom

Great show but not the cast I was expecting
We booked this as advertised All Star Staged Les Mis and the advert gave the names of the previous All Star staged cast. It actually had All Star on my tickets so you can see why a bit disappointed that there were no stars in it. We saw the Staged Les Mis not all star. I notice other ticket sellers give it its correct title so feel misled by your advert. The show was good as I'd expect of a West End Les Mis production. Music was great. It just wasn't what I expected re no star cast.
Reviewed on 02 July 2021 by Lorraine, Hemel Hempstead Herts, United Kingdom

A lovely evening
Reviewed on 02 July 2021 by Ian, Reading, United Kingdom

Simply amazing
Wonderful performers. Actually enjoyed the concert style production- able to hear every single word being sung. Had goose bumps at most of the music Great special effects- much more intimate production. I have seen Les Mis 10 times with all the well known stars and this was as good as any
Reviewed on 20 June 2021 by Sandra, Ilkley, United Kingdom

Very uplifting
So good to be able to be back in the theatres again and this show certainly had the uplifting effect to all that were there..
Reviewed on 19 June 2021 by Philip, Angmering, United Kingdom

Great show
Reviewed on 13 June 2021 by Chris, Cheadle Hulme, United Kingdom

So worth seeing!
An absolutely stunning show. You have to wear your masks, but hey ho! It is amazing to be in the the theatre again. I would recommend this show for all ages.The staff at the venue were charming and so welcoming.
Reviewed on 09 June 2021 by Patricia, London, United Kingdom

Excellent show
The show was excellent, great singer by everyone
Reviewed on 06 June 2021 by Robin, Blackpool, United Kingdom

Stunning show!
Reviewed on 29 May 2021 by Marianne, Cambridge, United Kingdom

Great show. Acting was limited I think due to covid restrictions? Staff wore see-through mesh masks which were completely pointless, and the air conditioning unit was ridiculously loud.
Reviewed on 25 May 2021 by Carla, Falkirk, United Kingdom

Best show ever in my life.
JOJ one of my best musical performer, it deserves to come in UK to see him again for 9 years. Also other performers are also fantastic.
Reviewed on 02 December 2019 by Junhee, Seoul, Korea (republic Of)

definately a must see
Reviewed on 01 December 2019 by Amanda, Charlton London, United Kingdom

Absolutely brilliant from start to finish.
Reviewed on 27 November 2019 by Linda, Wolverhampton, United Kingdom

A Maze Zing
Always love this show and this concert version didn't disappoint . 5 stars all around but maybe Matt Lucas deserves more.
Reviewed on 25 November 2019 by Jacqueline, St Brelade, United Kingdom

A must-see show
Reviewed on 07 November 2019 by Keith, Slough, United Kingdom

What an amazing show
I have seen Les Mis 4 times, but this concert was out of this world- the show made me laugh,cry and they had a standing ovation which lasted a long time - well done to the whole production team
Reviewed on 06 November 2019 by Margaret, Sutton Coldfield, United Kingdom

Superb from start to finish.
All the cast are extremely talented. The music, singing, dancing and comedy are all amazing. Very heartfelt,and a completely uplifting evening.A total must see!!
Reviewed on 05 November 2019 by Anita, London, United Kingdom

Absolutely amazing!
This show was fantastic and gripping throughout. All the singer's and musicians were marvellous. Alfie Boe and Michael Ball both exceeded my expectations. Matt Lucas was outstanding. Bravo everybody!
Reviewed on 31 October 2019 by Linda, Wakefield, United Kingdom

Omg so amazing would go and see it again today
Reviewed on 29 October 2019 by Louise, Harwich, United Kingdom

Absolutely brilliant and really emotional
My husband and I travelled from Fife the day before then went to the theatre on wednesday. We were in the grand circle (row B)and had a terrific view but were slightly puffed climbing all the stairs up there. The seats were comfy (we are both tall) with plenty of legroom. But, it was really worth the climb. The whole show was wonderful. Costumes,lighting basically everything was really good. we were on such a high when we left and my hands were sore from clapping so much. It was worth the long journey and we can't stop singing all the brilliant songs.
Reviewed on 25 October 2019 by Susan, Leven, United Kingdom

Best show I have ever seen
Reviewed on 25 October 2019 by Andreas, London, United Kingdom

Fabulous
Reviewed on 23 October 2019 by Diana, Norwich, United Kingdom

Amazing Night
Acting and singing powerful and moving. Orchestra, cast and whole production first class, a great night out.
Reviewed on 22 October 2019 by Sue, Essex, United Kingdom

Always lives up to the hype
Wonderful concert, excellent musicianship from the players and singers. We were sat in the very back row of the Grand Circle, so the farthest possible seats from the stage, yet it was still intensely enjoyable. I did have a small pair of glasses/binoculars which helped me see the performers faces clearly from time to time, I like to do this if I'm that from the stage. Alfie Boe was absent from our performance, which is the only way we managed to get tickets, to be honest, but John Owen Jones was a more than capable deputy. Brilliant show, see it if you can!
Reviewed on 21 October 2019 by Michael, Peterhead, United Kingdom

As good as I was hoping it would be!
Is was all about the music and the singing....
Reviewed on 16 October 2019 by Sandra, Bracknell, United Kingdom

great show
Reviewed on 16 October 2019 by Margaret, Rayleigh, United Kingdom

Excellent performance Michael Ball and cast were fabulous especially Master if the House
Reviewed on 14 October 2019 by Sandra, Knutsford, United Kingdom

An emotionally powerful Show
Les Mis has been one of my favourite West End shows for some time and the concert version certainly did not disappoint. The acting of the entire cast was phenomenal but particularly that of Carrie Hope Fletcher (Fantine), John Owen-Jones (Jean Valjean in the matinee show I attended) and of course Michael Ball (Javert). Matt Lucas (Thenardier) was also funny, adding some new quips into his performance. I was not sure what to expect as far as props/lighting went due to the concert format of the production but I was happy to see the familiar red flag being waved in 'One Day More'. I also particularly liked the lighting effects during Javert's song 'Stars' and his final song. Altogether I would say it was a fantastic show and definitively would recommend going to watch it if you have the chance.
Reviewed on 12 October 2019 by Anoushka, Shepton Mallet, United Kingdom

Nice but not as good as the show next door
Reviewed on 06 October 2019 by Guy, Grantham, United Kingdom

Must see!
Reviewed on 05 October 2019 by Wim, Wingene, Belgium

magnificent
Best show we have seen in a long long time. Expensive, but worth it.
Reviewed on 03 October 2019 by Helen, Gillingham, United Kingdom

classical a must see
Reviewed on 02 October 2019 by Jixiang, London, United Kingdom

Les Mis lovers dream
Reviewed on 02 October 2019 by Susie, Cobham, United Kingdom

Wonderful
Fabulous show equally as good as complete show. Lovely theatre very atmospheric.
Reviewed on 25 September 2019 by Gaynor, Craghead, United Kingdom

Most amazing experience, must see
Fantastic from start to finish loved it
Reviewed on 19 September 2019 by Carol, Scarborough, United Kingdom

not to be missed
a wonderful staging of a wonderful show. every member of the cast was a brilliant singer and of course Alfie boe is by far the best john valjean of all time.
Reviewed on 15 September 2019 by David, Edgware, United Kingdom

Creative
Creative as the show was squashed in somewhat but did not take away the atmosphere.
Reviewed on 13 September 2019 by Janet, Derby, United Kingdom

Must see. Best Show Ever
The most wonderful Show ever. You could not fault anything. The singing was superb not only from the Stars but from everyone on that stage. The lighting was fabulous. So thank you to all
Reviewed on 12 September 2019 by Annie, London, United Kingdom

Music fantastic
Reviewed on 11 September 2019 by Iain, Knaphill, United Kingdom

Seen Les Miserables many times but this was unbelievable!
Reviewed on 10 September 2019 by Lindsay, Essex, United Kingdom

Fantastic!!
Vocally, this was the best production of LMis that i've Attended. The singing was excellent. Loved Matt Lucas - he was born to play the role of the innkeeper. Loved it!
Reviewed on 30 August 2019 by Lyn, West Drayton, United Kingdom

Fantastic
I hung on every word of every performance and felt many different emotions including tears. One of the best shows I've ever seen and I've seen a few! The acting was excellent and every performer did justice to their part. I would go and see it again tomorrow.
Reviewed on 28 August 2019 by Rosina, West Molesey, United Kingdom

Excellent!!!
Thoroughly enjoyed the show. Nothing negative to say. Would highly recommend this show!!!
Reviewed on 27 August 2019 by Sandra, Southwell, United Kingdom

Don't miss it!
An enthusiastic, energetic production with an outstanding cast. It doesn't get much better than this!
Reviewed on 13 August 2019 by Kathleen, Vero Beach, United States Of America
04

May
2021

Les Miserables Staged Concert – Cast announced!
by London Box Office | Tuesday, May 4 2021, 11:30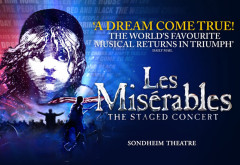 Update for Les Miserables Staged Concert at the Sondheim Theatre
This production is nothing short of totally spectacular! It's Les Misérables The Staged Concert and it's due in town for post-covid fun at the Sondheim Theatre from 20th May 2021, on stage until 5th September. This is brilliant news for the theatre-loving public who, in December 2020, bought every single available ticket within twenty four hours of their release. This time around we're expecting just as much excitement, so hang onto your hats!
Les Miserables Staged Concert – Cast announced!
23

Jul
2019

More on Producer Cameron Macintosh's Les Miserables Manoeuvres
by Phil Willmott | Tuesday, July 23 2019, 12:58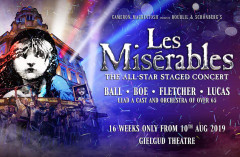 I've written several times here about my disappointment that the original production of Les Mis is to be replaced in the West End by an excellent but cheaper version, opening once its current home, the Queen's theatre, has been refurbished and renamed the Sondheim Theatre.
More on Producer Cameron Macintosh's Les Miserables Manoeuvres