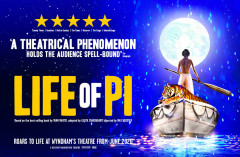 The amazing show inspired by Yann Martel's magical Man-Booker prize winning book is finally due on stage in the West End. Welcome to Life Of Pi, a story so strange, so magical and so unexpected that you'll be glued to your seat. The drama kicks off on 15th November 2021 and you'll adore this epic journey of endurance and hope. The special effects are quite simply spectacular, and the full cast has just been announced.
Who's involved in Life Of Pi?
The show's producer Simon Friend is thrilled to announce the news. As he says, "I am delighted to announce the cast for this show – most of whom were in the original production in Sheffield, alongside some brilliant new cast members who have joined us on our journey. After an incredibly difficult year for so many people I hope this truly captivating production about how we deal with life's toughest challenges will particularly resonate with audiences." This is who's involved:
Produced by Simon Friend
Hiran Abeysekera plays Pi
Nuwan Hugh Perera plays the alternate Pi
The understudies are Alex Chang and Deeivya Meir
Mina Anwar plays Ma
Nicholas Khan plays Father
Payal Mistry is Rani
Tom Espiner is Father Martin and Commmander Grant-Jones
Raj Ghatak plays Mamaji and Pandit-Ji
Syreeta Kumar is Mrs Biology Kumar and Zaida Khan
David K.S. Tse is Mr Okamoto
Kirsten Foster plays Lulu Chen
Habib Nasib Nader is Cook and Voice of Tiger
They're joined by Fred Davis (Tiger Head), Daisy Franks (Tiger Heart), Romina Hytten (Tiger Heart), Tom Larkin (Tiger Head), Scarlet Wilderink (Tiger Heart), and Tom Stacy (Tiger Hind)
Directed by Max Webster
Set and Costume design by Tim Hatley
Puppet and Movement Direction by Finn Caldwell
The Puppet Designers are Nick Barnes and Finn Caldwell
The Video Designer is Andrzej Goulding
The Lighting Designer is Tim Lutkin
The Sound Designer is Carolyn Downing
The Composer is Andrew T Mackay
The Dramaturgy is by Jack Bradley
Casting Direction comes from Polly Jerrold
The Associate Director is Hannah Banister
The Associate Set Designer is Ross Edwards
Costume Supervision comes from Sabrina Cuniberto
The Props Supervisor is Ryan O'Connor
Buy Life Of Pi Tickets
Book your Life Of Pi tickets online with us and choose the best seats with our Wyndhams Theatre seating plan. We'll send E-tickets to your email address – simply present them at the door on the day of the performance to see this magical, truly strange yet totally wonderful tale unfold.
About Wyndhams Theatre
Wyndhams Theatre is on Charing Cross Road, built in 1898 and funded by the actor and manager Charles Whydham, his patrons and friends. He had long dreamed of a theatre of his own, and this venue represents his dream come true. Past shows at Wyndhams Theatre include Leopoldstatd, Curtains, Fleabag, The Price, The Starry Messenger and the comedian Bill Bailey's Larks in Transit.