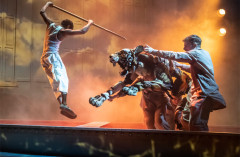 Thanks go to Johan Persson for taking such fabulous production photos of the 2021 West End production of Life Of Pi, and to Helen Maybanks for taking amazing photos of Hiran and Tiger. The novel of the same name won the Man Booker prize, and Press Night takes place on Thursday 2nd December. Take a look at these new images of Life Of Pi and marvel at the skill of the actors, the puppetry, and the extraordinary plot. This really is a show to remember.
Who's involved in Life Of Pi?
Life of Pi is a breathtaking stage adaptation of the epic journey of endurance and hope that has already delighted millions in novel form. A cargo ship sinks in the middle of the Pacific leaving five survivors in a small lifeboat, but who will make it back home? The hyena, the zebra, the orangutan, the sixteen year-old boy, or the Royal Bengal tiger?
Hiran Abeysekera returns in the central role of Pi
Mina Anwar plays Ma
Nicholas Khan plays Father
Payal Mistry is Rani
Tom Espiner is Father Martin and Commmander Grant-Jones
Raj Ghatak is Mamaji and Pandit-Ji
Syreeta Kumar plays Mrs Biology Kumar and ZaidaKhan
David K.S. Tse is Mr Okamoto
Kirsten Foster plays Lulu Chen
Habib Nasib Nader is Cook and Voice of Tiger
They are joined by Fred Davis (Tiger Head), Daisy Franks (Tiger Heart), Romina Hytten (Tiger Heart), Tom Larkin (Tiger Head), Tom Stacy (Tiger Hind) and Scarlet Wilderink (Tiger Heart)
Yann Martel is the Original Author
Lolita Chakrabarti has created this awesome adaptation
Max Webster is the Director
Finn Caldwell is the Puppet & Movement Director
Tim Hatley is the Set & Costume Designer
Tim Lutkin is the Lighting Designer
Carolyn Downing is the Sound Designer
Andrew T Mackay is the Composer
Andrzej Goulding is the Video Projection Designer
Finn Caldwell & Nick Barnes are the Puppet Designers
Polly Jerrold is responsible for the original casting
Buy Life Of Pi Tickets
Book your Life Of Pi tickets online with us and choose the best seats with our cool Wyndham's Theatre seating plan. We'll send your E-tickets to your email address – simply present them at the door on the day of the performance to experience sheer magic.
About Wyndham's Theatre
Wyndham's Theatre is the brainchild of the famed actor-manager Charles Wyndham, one of six theatres built by W.G.R Sprague between 1898 and 1916. May 2005 saw it taken over by Delfont Macintosh Ltd, which still runs the venue. Past shows at Wyndham's Theatre include Leopoldstadt, Curtains, Fleabag, and The Price.