Quick Facts
Largest Ticket Inventory
in the West End
Real time
seat availability
Choose
your seats
Your booking is processed directly into the box office reservation system
This show is now closed.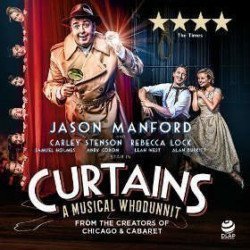 Curtains
Tickets
4.6/5
-

based on

17

reviews
Starring: Carley Stenson, Jason Manford
About Curtains
Performance Times
Starring:
Carley Stenson, Jason Manford
Curtains description
Curtains – A hilarious musical comedy romp
It's Curtains. It premiered on Broadway in 2007. Now it's due for its UK premiere at Wyndhams theatre, set to add loads of comedy sparkle to the festive season and into the New Year. Welcome to the funniest show for ages, starring the brilliant Jason Manford, stand-up genius, talented actor and incredibly good singer. What a great winter treat!
The story? It's literally murder putting on a new musical, and when the star of a new Broadway-quality show called Robbin Hood - Jessica Cranshaw – is murdered on stage on the opening night, every member of the cast and crew is under suspicion. When they call in detective Frank Cioffi, who is a massive musical theatre fan with an uncanny nose for crime and an equally uncanny ear for music, he's tasked with throwing the show a lifeline as well as solving the murder.
Jason Manford has delighted audiences with The Producers, Chitty Chitty Bang Bang, Guys and Dolls and much more. Carley Stenson, who stars as Georgia Hendricks, has thrilled us with roles in Les Miserables, Legally Blonde, Shrek, Spamalot and of course the telly soap phenomenon Hollyoaks. The musical comes fresh from the talented creators of Cabaret and Chicago, and it's a Tony award-winning show.
If you're looking for a festive special to add lots of good cheer to the season, this awesomely silly, wonderfully funny backstage murder mystery musical of a whodunnit is jammed with catchy show tunes and stars zillions of unforgettable characters. There are so many twists to the plot you won't know whether you're coming or going... in a good way!
You'll love watching Rebecca Lock play Carmen Bernstein, Samuel Holmes as Christopher Belling and Leah Barbara West as Niki Harris. Alan Burkitt plays Bobby Pepper and Andy Coxon is Aaron Fox. The dazzlingly good cast also includes Emma Caffrey as Bambi Bernet, Adam Rhys-Charles as Daryl Grady, Martin Callaghan as Oscar Shapiro, Minal Patel as Johnny Harmon and Mark Sangster as Sidney Bernstein. Plus J.R. Ballantyne, Kathryn Barnes, Pamela Blair, Charlie Johnson, Robin Kent, Thomas-Lee Kid, Ben Mundy, Gleanne Purcell Brown, Samuel John-Humphreys and Nia Jermin.
When this splendid Kander and Ebb musical premiered on Broadway the production was nominated for eight Tony awards. David Hyde Pierce won the Tony for Best Actor in a Musical for his portrayal of the policeman Frank Cioffi. The production team includes DLAP Entertainment and Walport Productions. The music is, of course, by the superb John Kander and the lyrics by Fred Ebb. The book's by Rupert Holmes, and the original book and concept were by Peter Stone. It's directed by Paul Foster, the choreographer is Alistair David, and the Musical Supervisor and Arrangements come from Sarah Travis. Set design comes from David Woodhead and the Casting Director is Jim Arnold CDG.
After the West End run the show will continue a tour of the UK, including the New Wimbledon theatre, Sunderland, Liverpool, Llandudno, Norwich, Northampton, Blackpool, Glasgow, Leicester, Wolverhampton and finally Southampton's magnificent Mayflower theatre.
Who is this show for?
This hilarious comedy romp is recommended for people aged 12 plus.
Curtains reviews
4.6 out of 5
based on

17

reviews
What to expect:
Acting
Music
Costumes
Story
Lighting
Recommended for:
Anyone (88%)
Families (88%)
Teenagers (88%)
Couples (100%)
Theatregoers (94%)
Latest customer reviews

exuberant
Great dance routines, funny, sharp script - well delivered and good music
Reviewed on 12 January 2020 by Elizabeth, London, United Kingdom

'Curtains' - Outstanding
What an outstanding show! Loved it - from beginning to end.
Reviewed on 12 January 2020 by Damon, Fleet, United Kingdom

A breath of fresh air!!
Pure entertainment!! Very catchy music. Kander and Ebb at their very best.
Reviewed on 10 January 2020 by Brian, Truro, Cornwall., United Kingdom

Brilliant
Reviewed on 09 January 2020 by Helen, City Of Westminster, United Kingdom

Great entertainment
Very funny lines delivered with perfect timing. Great entertainment.
Reviewed on 07 January 2020 by Stephen, Royston, United Kingdom

Brilliant show - amazing talent
The cast in Curtains are unbelievably talented. Great show perfect for all the family. While Jason Manford's accent does slip occasionally it doesn't detract from the overwhelming talent on show. A particular commendation goes to the actress playing Bambi who draws your eye whenever she is on stage and dazzles with her dancing.
Reviewed on 07 January 2020 by Georgina, Liverpool, United Kingdom

Good fun
Entertaining classic style musical. Funny and cheesy with a tongue in cheek nod to musicals of years gone by. Jason Manford is great!
Reviewed on 05 January 2020 by Charlotte, Bristol, United Kingdom

Entertaining!
Reviewed on 04 January 2020 by Anisha, London, United Kingdom

Fantastic- a truly superb production
Reviewed on 04 January 2020 by Katherine, London, United Kingdom

Enjoyable
Enjoyable but not groundbreaking.
Reviewed on 03 January 2020 by Imogen, Chesham, United Kingdom

Fabulous!
Very enjoyable with excellent singing and dancing, perfect for a New Years Eve.
Reviewed on 01 January 2020 by Jennifer, Reading, United Kingdom

Well executed, traditional musical.
Curtains was fine. A slightly more modern take on a traditional style. Very Cole Porter with a little more innuendo. Surprisingly short on laughs for something with Jason Manford in the lead and with the word 'hilarious' used so liberally on the publicity. However, all performers executed the performance very well. The choreography was very good and the music and singing accurate and well performed.
Reviewed on 30 December 2019 by Simon, Al Ain, United Arab Emirates

A brilliant show
We thought the show was brilliant, a great night out. Lots of good songs, it was well acted and very amusing.Highly recommended.
Reviewed on 28 December 2019 by Kay, Middx, United Kingdom
06

Jan
2020

Review: CURTAINS at the Wyndham's Theatre
by Josephine Balfour-Oatts | Monday, January 6 2020, 09:29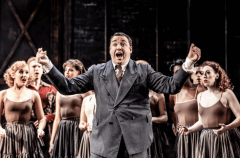 Jason Manford leads an exquisite cast in Curtains - an all-singing-all dancing whodunnit enough to remedy any pre-Christmas crises.
Photo: Richard Davenport
Review: CURTAINS at the Wyndham's Theatre