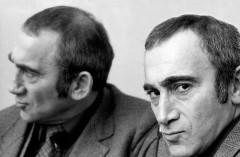 Lionel Bart, writer of classic musical OLIVER! and a central figure in the West End of the 1960s, was born on this date, 1 August, in 1930.
Having directed revivals of two of his shows FINGS AIN'T WOT THEY USED T'BE and BLITZ, I'm a big fan of his earthy, witty lyrics and irresistibly catchy tunes.
Tom Vallace wrote an excellent appraisal of Bart's life and work to mark his death in 1999 (you can read it in full here) but it also serves as a reminder of the remarkable life he lead and why we still celebrate him today.
Here's a few fun facts about Lionel Bart pulled from Vallance's article.
OLIVER! Was by far and away his greatest hit but there were other popular shows too. His other work included shows such as FINGS AIN'T WOT THEY USED T'BE, MAGGIE MAY & BLITZ!
He had chart success as a song writer too. His many pop songs include "Living Doll" (Cliff Richard's first No 1 hit), Tommy Steele's "A Handful of Songs", Anthony Newley's "Do You Mind?" and Matt Monro's "From Russia With Love".
Bart was one of the 11 children of an East End tailor. He was born Lionel Begleiter, in 1930, and he had no formal musical training.
As a boy his daily bus journey took him past St Bartholomew's Hospital, inspiring him to adopt Bart as his professional surname.
He started writing songs whilst volunteering at the Unity Theatre in response to a sign asking for musical material for one of the theatre's productions.
Unable to write music, he would tap out the melody with one finger and someone else would orchestrate it.
When Bart wrote a complete musical, WALLY PONE OF SOHO, based on Ben Jonson's Volpone, he could not get it produced, but Joan Littlewood, who had been a producer at the Unity and was now running the enterprising Theatre Workshop in Stratford, London, asked him to provide the music and lyrics for a new musical written by a former convict, Frank Norman, FINGS AIN'T WOT THEY USED T'BE.
It played to packed houses and eventually moved to the Garrick Theatre in the West End, where it ran for two years.
In 1959 Bart had another success when LOCK UP YOUR DAUGHTERS, a musical version of Henry Fielding's Rape Upon Rape, opened at the Mermaid with lyrics by Bart to Laurie Johnson's music.
By the end of that year he had also provided songs for Tommy Steele's film Tommy the Toreador and won four Novello Awards - for the year's best-selling song ("Living Doll"), the outstanding score of the year (Lock Up Your Daughters), outstanding novelty song ("Little White Bull") and a special award for "outstanding personal services to British music".
A dozen producers turned down his next show, OLIVER! - but at its first night at the New Theatre (now the Noel Coward Theatre) on 30 June 1960 it opened to a roof-raising, rapturous reception, receiving 23 curtain-calls, and Bart's score was lauded next day for its richness and variety, from rousing show-stoppers like "Consider Yourself" and "I'd Do Anything" to the character songs such as Fagin's "Pick a Pocket or Two" and "Reviewing the Situation", and Nancy's "It's a Fine Life" which won him the Novello Awards for outstanding score of the year.
Oliver's torch song, "As Long As He Needs Me" earned him further awards for outstanding song of the year and best-selling song.
Oliver! ran for 2,618 performances in London, and was a hit on Broadway where it opened in 1963 and ran for 774 performances, winning Bart a Tony Award.
Bart also epitomised the Sixties in a less happy way - like many who flourished in that era he was seduced by sudden success into a world of drink, drugs and hedonism, squandering his money and his youth in the company of celebrities like Noel Coward, Brian Epstein, Judy Garland, Alma Cogan and Shirley Bassey, and he spent weekends in Mustique with Princess Margaret, who was later, according to Bart, to call him a "silly bugger" for mis-handling his finances.
Bart himself would later place some of the blame on his upbringing. "My father gambled," he said, "and there were endless arguments about it. I hated money and had no respect for it. My attitude was to spend it as I got it."
The American composer Richard Rodgers, who had not found a permanent lyricist partner since the death of Oscar Hammerstein, asked Bart to collaborate with him, but Bart refused.
For his next show Bart chose a subject close to his heart, the way East Enders coped with air-raids in World War II: BLITZ! Its strongest talking-point was the massive set by Sean Kenny, who had also done sterling work on Oliver!, which literally self- destructed during a bombing raid. (Although I directed a revival earlier this year and it stands up well without any of the spectacle that originally eclipsed the story and songs)
He wrote the music and lyrics for his next stage musical, Maggie May (1964), but collaborated on the book with Harvey Orkin. Starring Rachel Roberts and Kenneth Haigh, it was a moderate success.
His career reached a low point in 1965 with his musical about Robin Hood which he backed with a fortune of his own money. Twang! was a short-lived disaster and to finance it Bart had rashly sold his rights to Oliver! He later estimated that relinquishing those rights lost him over a million pounds.
In 1968 Carol Reed's film version of Oliver! opened and was a huge success, winning several Oscars including Best Picture, plus nominations for Ron Moody (the original Fagin repeating his fine performance) and Jack Wild (as the Artful Dodger).
Columbia, the studio financing the film, had wanted an internationally known star (Peter Sellers) in the lead, but Reed and Bart fought to keep Moody. Their choice of Shirley Bassey to play Nancy was vetoed by the studio, who felt that if Bill Sykes was shown killing a black girl it could offend some audiences.
In 1972 Bart declared himself bankrupt - he had debts totalling £73,000. He once had homes in London, New York, Malibu and Tangiers but had been living in a small flat in Acton. Cameron Mackintosh, who successfully revived Oliver! at the London Palladium in 1994 gave him a percentage of the profits.
BART QUOTES:
"Of all the people I know in this business who have had ups and downs, Lionel is the least bitter man I have ever come across. He regrets it but, considering that everyone else has made millions out of his creations, he's never been sour, never been vindictive." Cameron Macintosh.
"Lionel's genius has in my view never been fully recognised by the British establishment. The loss to British musical theatre caused by his untimely death is incalculable." Andrew Lloyd Webber.
"I'm not a composer, I just make tunes and sing them, and I sing harmonies, and some of my chord progressions are not logical, but often they work. For Oliver! I thought in terms of people's walks. The Oliver theme was really the Beadle's walk, a kind of dum-de-dum . . . Fagin's music was like a Jewish mother clucking away. But I don't want to get high-falutin' about it." Lionel Bart.