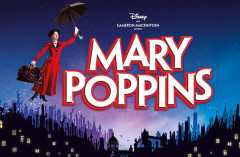 All change. It's exciting news. Apparently Louis Gaunt will join the cast of Mary Poppins from 22nd June 2022. He'll be playing the role of Bert, replacing the talented Charlie Stemp who's playing Bobby in Chichester Festival Theatre's production of Crazy for You throughout the summer months. The show carries on delighting audiences at its usual home, the Prince Edward Theatre.
Who's involved in Mary Poppins?
A warm welcome to Louis Gaunt, who debuted professionally on stage in Oklahoma! in 2018. It was so good he won The Stage Debut Awards for his role. He has also wowed audiences in Sweet Charity at the Nottingham Playhouse, Kiss Me Kate at Sheffield Crucible Theatre, Standing at the Sky's Edge, also at the Crucible, and more. The cast comprises:
Zizi Strallen as Mary Poppins and Louis Gaunt as Bert
Charlie Anson as George Banks and Amy Griffiths as Winifred Banks
Petula Clark as Bird Woman
Liz Robertson as Miss Andrew
Claire Machin as Mrs Brill
Jack North as Robertson Ay
Paul F. Monaghan as Admiral Boom and the Bank Chairman
Katie Cox, Rose Dawson, Megan Donovan, Sophie Hartley-Booth, Erin Hillyer, Megan Judge, Shayla McCormack, Arrabella McDermott and Maddison Thew alternate the role of Jane Banks
Logan Clark, Cian Eagle-Service, Oliver Gordon, George Hamblin, Charlie Murphy, Gabriel Payne, Sebastian Selwood, Noah Swer-Fox and Frankie Treadaway alternate the role of Michael Banks
The ensemble players are: Yves Adang, Angeline Bell, Lydia Boulton, Alison Connell, Adam Davidson, Danielle Delys, Joseph Dockree, Charlie Donnelly, Stan Doughty, Glen Facey, Davide Fienauri, Harry Francis, Lyndsey Gardiner, Ian Gareth-Jones, Maria Garrett, Mark Goldthorp, Jacqueline Hughes, Emma Hunter, Jason Kajdi, Sam Lathwood, Jordan Livesey, Tania Mathurin, Laura Medforth, Alex Pinder, Ben Redfern, Clare Rickard, Lucie-Mae Sumner, Scott Waugh and Monique Young
Buy Mary Poppins Tickets
Book your Mary Poppins tickets online with us and choose the best seats with our Prince Edward Theatre seating plan. We'll send E-tickets direct to you via email. All you do is show them at the door on the date you've booked.
About the Prince Edward Theatre
The Prince Edward Theatre is a venue with a long and interesting life. It began as a theatre but changed roles over the years. At one point it was a casino, a servicemen's club, and a big screen cinema. It re-opened as a theatre in 1978, home to the world premiere of Andrew Lloyd Webber's Evita for 8 years. Past shows at the Prince Edward Theatre include Chess the Musical, plus an earlier version of Mary Poppins dating back to 2004-2008 starring Laura Michelle Kelly, Scarlett Strallen, Gavin Lee, and Gavin Creel.