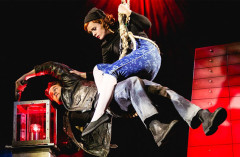 It's great when theatre folk achieve unlikely success through sheer hard work and talent. Of course those two qualities alone are no guarantee of success in an overcrowded market but add a dash of good luck and you could be the next Mischief Theatre.
In just a few years, have gone from being a bunch of unknown graduates performing on the London Fringe to one of the most successful and sought after performers and creatives in the industry.
The company is led by Artistic Director Henry Lewis and Company Director Jonathan Sayer and they had an extraordinary tally of three shows running simultaneously in the West End at Christmas – The Comedy About A Bank Robbery, the Olivier Award-winning The Play That Goes Wrong at the Duchess Theatre and Peter Pan Goes Wrong at the Apollo Theatre. A specially written television adaptation of Peter Pan Goes Wrong was also broadcast on BBC 1 on New Year's Eve.
Their international influence is pretty impressive too. According to their latest press release "In addition to its work in the UK, The Play That Goes Wrong has toured internationally visiting the Holder's Season Festival in Barbados, Madinat Theatre in Dubai and the Abu Dhabi Theatre, in its original English language. There are also productions being performed in translation, including 'Les Faux British' at Théâtre Saint-George, Paris, which won a prestigious Molière Award for Best New Comedy; in Greece at the Peroke Theatre; Bulgaria, under the title 'Unfortunate Whodunnit' at the Satira Theatre; Budapest under the title 'Ma Este Megabukunk' at Centrál Színaház and most recently in Tokyo at the Haiyuza Theatre. There have also been award-winning adaptations in Turkey and Poland. With further productions planned for Berlin, Australia, Spain and Italy later this year, the company is causing mischief around the globe".
As if that weren't achievement enough The Play That Goes Wrong is soon to open on Broadway, so with the original gang heading State Side a cast a new cast have been found to replace them in the London production of The Comedy About A Bank Robbery.
From Wednesday 8 February 2017 Hannah Boyce will play Caprice, alongside Mark Hammersley (Warren), Sean Kearns (Freeboys), Steffan Lloyd-Evans (Sam), Tania Mathurin (Ruth), Christopher Pizzey (Smitties), Gareth Tempest (Mitch), Miles Yekinni (Cooper).
Jeremy Lloyd continues in the production as "everyone else". I've directed him and he 's an immensely talented, versatile and funny performer.
These guys are unstoppable.