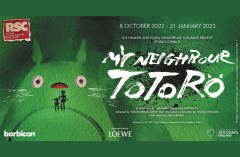 The Royal Shakespeare Company and Executive Producer Joe Hisaishi are delighted to present the global premiere of the Japanese creative powerhouse Studio Ghibli's masterpiece, My Neighbour Totoro. It's live and brilliant on stage at London's Barbican this autumn, created in collaboration with Improbable and Nippon TV. It's on for a strictly limited 15-week season from 8th October 2022 to 21st January 2023.
Who's involved in My Neighbour Totoro?
This is a truly enchanting coming-of-age story. It follows the magical fantasy world of the sisters Satsuki and Mei. Their dad moves them to the countryside to be closer to their mother while she recovers from an illness in a rural hospital. The girls meet magical creatures along with the ancient protector of the forest, Totoro, entering the forgotten realm of spirits, sprites, and natural wonder.
Based on the celebrated 1988 animated feature film by Hayao Miyazaki
Brought to the stage by its original composer Joe Hisaishi
A landmark new adaptation by the RSC
Written by playwright Tom Morton-Smith
Perfect for people aged 6 or more
Directed by Phelim McDermott
Production design by Tom Pye
costume design by Kimie Nakano
Lighting design by Jessica Hung Han Yun
Puppetry created by Basil Twist
Music from Joe Hisaishi's iconic score
A new orchestration by Will Stuart
Performed live with sound design by Tony Gayle
Buy My Neighbour Totoro Tickets
Buy cheap My Neighbour Totoro tickets online via our site for exceptional service. Pick your favourite seats with our London Barbican seating plan, then relax. All you do is show the etickets we'll email to you at the door of the venue on the day.
About the Barbican, London
The Barbican Centre is a brilliant piece of Brutalist architecture. It's a performing arts centre in the Barbican Estate of the City of London, the biggest of its kind in Europe. Past shows at the Barbican include cinema, art and design, performance art, dance, music, plus all sorts of fascinating tours and exciting public spaces.