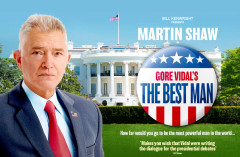 Those clever folk at Emma Holland PR caught many people's attention recently by emailing a West End announcement with "The President is Coming to London" in the title line.
No, Trump has not changed his mind about abandoning a visit to London for fear of protesters. Rather the West End is to be treated to the UK premiere of a play about a fictional presidential election.
Martin Shaw plays the protagonist candidate and he's joined by a starry line up of Maureen Lipman, Jack Shepherd, Honeysuckle Weeks and Glynis Barber in the West End premiere of Gore Vidal's award-winning political drama, THE BEST MAN. It runs at The Playhouse Theatre from Saturday 24 February.
We're told the play was written and produced on Broadway nearly 60 years ago but never achieved a West End transfer at the time because it was thought that American politics were of no real interest to London audiences! Boy, has that changed thanks to TV shows like THE WEST WING, SCANDAL and HOUSE OF CARDS, and the real-life horror story that is Donald Trump's presidency.
Further fun facts, the play "was originally nominated for six Tony Awards, including 'Best Play'. Vidal adapted it into a film with the same title in 1964 starring Henry Fonda, Cliff Robertson and Lee Tracy, who was nominated for an Oscar for his portrayal of the crafty ex-President. The play received a major revival on Broadway in 2012 starring James Earl Jones and Angela Lansbury, and earned two Tony award nominations including 'Best Revival of a Play".
The press release outlines the plot, casting and themes as follows –
"Martin Shaw is William Russell, esteemed ex-Secretary of State and US presidential candidate, with something of a philandering reputation. Jeff Fahey is Joseph Cantwell, an ambitious populist newcomer, opposing Russell for the party nomination. Running neck and neck, the only thing that might separate the candidates are endorsements from a respected Ex-President (Jack Shepherd) and party big-wig (Maureen Lipman). As the race heats up the campaign gets personal, involving Russell's estranged wife Alice (Glynis Barber) and Cantwell's wife Mabel (Honeysuckle Weeks). But where does compromise end and corruption begin? How far will they each go to become the most powerful man in the world? And who in the end will be proven to be "the best man"? The play mirrors the often surprising results of campaigning, and the all-too-often unscrupulous world of politics."
The production will be produced by Bill Kenwright and here's the official low down on the lead actor's credits.
Leading the cast is Martin Shaw. Best known to TV audiences for the title-roles in JUDGE JOHN DEED, INSPECTOR GEORGE GENTLY and THE PROFESSIONALS. Jeff Fahey returns to the West End stage following his acclaimed performance in TWELVE ANGRY MEN alongside Shaw. Maureen Lipman is an Olivier Award winner for SEE HOW THEY RUN and has appeared in some 20 West End productions. Star of TV's WYCLIFFE and BILL BRAND, Jack Shepherd's extensive stage career includes his award-winning performance in GLENGARRY GLEN ROSS and THE ICEMAN COMETH at the National Theatre. Glynis Barber is known for DEMPSEY AND MAKEPEACE and Honeysuckle Weeks is best known for starring alongside Michael Kitchen as Samantha Stewart in hit TV drama FOYLE'S WAR.
Personally I love a political thriller and Vidal's writing. I can't wait to see THE BEST MAN.