Playhouse Theatre
Northumberland Avenue, London, WC2N 5DE GB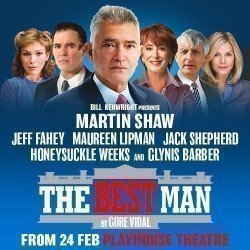 The Best Man
Tickets
Playhouse Theatre
Starring: Martin Shaw, Jeff Fahey, Maureen Lipman, Jack Shepherd, Honeysuckle Weeks, Glynis Barber
Running time: 2 hours 30 minutes
Book

tickets
Show Closed
This show is now closed.
Ooh, The Best Man, sounds like a show about a wedding! It does! But it's not that at all. Sorry. It's actually about party politics. Well, it's about two finalists racing towards the prize of the presidential nomination. And the final obstacle in their way is the endorsement from a popular ex-President. Who can come out The Best Man without corrupting themselves in the process? Clever title, eh! Lots of subtext and meaning.
I get it, very clever! Sounds pretty topical? It is, but it was actually written back in 1960 by Gore Vidal. That's the magic of great theatre, it remains applicable for years in the future. It was nominated for six Tony nominations back then, was revived notably twice (2001 and 2012) and nominated for awards then too. But it only came to the UK to tour for the first time last year and after touring will be at the Playhouse Theatre for just 12 weeks.
Not long to catch it then! Not at all. This version is directed by Simon Evans and stars Martin Shaw (last seen on the West End in Twelve Angry Men at the Garrick Theatre), Jeff Fahey, Olivier award winner Maureen Lipman, Jack Shepherd, Honeysuckle Weeks and Glynis Barber. A pretty stellar cast, even with further members to be announced!
We have a great selection of cheap The Best Man tickets. We can help you save up to 70% on The Best Man tickets! If you're looking for discount theatre tickets have a look below for our latest offers for The Best Man at the Playhouse Theatre.
1
Was £39.50
Now £15.00

-62%

Valid Mon-Thu Evenings until 25 May 2018.. .
2
Was £49.50
Now £25.00

-49%

Valid Mon-Thu Evenings until 25 May 2018.. .
3
Was £59.50
Now £35.00

-41%

Valid Mon-Thu Evenings until 25 May 2018.. .
Customer Reviews
What to expect:
Acting
Music
Costumes
Story
Lighting
Recommended for:
Anyone
Families
Teenagers
Couples
Theatregoers
based on 13 reviews
Excellent Show
Ingrid London Box Office customer
Political insight
This is a political drama with heart. It revolves around two men vying for their party nomination. One of the men will use every trick to win while the other tried to remain true and honest to his beliefs..but the latter may cost him the top post. The acting from all is excellent and you're transported to past American political drama. Martin Shaw shines as does the actress who plays his suffering wife. This drama is more than just politics. It's about life and, in the end, what truly matters.
Tania London Box Office customer
WONDERFUL SHOW AND FANTASTIC ACTORS - MUST SEE!
TRISH London Box Office customer
Fantastic
Great story, great acting. A must see!
Elizabeth London Box Office customer
Excellent show! Enjoyed every minute.
Great cast & a great storyline. We thoroughly enjoyed every minute & we have been still talking about the show the following day. Would highly recommend.
Lizzie London Box Office customer
Must see
Paul London Box Office customer
Brilliant show
Acting was flawless brilliant part played by Maureen Lipman. If you like a straight play this is a must see.
James London Box Office customer
Superb acting and brilliantly written.
Every part was well acted, the attention to detail was spot on for the era and the play a written 50 years ago shows it's still topical if times today and how history repeats itself. Sometimes the voices were a little quiet but maybe due to the sound bouncing around. Witty, serious, clever and totally absorbing.
Nicola London Box Office customer
Great show
Very enjoyable but found we both found ir difficult to hear the dialogue at times.
Pamela London Box Office customer
Good entertainment
Lars London Box Office customer
Use the search box at the top left of this page to search for The Best Man tickets availability.
Quick Facts
Largest Ticket Inventory in the West End
Real time seat availability
Your booking is processed directly into the box office reservation system
Collect your tickets from the theatre for free or get them posted to your address.

Theatre Address
Playhouse Theatre
Northumberland Avenue, London, WC2N 5DE GB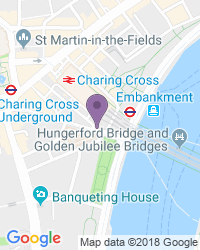 Facilities
Air conditioned
Bar
Disabled toilets
Infrared hearing loop
Member of Q-Park scheme
Toilets
Wheelchair/scooter access
Theatre Info
Capacity: 790
Year built: 1882