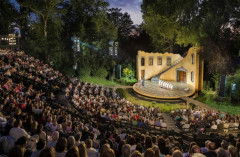 Overall today's announcement of when we can all go back into theatres should be a cause for much celebration. But there were a couple of caveats in Boris Johnson's speech which we need to keep an eye on.
1. The 17th May is the date from which performance venues can open but at this point capacity will be limited to 50% or 1,000 people, whichever is lowest (outdoor performances will be limited to 50% or 4,000 people).
This will push ticket revenue below the rate at which some productions are financially viable. Expect to hear over the next few days which theatre bosses are prepared to shoulder the cost of this.
A relaxation of this rule is planned for June 2nd, although Johnson stressed progress would be "led by data and not dates", with at least five weeks between each stage of reopening.
So, it could be that some productions will be delayed until after this next change comes into force.
2. Performances from 17th May are subject to a successful vaccination roll-out and a reduction in hospital admissions and deaths.
The admirable way the NHS is rolling out vaccinations seems to be unstoppable, so we just have to hope that the virus won't mutate in some new and unexpected way.
As we all know, that's happened before with a more virulent strain appearing just before Christmas plunging us all into this current lock-down.
The big question is how will insurers, financiers and investors view the risk?
It's also possible that such folk might want to push their opening nights to the autumn... just to be on the safe side.
Check back with us for further news.