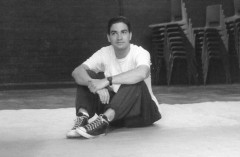 In 1988, Gay Sweatshop Theatre Company toured their production of Philip Osment's THIS ISLAND'S MINE to the Hornpipe Arts Centre in my hometown of Portsmouth. I was 19 and it was the first time I had ever seen a piece of 'gay theatre'.
It was important because two parts of me – my interest in theatre and being gay – suddenly came together in one experience. I remember distinctly the absolute fear and feeling of sickness of having to walk through the door of that venue, not knowing who might see me going in.
Philip Osment wanted to write a play about characters that felt they were exiles in their own country and to make links between. The play centers around a large old house in West Hampstead where an elderly Jewish woman resides along with the ghost of a White Russian princess, a gay man and a very old cat! It's a place where characters are 'washed up' and find refuge, and soon, individual stories intertwine to paint a vivid picture of Eighties Britain. The title is lifted from The Tempest and a rehearsal of Shakespeare's play is woven through This Island's Mine to explore themes of belonging and prejudice. It's a passionate and lyrical piece.
Watching it in 1988 was a life changing experience, to be in a room with people just like me, away from the context of a bar or club, and to have something so beautiful and articulate speak about my life in such a positive, warm, humorous, enlightening way. To be celebrated in public was a far cry from being shamed by the media and government. It was an awakening, not just because it made sense of my life to myself, but also because it showed me the power of theatre. At a time when positive LGBT role models were far from visible, when coming out was seen as a career killer for actors, when The Sun newspaper headlines screamed 'Eastbenders' across its front page, here was a company, a play and a group of people that were unashamedly positive. And I wanted to be just like them and play my part in promoting that positive vision.
Now here we are, 31 years on, about to go into rehearsals for the first ever revival of the play.
Is it still relevant? Yes. Absolutely. We must never forget our darkest times and what it was like before hard-earned rights were won. I remember clearly the shift that took place with the introduction of Section 28. It empowered and united so many of us, but it also fanned the flames of prejudice by giving legitimacy to homophobia. I see it again, with the rise of far right sentiments and anti-LGBT protests outside schools in Birmingham.
At the same time, there is much to celebrate. We have come a long way and the play is truly a celebration of love, defiance and unity. That's the power of the play and I hope it has the same liberating, uplifting, life changing impact on others in 2019 as it did for me back in 1988.