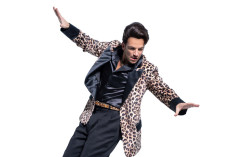 Here's a treat for fans of Peter Andre. Andre will be playing Vince Fontaine in some performances of Grease at the Dominion Theatre. It's his West End debut, this is a new production of the legendary musical by Jim Jacobs and Warren Casey, and the show opens on Tuesday 17th May 2022. Are you ready for a little summer loving? Will you end up hopelessly devoted to a story that has delighted millions since the early '70s?
Who's involved in Grease?
GREASE originally opened in Chicago, way back in 1971. It hit Broadway in 1972 and was nominated for seven Tonys. It ran for eight years and starred the unknown actors Patrick Swayze, John Travolta and Richard Gere as Danny. Grease arrived at the Dominion Theatre in 1993, transferred to the Cambridge Theatre in 1996, and opened at the Piccadilly Theatre in 2007. Now it's back at the Dominion. Here's who's involved.
Dan Partridge and Olivia Moore star as Danny and Sandy
Peter Andre plays Vince in certain performances
Jocasta Almgill plays Rizzo
Paul French plays Kenickie
Mary Moore is Jan
Jake Reynolds is Doody
Lizzy-Rose Esin-Kelly is Marty
Damon Gould is Sonny
Eloise Davies plays Frenchie
Jessica Croll plays Patty Simcox
Katie Lee plays Cha Cha
Ronan Burns is Johnny Casino
Corinna Powlesland is Miss Lynch
Darren Bennett plays Officer Mailie and Vince Fontaine at certain performances
The rest of the cast comprises Jack Harrison-Cooper, Pearce Barron, Rishard-Kyro Nelson, Ellie Kingdon, Remi Ferdinand, Kalisha Johnson, Imogen Bailey, Kevin O'Dwyer and Carly Miles
Further casting is to be announced
Designs by Colin Richmond
Orchestrations and musical supervision by Sarah Travis
Lighting design by Ben Cracknell
Sound design by Tom Marshall and Richard Brooker
Video and projection design by Douglas O'Connell
Casting by David Grindrod CDG
Produced by Colin Ingram for InTheatre Productions, Donovan Mannato, Playing Field, Gavin Kalin, and Curve
Buy Grease Tickets
Book your Grease tickets online with us and choose the best seats with our Dominion Theatre seating plan. We'll send E-tickets direct to your email address – just show them at the door on the day.
About the Dominion Theatre
For the first few years the venue struggled to survive. Opened in 1929, it was transformed into a cinema in 1933. Rescued from demolition in 1991, these days the Dominion Theatre is a popular venue for big productions. It's double-haunted too, by a giggling child and a brewery worker, so watch out! Past shows at the Dominion Theatre include The Bodyguard, Bat Out Of Hell, An American In Paris, and The Prince of Egypt.