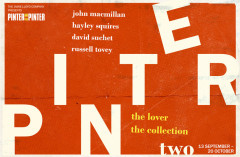 When you walk into the Pinter Theatre for Pinter Two of the Pinter at the Pinter season, you are faced with a huge, stark monolith on stage with the word Pinter hewn into it. The feeling of being present in the cathedral of this theatrical legend, verges on the mythical or saintly. Once you let go of that reverence, which Pinter himself would have probably thoroughly disapproved of, Jamie Lloyd's idea to bring together all of his short plays into one star-studded season is a wonderful and rare opportunity to re-examine this writer and what he offers us.
The Lover & The Collection were both written within a year of each in the early 1960's. They sit well together highlighting the themes of façade, game playing and deceptions, though rarely answer the questions raised.
The Lover is a strained episode in the life of Sarah and Richard, who on the outside are the archetypal period wife and husband, but actually spice things up by taking lovers and whores in the afternoons. Their openness with each other at first seems both honest and well-adjusted but soon words become weapons. When Richard dares to change the status-quo, confusion and desperation flourishes. Soon manipulation with a smile is the order of the day.
The over-performed acting style takes some getting used to but it soon highlights that everyone roleplays even with those we love and who know the truth already. But despite these brittle facades, the humour amongst the darkness still finds it mark.
The Collection delves even deeper into the games we play with each other and where honesty may lie. Stella tells her husband, James, that she slept with Bill, who lives with his 'close friend' Harry. When James searches out the truth, Bill pleads guilty and not guilty before adding even further possibilities.
Is he using James's need for clarity as a weapon to seduce him? Is just talking about it as painful as the act? Why does Stella even begin this mental attack on James in the first place? Questions build up in our minds as Pinter suggests that truth is not a human right but more fluid, never simple and always subjective.
Russell Tovey and David Suchet as Bill and Harry delight in their subtext in what is an intriguing evening of theatre. However, the nagging thought of what could also be revealed if caricature gave way to realism, lingers afterwards.
But Pinter revels in playing tricks with truth so there is plenty to still enjoy.
This Production is still developing in previews. Our Chief Critic Phil Willmott will be reviewing the finished production and allocating a star rating on Friday.