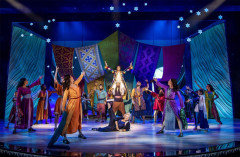 Having not seen Joseph and The Amazing Technicolour Dreamcoat for some 30 years, it is quite a lovely surprise to be reminded just how good Andrew Lloyd Webber and Tim Rice's score is. Memorable hit after memorable hit tumble after each other in this high octane re-invention of the classic musical that sent this writing team into the stratosphere with the general public in the 1970's.
NOTE: This production is still being developed in preview performances. A press night review of the finished piece with a star rating will follow.
It was also one of, if not the first musical to do the 'mega mix' at the end of the show and certainly last night, the packed Palladium audience were on their feet clapping, dancing and cheering the night away.
The story is taken from the Book of Genesis where our hero is sold into slavery by his brothers for being an annoying younger sibling but then rises against the odds to become the right hand man to the Egyptian Pharaoh. This production does not dwell however on any of the darker aspects. Even when the brothers are suffering under the famine, they still find room for a Can-Can in the middle of their Those Canaan Days, ably led by Michael Pickering.
This production does wholeheartedly jump into the comedy and family feel-good approach. Sheridan Smith as the narrator uses all her charms to involve the audience and mine the story for every joke in sight. Her energy and performance is non-stop and she, like most of the cast, must have face ache from so much smiling and positivity. Smith puts Tommy Steele to shame! There is a cameo from Jason Donovan (who played Joseph almost 30 years ago at the same theatre) as the Elvis inspired Pharaoh, when Morgan Large's colourful design suddenly jumps to the glitz and brashness of the Vegas Strip with guitar playing Egyptian statues and gold literally everywhere.
There are some refreshing touches in Laurence Connor's direction with roles like the Butler, Potiphar and some of Joseph's brothers being played by children with comic fake beards and Smith swapping backwards and forwards between her narration and characters like Potiphar's wife and even Joseph's father. It all adds to the sense of a company celebrating and giving a clear nod to the sheer theatricality of the piece.
Joseph is a frothy piece but it reaches out to children and adults alike through its sheer dynamism, colour and songs that stay in the mind not only for days afterwards but for a lifetime. It will clearly be a very popular theatrical event.