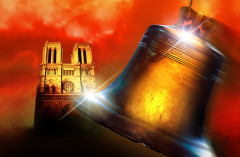 19 years after its first debut in London at the Dominion Theatre, French 'smash it' Notre Dame de Paris is returning to the London Coliseum for a short run this January. I was invited to watch the production before this run, in its original home - the epic venue Palais des Congrès de Paris.
During our meet with the cast & crew, it is clear that they consider Notre Dame de Paris a 'family affair' and are heart-warmingly tight-knit. Since its inception, the show has been exclusively produced by a father and son partnership (Charles and Nicolas Talar) and are only now joined by Adam Blanshay. One cast member, playing Gringoire, (Richard Charest) has been with the production for 18 years, with many others taking leave from the production but always returning. For many of the cast, the production "feels like home."
Notre Dame de Paris is based on the French novelist Victor Hugo's 'The Hunchback of Notre Dame' and is a sung-through musical. In the world of a fractured Paris in 1482, refugees and homeless people are being turned away from sanctuary at the Cathedral of Notre Dame. What follows is a story of crime, lust and unrequited love.
Frollo - Archdeacon of Notre Dame, Phoebus - the Captain of the Archers and Quasimodo - the deformed hunchbacked 'King of Fools' all fall for the same woman, beautiful gypsy-girl Esmerelda. Despite Quasimodo's honourable and pure love for Esmerelda, she is destroyed by the bad intentions of Phoebus and Frollo who collectively abandon and abuse her leading to her hanging on Frollo's command. Despite Esmerelda's guardian, Clopin - the King of the Outcasts - creating a sanctuary for people of 'any race, religion, skin colour or criminal background' in Notre Dame, they are all eventually driven out and Clopin killed. When Quasimodo discovers Esmerelda's death, he throws Frollo down the tower steps to his death.
The show clearly has a universal appeal, having been performed in over 18 countries and in 7 languages. The cast themselves are astonishingly multilingual and from all over the world, with this London run being performed in the original French with surtitles. Unusually, Notre Dame de Paris is usually performed with a recorded backing track - but for the first time ever, in this London run, will be accompanied by the live ENO Orchestra spearheaded by conductor Matthew Brind.
The show boasts a large cast of acrobats and dancers, who are impressively performing everything from contemporary ballet to break dancing to wall-climbing.
We spoke to the composer Richard Coccainte who told us that Notre Dame de Paris started of as a "mad adventure," with his record label telling him it would be a "career disaster." He tells us now that he takes pride in how unique the show is, that it is "nothing like you will experience before or after" and that clearly "crazy is good."
The impact of the music is abundantly clear, as I witnessed the entire French crowd standing to sing the undeniably beautiful 'Le Temps des Cathédrales' during the curtain call. Each principle cast member have brilliant and unique 'rock and pop' voices. In particular, Quasimodo (Angelo Del Vecchio, an italian-born performer) has an astonishing voice filled with deep, soulful yet edgy tones. Alongside him Clopin (Jay) is also a stand-out vocalist.
It would be naive to not mention that 19 years earlier, London did not receive this production with open-arms as it garnered very poor reviews. Perhaps the reception will be different this time around, given that in our current political climate the story is quite relevant.
You can see Notre Dame de Paris from the 23rd-27th January 2019 at the London Coliseum.