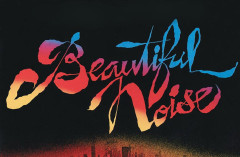 It's been announced that Fisher Stevens (no I've never heard of him either) will make his West End debut in A Beautiful Noise celebrating the life and music of Neil Diamond from the producers of THRILLER LIVE at the Lyric Theatre, Monday 11 February 2019
At the moment there's only one performance but producers must be hoping that, long term, it could be as successful as their long running Michael Jackson tribute show, still going strong at the same address.
I'm not sure vintage, soft-rock crooner Neil Diamond still has the same fan base that Michael Jackson's memory attracts but it may prove as popular with a 50+ demographic.
The press release, explains the odd title and reminds us of Diamonds appeal.
"What a beautiful noise / Comin' up from the street / Got a beautiful sound / It's got a beautiful beat.... these lyrics from his 1976 hit song, A Beautiful Noise, underscore more than any others the evergreen appeal of Neil Diamond, a performer, songwriter and entertainer whose name will echo down through the ages. Sweet Caroline, Song Sung Blue, Cracklin' Rosie and Forever In Blue Jeans, are the songs that soundtracked lives, the teenage dream, and remain fixtures of personal and radio playlists everywhere"
We don't know too much about the track record of Fisher Stevens, the show's star but we're promised the show will demonstrate -
"Stevens' extraordinary vocal range, relaxed sense of humour and stage presence, live band and backing singers this is the ultimate musical journey that all Diamond fans, old and new have been waiting for. Fisher and his sensational band journey through five decades of Diamond's biggest hits including Brooklyn Roads, Heartlight, September Morn, Hello Again, Longfellow Serenade, Love on the Rocks, Forever in Blue Jeans, He Ain't Heavy, Cherry Cherry, Song Sung Blue, I Am ... I Said, America, Holly Holy, Soolaimon, Brother Love's Travelling Salvation Show, and of course Sweet Caroline, plus many more"
A lifelong lover of Neil Diamond, Fisher has said, "I am supported by an experienced band and backing singers who are all as passionate about Neil Diamond as I am".
A real labour of love for all involved then, and it sounds like it'll be another great night out from these producers celebrating their tenth year in the West End with THRILLER LIVE.