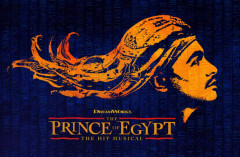 Update for The Prince of Egypt at the Dominion Theatre
It's time to celebrate! If you're keen to go see this wonderfully colourful, vivid and exciting show, which has returned to the Dominion Theatre for a post-covid run, you'll fall in love with the splendid collection of photos that has just been released. They're from the camera of the supremely-skilled Matt Crockett and they clearly reveal all the excitement of a show that has won the hearts and minds of countless theatre-lovers. This is already a West End classic.
Who's involved in The Prince of Egypt?
The Guardian calls it a 'lavish stage adaptation' of the DreamWorks Animated movie. It features a massive cast and orchestra totalling more than 60 artists and it's also an Academy Award winner thanks to Stephen Schwartz's glorious score. Walk this way to hear lovely tunes like When You Believe, a smash hit for Whitney Houston and Mariah Carey, Deliver Us, and more. No wonder the Original Cast Recording was nominated for a 2021 Grammy for Best Musical Theatre Album. The photos include:
Clive Rowe as Jethro
Luke Brady as Moses
Tanisha Spring, Liam Tamne and Debbie Kurrup creating stage magic
Extraordinary pictures of the on-stage action to inspire you
Buy The Prince of Egypt Tickets
Book your Prince of Egypt tickets online with us and choose the best seats with our Dominion Theatre seating plan. We'll send your E-tickets to your email address – simply present them at the door on the day of the performance and you're in!
About the Dominion Theatre
The Dominion Theatre was once a cinema. You'll find it on the Tottenham Court Road, close to St Giles Circus in the London Borough of Camden. The venue is known for spectacular short-run musicals and acts as a church on Sundays. Past shows at the Dominion Theatre include Evita, Lord of the Dance, the London premiere of Elf, An American in Paris and of course We Will Rock You.