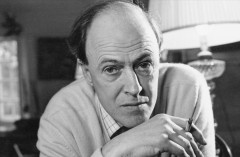 When we think of writers who have multiple shows running in the West End at the same time we tend to think of Shakespeare, Andrew Lloyd Webber, Alan Aykbourn and Noel Coward but a much loved children's author is currently catching them up.
The books of Roald Dahl are enjoying a whole new lease of theatrical life thanks to the efforts of agent Mel Kenyon who looks after the deceased writers legacy.
It's thanks to her that we have terrific West End musical productions of Dahl's MATILDA and CHARLIE AND THE CHOCOLATE FACTORY to enjoy and if a promising stage version of THE TWITS went awry last year there's plenty more stage shows in the planning stages.
What's more, If you and your young friends love his deliciously dark and funny books you'll be delighted to hear that the Southbank Centre, next to the National Theatre, are programming a series of theatrical events based on the author's work next Spring in a festival called IMAGINE.
The centrepiece will be a new interactive performance experience, The Wondercrump World of Roald Dahl, commissioned by the Southbank Centre in partnership with Wales Millennium Centre. We're promised it will take audiences on a magical journey, introducing them to seven different immersive worlds that explore Roald Dahl's life and iconic books.
There'll also be a presentation of Dahl's final book The Minpins, including live animation and the music of Sibelius performed by the London School's Symphony Orchestra. Dahl in a Day comprises dance, illustration and music as the author's iconic story, Matilda, unfolds across the ballroom in unexpected ways.
Award winning Dutch theatre group Theater Gnaffel present a double bill of their musical versions of Dahl's Little Red Riding Hood and The Three Little Pigs, performed by life size puppets and featuring Paul Patterson's compositions performed by The Cambridge Philharmonic.
Visitors will also be able to create their own personalised Dream Jars, to contribute to a large installation inspired by The BFG.
Literature and telling stories is a theme of Imagine, and children can get involved in all elements of storytelling through a range of workshops and the sell out Giant Storytelling Bed returns to the festival this year, where children can even climb aboard an enormous bed to hear a magical tale!
Imagine begins on 10 February and continues at Southbank Centre daily throughout spring until 3 July.