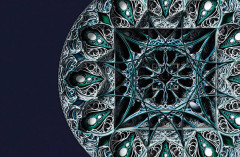 Opera fans and contemporary music fans will delighted to hear the English National Opera (ENO) are to revive SATYAGRAHA composed by Philip Glass at their home, The Coliseum Theatre on St Martin's Lane.
The piece has a libretto, Philip Glass and Constance DeJong and is based on the ancient Hindu text Bhagavad Gita. The conductor is Karen Kamensek and the director is Phelim McDermott.
The original production broke box office records for 20th century opera on its UK premiere in 2007, making it the most popular contemporary work to be performed by the company.
The marketing team describe the piece as follows "Satyagraha, a Sanskrit word meaning 'truth force', looks at Mahatma Gandhi's early years in South Africa and his development of non-violent protests as a political tool. The story moves back and forth through Gandhi's life, with the flow of time, words and music creating a hypnotic, almost ritualistic experience. Each of the three acts depicts a spiritual guardian who is linked to the Satyagraha philosophy. Act 1 features Tolstoy, Act 2 the Indian mystic and poet Tagore and Act 3 Martin Luther King Junior, representing the past, present and future of Satyagraha. Performed in Sanskrit, Satyagraha is the second of Philip Glass's trilogy of operas about individuals who changed the world. The first was Einstein on the Beach (1976) and the third Akhnaten (1984)."
Distinguished London-born tenor Toby Spence gets his big break in a lead part singing the principal role of M.K. Gandhi. He recently performed Don Ottavio (Don Giovanni) at the Liceu Barcelona; Captain Vere in the Teatro Real's new production of Billy Budd; and Eisenstein (Die Fledermaus) and Antonio (The Tempest) for the Metropolitan Opera, New York.
The rest of the top notch cast includes British soprano Anna-Clare Monk, and first-class honours graduate of the Guildhall School of Music, Charlotte Beament. Mezzo-soprano Stephanie Marshall reprises her role as Kasturbai alongside British baritone Nicholas Folwell, British bass Clive Bayley and British mezzo soprano Sarah Pring.
Integrated with the ENO Chorus will be 12 members of a skills ensemble including aerialists, puppeteers and acrobats.
A great chance to see the best of British opera talent in a striking production of a challenging and uncompromising opera which, none the less, rewards study and attention. With no tunes in the traditional sense It's the kind of music you'll either love or loath but it's fans go crazy for it.
SATYAGRAHA opens on Thursday 1 February at 7pm at the London Coliseum and runs for just 7 performances.